Python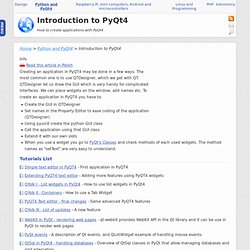 Introduction to PyQt4
Home > Python and PyQt4 > Introduction to PyQt4 Creating an application in PyQT4 may be done in a few ways.
Nathan Horne – Technical Artist » PyQt and Maya 2011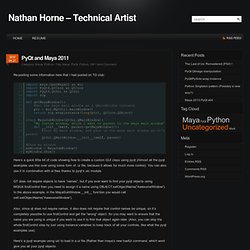 Re-posting some information here that I had posted on TD club:
HomeContents In this part of the PyQt4 tutorial we will learn some basic functionality. Simple example This is a simple example showing a small window.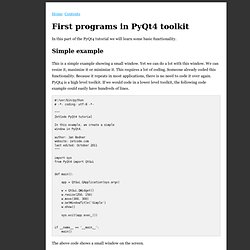 With some coworkers, we challenged each other to write the smallest possible game of tron in javascript (an exercise known as javascript golfing). This page explains our final version (219 bytes). We initially worked alone but then exchanged ideas and tricks, so erling & mathewsb deserve most of the credits! our code was originally 226 bytes, but "Cosmologicon" pointed out a way to save three whole bytes, bringing us to 223 bytes.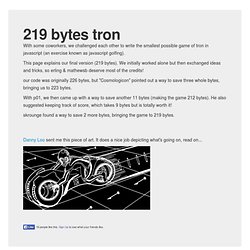 javascript game of tron in 219 bytes
New in version 2.5.
9.8. functools — Higher-order functions and operations on callable objects — Python v2.7.2 documentation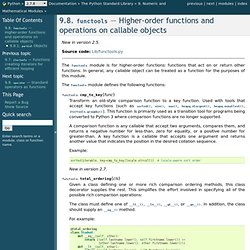 mediawiki-parser/parsers.rst at master · erikrose/mediawiki-parser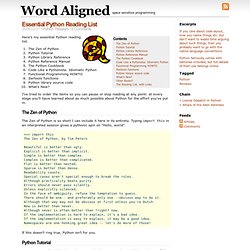 Here's my essential Python reading list. I've tried to order the items so you can pause or stop reading at any point: at every stage you'll have learned about as much possible about Python for the effort you've put in.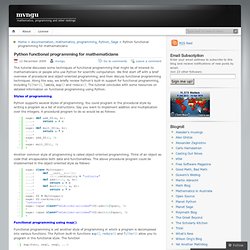 Python functional programming for mathematicians « mvngu
This tutorial discusses some techniques of functional programming that might be of interest to mathematicians or people who use Python for scientific computation. We first start off with a brief overview of procedural and object-oriented programming, and then discuss functional programming techniques. Along the way, we briefly review Python's built-in support for functional programming, including filter(), lambda, map() and reduce().
The igraph library for complex network research
NodeBox is a Mac OS X open-source application for creating 2D visual output (static or animated) using Python programming language.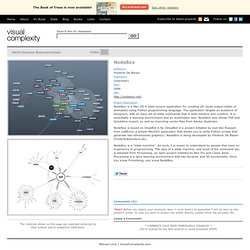 NodeBox
Computational Legal Studies™ | Computational Legal Studies™
Programming Dynamic Models in Python
In this series of tutorials, we are going to focus on the theory and implementation of transmission models in some kind of population. In epidemiology, it is common to model the transmission of a pathogen from one person to another.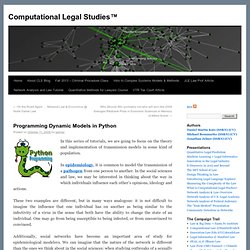 <div id="as_noscript"> You appear to have turned off javascript in your browser.
Buy Komodo IDE 6 | ActiveState Store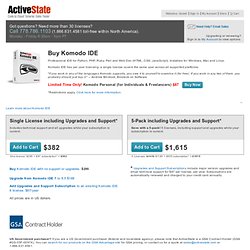 Note: The code samples in this tutorial uses doctest to make sure that they actually work. Since some code samples behave differently under Linux, Windows, or Mac OS X, they contain doctest directives in comments. Note: Quite some code samples references the ctypes c_int type.
ctypes tutorial