EuroTrip
College Trips to Europe and Abroad | EF College Break
Backpacking is one of the most exciting ways to experience the sights, sounds, and people of Europe. Forget a traditional vacation, backpacking through Europe will allow you to explore, interact, and discover everything this amazing place has to offer. From the Baltic coast to the Mediterranean, a vacation here is an exciting adventure for people of all ages. The incredible history, beautiful landscape, and unique culture are what makes backpacking through Europe so popular.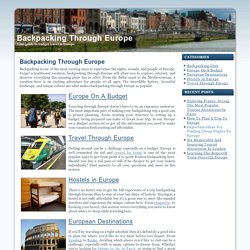 Backpacking Through Europe - What To Know Before You Go Traveling | Backpacking Through Europe
Europe travel guide
Europe encompasses an area of 10,180,000 km² (3,930,000 mi²), stretching from Asia to the Atlantic, and from Africa to the Arctic. European countries welcome more than 480 million international visitors per year, more than half of the global market, and 7 of the 10 most visited countries are European nations. It's easy to see why - a well preserved cultural heritage, open borders and efficient infrastructure makes visiting Europe a breeze, and rarely will you have to travel more than a few hours before you can immerse yourself in a new culture, and dive into a different phrasebook. Although it is the world's smallest continent in land surface area, there are profound differences between the cultures and ways of life in its countries. Regions[edit] Europe consists of a diverse set of countries that each have their own identity and culture.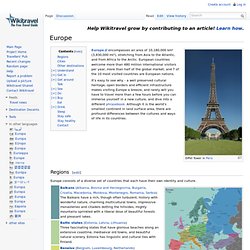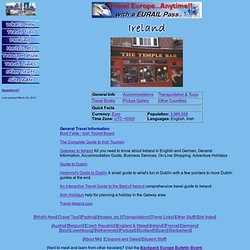 Backpacking Ireland on a Budget
General Travel information Bord Fáilte - Irish Tourist Board The Complete Guide to Irish Tourism Gateway to Ireland All you need to know about Ireland in English and German, General Information, Accommodation Guide, Business Services, On-Line Shopping, Adventure Holidays Guide to Dublin Hedonist's Guide to Dublin A small guide to what's fun in Dublin with a few pointers to more Dublin guides at the end. An Interactive Travel Guide to the Best of Ireland comprehensive travel guide to Ireland
The Best of Ireland - Ireland's Top Ten Sights - What Not to Miss in Ireland - Ireland's Must-See Attractions
Planning a trip to Ireland can be a daunting task - what should I not miss? Everyone has their own favorite sights and places. Yet there are a number of locations every visitor to Ireland should see.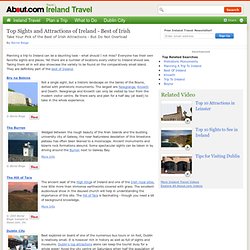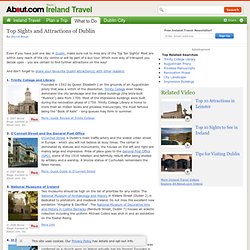 Ireland's Capital Dublin - The Top Ten Sights Not to Miss in Dublin - Dublin in a Day - Ireland's Best Attractions
Even if you have just one day in Dublin, make sure not to miss any of the Top Ten Sights! Most are within easy reach of the city centre or will be part of a bus tour. Which ever way of transport you decide upon - you are certain to find further attractions on the way!
Once you have done the essential sights of Dublin you might be tempted to see some of the hidden gems of Ireland's capital. These will require some more effort to find them and to get there, but they are certainly worth a visit and will make your Dublin experience unique. 1. South Wall and Poolbeg Lighthouse © 2004 Bernd Biege licensed to About.com, Inc. If you have a craving for fresh air and a bracing walk, take Dublin Bus Route 1 out to the massive Poolbeg Power Station and continue walking eastwards.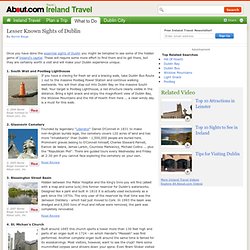 Ireland's Capital - The Top 10 Lesser Known Sights of Dublin - From St Valentine to Ireland's Eye
Ireland's Tourist Traps - Overrated Attractions in Ireland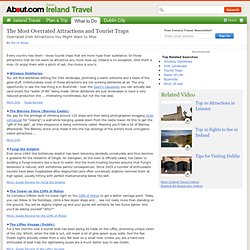 Every country has them - those tourist traps that are more hype than substance. Or those attractions that do not seem so attractive any more close up. Ireland is no exception. Give them a miss. Or enjoy them with a pinch of salt, the choice is your's.
GUINNESS STOREHOUSE® | Dublin Tours | Things to do in Dublin, Ireland
England ( i/ˈɪŋɡlənd/) is a country that is part of the United Kingdom.[1][2][3] It shares land borders with Scotland to the north and Wales to the west. The Irish Sea lies north west of England, whilst the Celtic Sea lies to the south west. The North Sea to the east and the English Channel to the south separate it from continental Europe. Most of England comprises the central and southern part of the island of Great Britain which lies in the North Atlantic.
England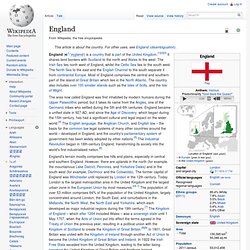 London travel guide
Tower Bridge at night, bridging the River Thames. The Millennium Bridge leading to St Paul's Cathedral London is an enormous city. It is divided into thirty-two boroughs, although information on this page is divided between districts, inner boroughs and outer boroughs of the city . These district and borough articles contain sightseeing, restaurant, nightlife and accommodation listings — consider printing them all.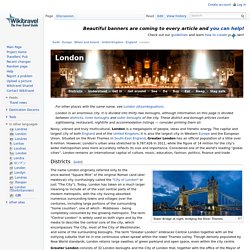 London Travel Guide
Claim to Fame: Home of the Houses of Parliament, Big Ben, The Queen, The Crown Jewels, The Tower of London, Westminster Abbey, The British Museum and more British Icons. A world center of theatre, art, music, literature and culture.
United Kingdom travel guide
The United Kingdom of Great Britain and Northern Ireland (the United Kingdom or the UK) is a constitutional monarchy comprising much of the British Isles. This Union is more than 300 years old and comprises four constituent nations: England, Scotland, Wales, and Northern Ireland. It occupies all of the island of Great Britain, the north-eastern portion of the island of Ireland and most of the remaining British Isles. The 'Great' in Great Britain (Britannia Major in Roman times; Grande-Bretagne in French) is to distinguish it from the other, smaller "Britain": Brittany (Britannia Minor; Bretagne) in northwestern France. The UK today is a diverse patchwork of native and immigrant cultures, possessing a fascinating history and dynamic modern culture, both of which remain hugely influential in the wider world. Although Britannia no longer rules the waves, the UK is still a popular destination for many travellers.
Whether you are crossing an ocean to visit the UK or coming down from the North for a weekend break in Cornwall, these are the best travel guides. No UK vacationer should leave home without at least one of these top travel books. Most are the latest editions of classic series, some are newer but equally reliable travel guides. Whichever you choose, their tried and tested, practical advice will ensure that you eat well, stay in charming accommodations, visit fun places and never get lost on British roads.
Best UK Guides - Practical Guides for Touring the England - Scotland - Wales
Amsterdam (English /ˈæmstərdæm/; Dutch: [ˌɑmstərˈdɑm] ( )) is the capital city of and the most populous within the Kingdom of the Netherlands. Its status as the Dutch capital is mandated by the Constitution of the Netherlands[7] though it is not the seat of the Dutch government, which is at The Hague (Den Haag).[8] Amsterdam has a population of 810,909 within the city-proper, 1,108,297 in the urban region and 1,571,234 in the greater metropolitan area.[9] The city is located in the province of North Holland in the west of the country. It comprises much of the northern part of the Randstad, one of the larger conurbations in Europe, with a population of approximately 7 million.[10] Amsterdam's name derives from Amstelredamme,[11] indicative of the city's origin as a dam of the river Amstel.
Amsterdam
Amsterdam is a huge city with several district articles containing sightseeing, restaurant, nightlife and accommodation listings — consider printing them all. Amsterdam at night Amsterdam is the capital of the Netherlands. With more than one million inhabitants in its urban area, it is the country's largest city and its financial, cultural, and creative centre.
Amsterdam travel guide
Amsterdam for Cannabis Smokers - Cannabis Tourism Beyond the Coffeeshops
Take a Canal Tour - See Amsterdam by Boat on a Canal Cruise
Best of Dam Square - Best Attractions on Amsterdam's Most Celebrated Square, The Dam
Explore Urban Beaches in Amsterdam - Where to Find Urban Beaches in Amsterdam
Heineken Experience in Amsterdam - Tour the Former Heineken Brewery at the Heineken Experience in Amsterdam
What to Expect in the Amsterdam Red Light District - What Will You Encounter in the Amsterdam Red Light District?
Romantic Things to Do in Amsterdam - Amsterdam for Couples - Romantic Amsterdam
Nude Beaches near Amsterdam - Five of the Netherlands' Best Nude/Naturist Beaches
France travel guide
Paris travel guide
Germany travel guide
Italy
Backpacking Italy on a Budget
Spain
Switzerland
Greece