Unique
Global Sites. Oslo. s640x480 (JPEG Image, 358x480 pixels) Jawbone Up review. Back in July, Jawbone did something surprising.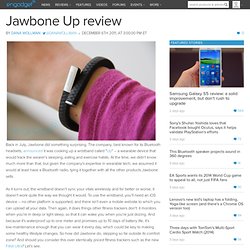 The company, best known for its Bluetooth headsets, announced it was cooking up a wristband called "Up" -- a wearable device that would track the wearer's sleeping, eating and exercise habits. At the time, we didn't know much more than that, but given the company's expertise in wearable tech, we assumed it would at least have a Bluetooth radio, tying it together with all the other products Jawbone sells. As it turns out, the wristband doesn't sync your vitals wirelessly and for better or worse, it doesn't work quite the way we thought it would. To use the wristband, you'll need an iOS device -- no other platform is supported, and there isn't even a mobile website to which you can upload all your data. Then again, it does things other fitness trackers don't: it monitors when you're in deep or light sleep, so that it can wake you when you're just dozing.
Quotes. Harry Potter. Art. Batman Hockey Stripe Babydoll. The Awakening. A time comes in your life when you finally get…when, in the midst of all your fears and insanity, you stop dead in your tracks and somewhere the voice inside your head cries out…ENOUGH1 Enough fighting and crying and blaming and struggling to hold on.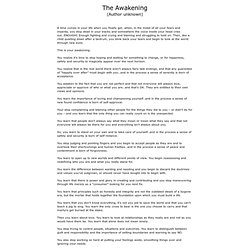 Then, like a child quieting down after a tantrum, you blink back your tears and begin to look at the world through new eyes. This is your awakening. You realize it's time to stop hoping and waiting for something to change, or for happiness, safety and security to magically appear over the next horizon. You realize that in the real world there aren't always fairy tale endings, and that any guarantee of "happily ever after" must begin with you…and in the process a sense of serenity is born of acceptance.
---