Travel
100 Free Foreign Language Classes Online | Accredited Online Colleges.com - StumbleUpon. March 1st, 2010 If you have always wanted to learn a language but were too put off by the high cost associated with most classes, then take a look at all these great opportunities to learn a foreign language online, at no cost to you.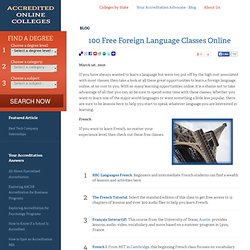 With so many learning opportunities online, it is a shame not to take advantage of all that you can, so be sure to spend some time with these classes. Whether you want to learn one of the major world languages or want something a little less popular, there are sure to be lessons here to help you start to speak whatever language you are interested in learning. French. Things to do in Europe. Facing the Seine from quai Anatole France, the Musée d'Orsay is housed in a former train station (1900).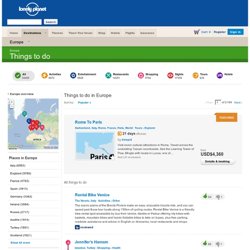 It displays France's national collection of paintings, sculptures, objets d'art and other works produced between the 1840s and 1914, including the fruits of the Impressionist, post-Impressionist and art nouveau movements. Many visitors to the museum go straight to the upper level (lit by a skylight) to see the famous Impressionist paintings by Monet, Pissarro, Renoir, Sisley, Degas and Manet and the post-Impressionist works by Cézanne, Van Gogh, Seurat and Matisse, but there's also lots to see on the ground floor, including some early works by Manet, Monet, Reno…
The Universal Packing List. Better Flight and Hotel Search. Phrases in 5 common languages to know when traveling in Europe | Travel tip | Traveldudes.org - StumbleUpon. Traveling abroad this summer?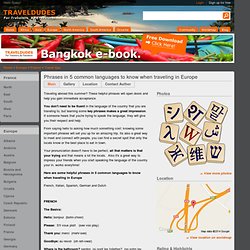 These helpful phrases will open doors and help you gain immediate acceptance. You don't need to be fluent in the language of the country that you are traveling to, but learning some key phrases makes a great impression. If someone hears that you're trying to speak the language, they will give you their respect and help. StudentUniverse | Smart deals for students: Travel discounts, student flights, tickets, hotels and groups.
---