SuperBowl 2012
SKECHERS - GO RUN Mr. Quiggly! Big Game Commercial 2012
Teleflora Super Bowl Ad - Adriana Lima 2012
The Voice - Vocal Kombat
Hulu Plus Super Bowl Commercial - Huluboratory
Time Warner Cable - Enjoy Better Anthem
Bud Light - Rescue Dog
Bridgestone - Performance Basketball
Budweiser - Eternal Optimism
Samsung Mobile USA - Thing Called Love
David Beckham Bodywear for H&M Game Day Ad
Super Bowl 2012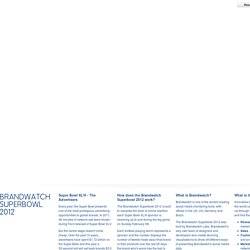 Super Bowl XLVI - The Advertisers Every year, the Super Bowl presents one of the most prestigious advertising opportunities to global brands. In 2011, 46 minutes of network ads were shown during Fox's telecast of Super Bowl XLV.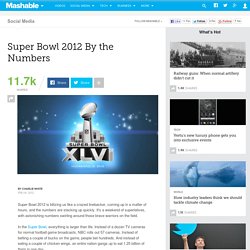 Super Bowl 2012 is blitzing us like a crazed linebacker, coming up in a matter of hours, and the numbers are stacking up quickly. It's a weekend of superlatives, with astonishing numbers swirling around those brave warriors on the field. In the Super Bowl, everything is larger than life.
Super Bowl 2012 By the Numbers
Oikos Greek Yogurt 2012 Big Game Commercial - "The Tease"
M&M'S "Just My Shell" Super Bowl Commercial