Groupon
La bonne surprise de Groupon… puis la moins bonne. Il y a un certain temps, j'ai acheté un bon chez Groupon pour un restaurant indien.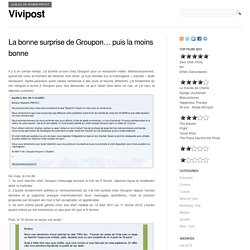 Malheureusement, quand est venu le moment de réserver mon dîner, je suis tombée sur la messagerie – saturée – dudit restaurant. Après plusieurs autre vaines tentatives à des jours et heures différents, j'ai finalement du me résigner à écrire à Groupon pour leur demander ce qu'il fallait faire dans ce cas, et j'ai reçu la réponse suivante : Du coup, je me dis : 1. Ils sont réactifs chez Groupon (message envoyé le soir du 8 février, réponse reçue le lendemain dans la matinée) 2. Groupon Was "The Single Worst Decision I Have Ever Made As A Business Owner" Editor's note:This guest post was written by Rocky Agrawal, an entrepreneur who has worked on local products since 1995.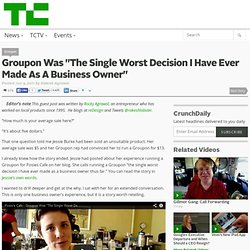 He blogs at reDesign and Tweets @rakeshlobster. "How much is your average sale here?" "It's about five dollars." That one question told me Jessie Burke had been sold an unsuitable product. How Groupon Uses the Cloud to Scale its Business. The Scaling Startups Series is supported by Brother International.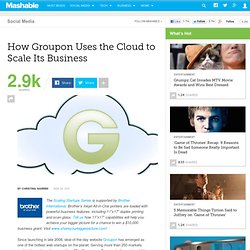 Brother's Inkjet All-in-One printers are loaded with powerful business features, including 11"x17" duplex printing and scan glass. Tell us how 11"x17" capabilities will help you achieve your bigger picture for a chance to win a $10,000 business grant. Visit www.shareyourbiggerpicture.com! Groupon Goes to the Movies. That's entertainment Posted by Sheila Shayon on March 17, 2011 10:30 AM As if there could be any doubt that Silicon Valley and Hollywood are enmeshed, Facebook is testing movie delivery with Warner Bros. starting with Batman The Dark Knight rentals for 30 Facebook credits or $3.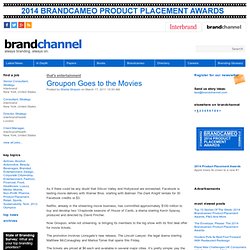 Netflix, already in the streaming movie business, has committed approximately $100 million to buy and develop two 13-episode seasons of House of Cards, a drama starring Kevin Spacey, produced and directed by David Fincher. Now Groupon, while not streaming, is bringing its members to the big show with its first deal offer for movie tickets. The promotion involves Lionsgate's new release, The Lincoln Lawyer, the legal drama starring Matthew McConaughey and Marisa Tomei that opens this Friday.
Groupon Revenue Hit $760 Million Last Year. Entretien avec Frank Zorn PDG Groupon France. Exclusif. La strat?gie de Groupon France face aux agr?gateurs de deals. Depuis lundi, Groupon France a bloqué pour une période test d'un mois la diffusion de ses deals sur les nombreux agrégateurs apparus ces derniers temps sur le marché (Dealsurf, OhMyDeal, 123Deals…).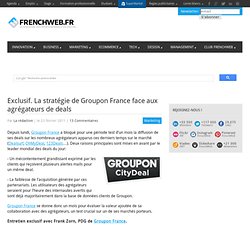 Deux raisons principales sont mises en avant par le leader mondial des deals du jour: - Un mécontentement grandissant exprimé par les clients qui reçoivent plusieurs alertes mails pour un même deal. - La faiblesse de l'acquisition générée par ces partenariats. Is Groupon Good for a Small Business? Do the Math. Groupon's Online Coupon Users Overwhelm Stores. When Philz Coffee Inc. offered half- price $20 gift cards to users of the Groupon coupon site, the San Francisco-based chain of coffee shops figured it would get a few hundred takers.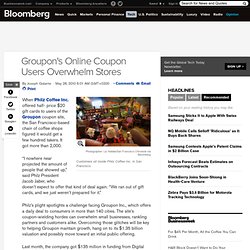 It got more than 2,000. "I nowhere near projected the amount of people that showed up," said Philz President Jacob Jaber, who doesn't expect to offer that kind of deal again. "We ran out of gift cards, and we just weren't prepared for it." Philz's plight spotlights a challenge facing Groupon Inc., which offers a daily deal to consumers in more than 140 cities. The site's coupon-wielding hordes can overwhelm small businesses, rankling partners and customers alike.
The Groupon Promise « Groublogpon – The Serious Blog of Groupon. I'm frequently asked how Groupon chooses which businesses to feature.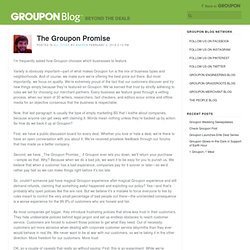 Variety is obviously important—part of what makes Groupon fun is the mix of business types and neighborhoods. And of course, we make sure we're offering the best price out there. But most importantly, we focus on quality. With I.P.O., Groupon Is Said to Value Itself at $15 Billion. Jose More/Chicago News CooperativeA huge public stock offering would be a significant milestone for Andrew Mason, Groupon's founder and chief executive. 9:40 p.m. | Updated Groupon, the social buying site that spurned a $6 billion offer from Google, is pushing ahead with plans for its initial public offering, a debut that could value the company at $15 billion or more.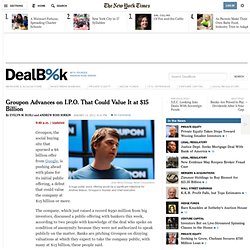 The company, which just raised a record $950 million from big investors, discussed a public offering with bankers this week, according to two people with knowledge of the deal who spoke on condition of anonymity because they were not authorized to speak publicly on the matter. Banks are pitching Groupon on dizzying valuations at which they expect to take the company public, with many at $15 billion, these people said. Groupon, which is expected to make its debut in the spring, is prepared to meet with bankers again on Friday, according to the two people. Groupon Raises $950 Million ? Now Comes the Hard Part: Tech News and Analysis ? "You know what's cooler than a million dollars?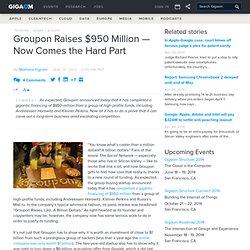 A billion dollars." Fans of the movie The Social Network — especially those who live in Silicon Valley — like to recite that line a lot, and now Groupon gets to feel how cool that really is, thanks to a new round of funding. How did Groupon scale their sales team so quickly. AdFreak: Did Groupon's ads cause revenues to tank? In one month, Groupon's skyrocketing revenues suddenly tanked by 30 percent—and it just happened to be the month of the site's widely hated Super Bowl ad, according to data compiled by TechCrunch.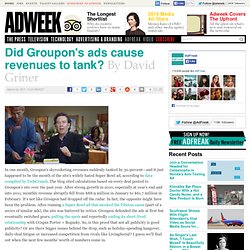 The blog cited calculations based on every deal posted to Groupon's site over the past year. After strong growth in 2010, especially at year's end and into 2011, monthly revenue abruptly fell from $88.9 million in January to $61.7 million in February. It's not like Groupon had dropped off the radar. Groupon Reveals Its Future Lies In Self-Serve. YipitData aggregates transaction data from ecommerce marketplaces for institutional money managers and industry participants. Past reports have been covered in WSJ, Bloomberg, Reuters. Researching Alibaba? Contact us: data@yipitdata.com One of the most hotly anticipated IPOs of 2014, Alibaba is rumored to go public next month at a valuation north of $130 billion.
---