Google
Eric Schmidt: «Google n'est pas obligé de traiter tout le monde pareil» Eric Schmidt a une semaine européenne chargée.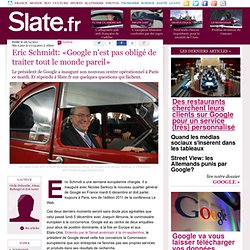 Il a inauguré avec Nicolas Sarkozy le nouveau quartier général de Google en France mardi 6 décembre et doit parler, toujours à Paris, lors de l'édition 2011 de la conférence Le Web. Ces deux derniers moments seront sans doute plus agréables que celui passé lundi 5 décembre avec Joaquín Almunia, le commissaire européen à la concurrence. Google est au centre de deux enquêtes pour abus de position dominante, à la fois en Europe et aux Etats-Unis.
Google Books Deal Not Dead, Only Resting, Authors' Lawyer Says | Epicenter  U.S.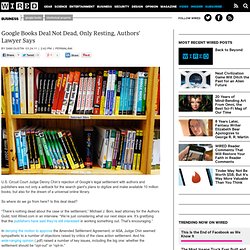 Circuit Court Judge Denny Chin's rejection of Google's legal settlement with authors and publishers was not only a setback for the search giant's plans to digitize and make available 10 million books, but also for the dream of a universal online library. So where do we go from here? Is this deal dead? "There's nothing dead about the case or the settlement," Michael J. Boni, lead attorney for the Authors Guild, told Wired.com in an interview.
GFail: Google 'Very Sorry' After the Cloud Eats 150,000 Gmail Accounts | Epicenter  (Update 3/11 3:00 p.m.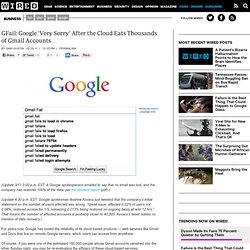 EST: A Google spokesperson emailed to say that no email was lost, and the company has restored 100% of the data, per the incident report (pdf).) (Update 4:30 p.m. EST: Google spokesman Andrew Kovacs just tweeted that the company's initial statement on the number of users affected was wrong. "Gmail issue: affected 0.02% of users not 0.08%, restored access for 1/3, remaining 0.013% being restored on ongoing basis,all w/in 12 hrs." That means the number of affected accounts is probably closer to 40,000. Google Person Finder: 2011 Japan Earthquake. Google Recipe Search Cooks Up Next Gen of Search | Epicenter  Stepping into the kitchen now, Google introduced a recipe search engine Thursday that serves up dishes based not only on the ingredients you may have on hand, but the calories you want to consume and even how much time you have to cook.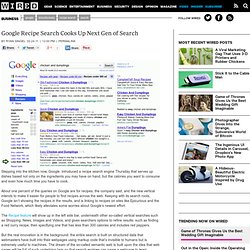 About one percent of the queries on Google are for recipes, the company said, and the new vertical intends to make it easier for people to find recipes across the web. Keeping with its search roots, Google isn't showing the recipes in the results, and is linking to recipes on sites like Epicurious and the Food Network, which likely alleviates some worries about Google's newest effort. The Recipe feature will show up in the left side bar, underneath other so-called vertical searches such as Shopping, News, Images and Videos, and gives searchers options to refine results: such as finding a red curry recipe, then specifying one that has less than 300 calories and includes red peppers.
Faster than a speeding rabbit: speed, sync, and settings. In the spirit of the lunar new year, we're excited to kick off the Year of the Rabbit with a slew of enhancements in the Chrome beta channel.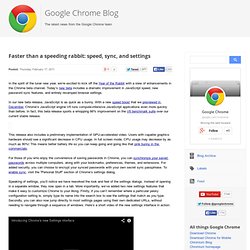 Today's new beta includes a dramatic improvement in JavaScript speed, new password sync features, and entirely revamped browser settings.In our new beta release, JavaScript is as quick as a bunny. With a new speed boost that we previewed in December, Chrome's JavaScript engine V8 runs compute-intensive JavaScript applications even more quickly than before. In fact, this beta release sports a whopping 66% improvement on the V8 benchmark suite over our current stable release. This release also includes a preliminary implementation of GPU-accelerated video. Users with capable graphics hardware should see a significant decrease in CPU usage. Google Turns Dozens Of Its Consumer Products Into Enterprise Apps. Earlier this year, Google announced that it would be rolling out Apps interactivity with iGoogle, YouTube, Blogger, Picasa, and other products in the Google family.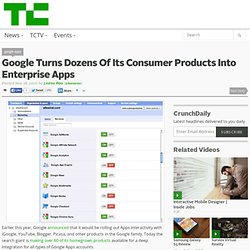 Today the search giant is making over 60 of its homegrown products available for a deep integration for all types of Google Apps accounts. Services like Google Voice, Reader, Analytics and AdWords will now be available on Google Apps accounts. Google "In Discussions" To Buy Groupon For Over $3 Billion. Google is "in discussions" to acquire Groupon for "well above" $3 billion, says Kara Swisher of All Things D.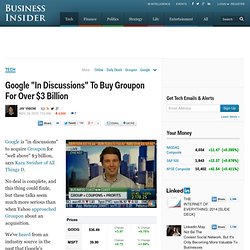 No deal is complete, and this thing could fizzle, but these talks seem much more serious than when Yahoo approached Groupon about an acquisition. We've heard from an industry source in the past that Google's Marissa Mayer, now in charge of local, is keen on Groupon. Swisher says the daily local deals site "appears to be engaged in a pattern of shopping itself around, via its bankers Allen & Co. " If Google doesn't bite on the acquisition, there's a chance Microsoft, Amazon, or eBay would.
Google rumored to have bought Groupon for $2.5 billion. It seems, if unnamed insider sources and some speculation from TechCrunch are to be believed, that Google has just bought Groupon, the deal-of-the-day website, for $2.5 billion.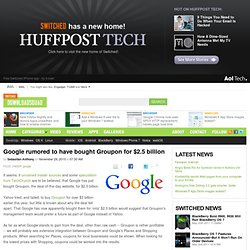 Yahoo tried, and failed, to buy Groupon for over $3 billion earlier this year, but little is known about why the deal fell apart. That Google has now apparently bought them for 'only' $2.5 billion would suggest that Groupon's management team would prefer a future as part of Google instead of Yahoo. As far as what Google stands to gain from the deal, other than raw cash -- Groupon is rather profitable -- we will probably see extensive integration between Groupon and Google's Places and Shopping products.
When searching for Places, coupons for local businesses could be shown. It's Over: Google Has Already Won April Fool's Day 2011. It's not even April 1st in Mountain View, but the April Fools Day comedy game is already over and I'm declaring Google the winner.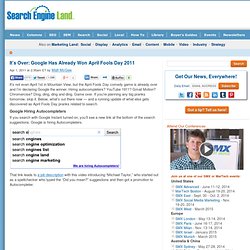 Hiring autocompleters? YouTube 1911? Gmail Motion? Chromercise? Google to Launch Major New Social Network Called Circles, Possibly Today. Final update: Three months after ReadWriteWeb first described these plans in detail, Google announces Google Circles as part of a larger social initiative.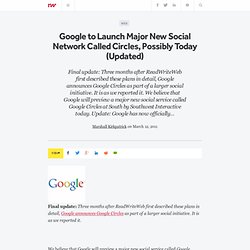 It is as we reported it. We believe that Google will preview a major new social service called Google Circles at South by Southwest Interactive today.
Google will launch iTunes music store competitor with upgrade to Android | Technology. Google is to launch a music service to compete with Apple's iTunes music store as part of a forthcoming upgrade to its Android mobile operating system, according to Sanjay Jha, chief executive of Motorola Mobility, which will soon launch one of the first machines able to run the software. Speaking at the Mobile World Congress in Barcelona, Jha said: "If you look at Google Mobile services [via Android] today, there's a video service, there's a music service – that is, there will be a music service.
" He added that the value of the upgrade to the Android system, known as "Honeycomb", which will power the forthcoming Motorola Xoom tablet is that "it adds video services and music services". Google has been expected to launch a "Google Music" service for some time, but it has been unclear how it would promote it. Now Jha has indicated that it will rely on Honeycomb, which is a version of Google's free mobile operating system that has been specifically written for tablet computers. Will Google Music launch at I/O this spring? According to a CNET report, Google is getting much closer to its anticipated music marketplace debut.
In September, we speculated that Google Music would launch by Christmas, yet it's now March and we haven't heard a note. Rumors swirled that Google was planning to preview its service at this month's SXSWi in Austin, Texas, but nothing came of that either. CNET reports that Google employees have begun "dog fooding," a Silicon Valley term to describe when employees try out a new service or product. Even more interesting: 2 weeks ago a member of the XDA Developers forum wrote that he accidentally discovered Google Music after installing the Honeycomb version of the Android operating system on a phone.
According to CNET sources, "negotiations with at least some of the top publishers and four largest record labels are ongoing…The delays are largely due to the complexity of the subject matter. Android Music 3.0 app with cloud streaming leaked. Google Launches Instant Previews. At last, Google has finally gained a page preview feature. Called "Instant Previews," this is a way for you to see what's on a page that's listed in Google's search results without having to leave Google. The new feature seems promising, another way to save time in the searching process, because there's less need for people to "pogostick" with their search results.
Pogosticking is when someone clicks from a search listing to a page, then clicks back if unsatisfied to select another result and so on. With the new Instant Previews, they may be better able to immediately spot the most promising pages among those listed. Up Close With Instant Previews. CloudMagic brings instant search to Gmail and Google Docs. 3 February '11, 12:02pm Follow Google's instant search results are a great timesaver when you're searching the Web, but wouldn't it be useful if the feature was rolled out to other services like Gmail and Apps too? CloudMagic is a handy little utility for Chrome and Firefox that, from today, does just that. Once installed, you just connect CloudMagic to your Google account and it's ready to use. Google Search Becomes More Social, Integrates Flickr, Twitter & Quora. Google has launched major updates to Social Search, integrating information from Twitter, Flickr and Quora throughout its search engine.
The search giant launched Social Search in 2009; the feature integrates search results from your friends at the bottom of the search page. It utilizes social profiles connected to your Google Account to deliver items like photo or blog results that come from your friends. Google's now making some prominent changes to Google Social Search, and it is announcing three new websites that will appear prominently in social search results. We had a chance to speak with Mike Cassidy, product management director for search, about the changes. Angry Birds jouable en ligne gratuitement, merci Google ! Think Insights with Google: a new site for data lovers. Why Would Google Release an iPhone-Only Group Messaging App?
Fox.com begins blocking Google TV. Google Voice en France fin 2011.
---