Google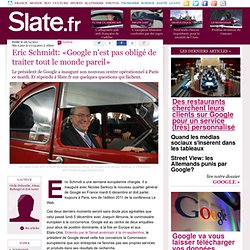 Eric Schmidt a une semaine européenne chargée.
Eric Schmidt: «Google n'est pas obligé de traiter tout le monde pareil»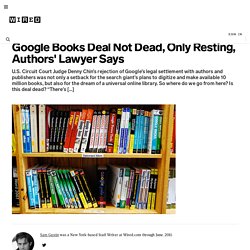 Google Books Deal Not Dead, Only Resting, Authors' Lawyer Says | Epicenter 
U.S. Circuit Court Judge Denny Chin's rejection of Google's legal settlement with authors and publishers was not only a setback for the search giant's plans to digitize and make available 10 million books, but also for the dream of a universal online library.
GFail: Google 'Very Sorry' After the Cloud Eats 150,000 Gmail Accounts | Epicenter 
(Update 3/11 3:00 p.m.
Google Recipe Search Cooks Up Next Gen of Search | Epicenter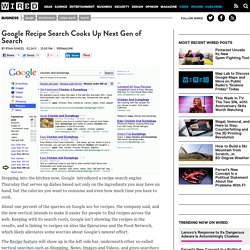 Stepping into the kitchen now, Google introduced a recipe search engine Thursday that serves up dishes based not only on the ingredients you may have on hand, but the calories you want to consume and even how much time you have to cook.
In the spirit of the lunar new year, we're excited to kick off the Year of the Rabbit with a slew of enhancements in the Chrome beta channel. Today's new beta includes a dramatic improvement in JavaScript speed, new password sync features, and entirely revamped browser settings.In our new beta release, JavaScript is as quick as a bunny.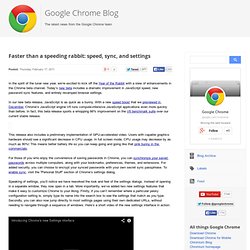 Faster than a speeding rabbit: speed, sync, and settings
Google Turns Dozens Of Its Consumer Products Into Enterprise Apps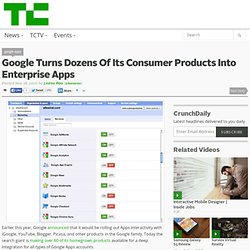 Earlier this year, Google announced that it would be rolling out Apps interactivity with iGoogle, YouTube, Blogger, Picasa, and other products in the Google family. Today the search giant is making over 60 of its homegrown products available for a deep integration for all types of Google Apps accounts. Services like Google Voice, Reader, Analytics and AdWords will now be available on Google Apps accounts.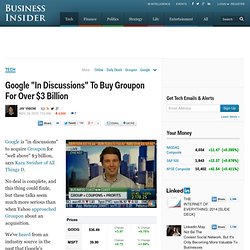 Google "In Discussions" To Buy Groupon For Over $3 Billion
Google is "in discussions" to acquire Groupon for "well above" $3 billion, says Kara Swisher of All Things D.
Google rumored to have bought Groupon for $2.5 billion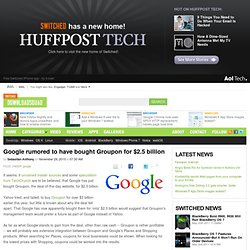 It seems, if unnamed insider sources and some speculation from TechCrunch are to be believed, that Google has just bought Groupon, the deal-of-the-day website, for $2.5 billion.
It's Over: Google Has Already Won April Fool's Day 2011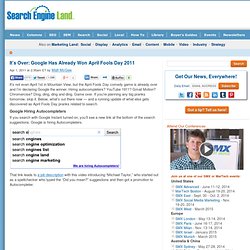 It's not even April 1st in Mountain View, but the April Fools Day comedy game is already over and I'm declaring Google the winner.
Final update: Three months after ReadWriteWeb first described these plans in detail, Google announces Google Circles as part of a larger social initiative. It is as we reported it.
Google to Launch Major New Social Network Called Circles, Possibly Today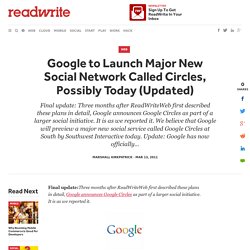 Google's social strategy
It is widely believed that Facebook presents a significant competitive threat to Google. Google itself seems to believe this – Larry Page recently said that all employees would have their bonuses tied to the success of Google's social strategy. Why does Facebook present a threat to Google?
Google will launch iTunes music store competitor with upgrade to Android | Technology
Google is to launch a music service to compete with Apple's iTunes music store as part of a forthcoming upgrade to its Android mobile operating system, according to Sanjay Jha, chief executive of Motorola Mobility, which will soon launch one of the first machines able to run the software. Speaking at the Mobile World Congress in Barcelona, Jha said: "If you look at Google Mobile services [via Android] today, there's a video service, there's a music service – that is, there will be a music service." He added that the value of the upgrade to the Android system, known as "Honeycomb", which will power the forthcoming Motorola Xoom tablet is that "it adds video services and music services". Google has been expected to launch a "Google Music" service for some time, but it has been unclear how it would promote it. Now Jha has indicated that it will rely on Honeycomb, which is a version of Google's free mobile operating system that has been specifically written for tablet computers.
Will Google Music launch at I/O this spring?
According to a CNET report, Google is getting much closer to its anticipated music marketplace debut. In September, we speculated that Google Music would launch by Christmas, yet it's now March and we haven't heard a note. Rumors swirled that Google was planning to preview its service at this month's SXSWi in Austin, Texas, but nothing came of that either. CNET reports that Google employees have begun "dog fooding," a Silicon Valley term to describe when employees try out a new service or product.
Android Music 3.0 app with cloud streaming leaked
Google Launches Instant Previews
At last, Google has finally gained a page preview feature. Called "Instant Previews," this is a way for you to see what's on a page that's listed in Google's search results without having to leave Google.
Google's instant search results are a great timesaver when you're searching the Web, but wouldn't it be useful if the feature was rolled out to other services like Gmail and Apps too?
CloudMagic brings instant search to Gmail and Google Docs
Google Search Becomes More Social, Integrates Flickr, Twitter & Quora
Angry Birds jouable en ligne gratuitement, merci Google !
Think Insights with Google: a new site for data lovers
Why Would Google Release an iPhone-Only Group Messaging App?
Fox.com begins blocking Google TV
Google Voice en France fin 2011