Facebook
Instagram. Une page Facebook g?n?r?e automatiquement pour chaque article de votre blog - Strat?gie de communication et web social. Meet Your New Media Company: Facebook. Warner Bros. Adds 'Inception,' Two 'Harry Potter' Movies to Facebook Digital Rental Offerings. Facebook Intern Uses Human Connections to Visualize Globe. New Facebook Features Exposed in Accidental Update. Facebook accidentally went live with a handful of prototype features earlier today, including a site-wide yet short-lived overhaul of Pages.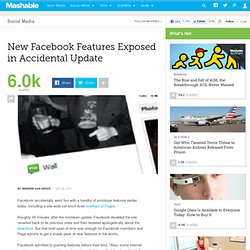 Roughly 45 minutes after the mistaken update, Facebook disabled the site, reverted back to its previous state and then tweeted apologetically about the downtime. But that brief span of time was enough for Facebook members and Page admins to get a sneak peek at new features in the works. Facebook admitted to pushing features before their time. "Also, some internal prototypes were exposed to people and resulted in us disabling the site briefly.
Facebook Now Valued at $65 Billion [REPORT] Facebook Acquires Group Messaging Service Beluga In A Talent AND Technology Deal. Facebook has just acquired group messaging service Beluga, we've learned.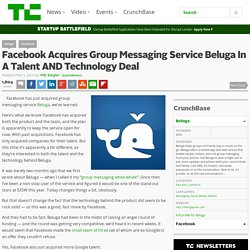 Here's what we know: Facebook has acquired both the product and the team, and the plan is apparently to keep the service open for now. With past acquisitions, Facebook has only acquired companies for their talent. But this time it's apparently a bit different, as they're interested in both the talent and the technology behind Beluga. It was barely two months ago that we first wrote about Beluga — when I called it my "group messaging white whale". Since then I've been a non-stop user of the service and figured it would be one of the stand-out stars at SXSW this year. Les Crédits Facebook : avenir du e-commerce ?
L'une des nouveauté de 2010 sur Facebook fut l'apparition des crédits : une monnaie virtuelle qui permet d'acheter des objets virtuels dans plus de 150 jeux sur Facebook, les plus connus Farmville, Cytiville ou Pet Society.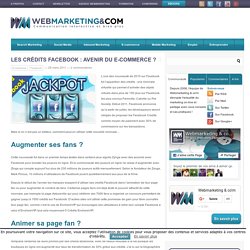 Début 2011, Facebook annnonce qu'à partir de juillet, les développeurs seront obligés de proposer les Facebook Credits comme moyen de paiement avec 30% de commissions sur les transactions. Mais si on n'est pas un éditeur, comment peut-on utiliser cette nouvelle monnaie… Augmenter ses fans ? Cette nouveauté fut dans un premier temps testée dans certains jeux signés Zynga avec des accords avec Facebook pour booster les joueurs en ligne. Facebook Busted in Clumsy Smear Attempt on Google. Transcendence, starring Johnny Depp, is the latest in a series of Hollywood films with what you might call a transhumanist flair.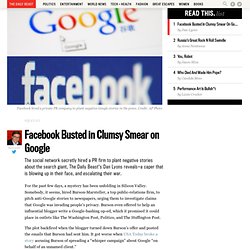 Other recent movies exploring the symbiosis of man and machine and our relationship with technology include the Robocop remake and Her. What we are seeing is the mainstream finally flirting with some of the headiest ideas in the history of the world, reflecting our need to grapple with the implications of a world sustained by increasingly powerful technologies, and a redefinition of what it means to be human. I suppose the main argument goes like this: We are no longer subject to Darwinian natural selection. Why Facebook's New Questions Tool Is Good for Brands & Businesses. Brands and businesses are looking for ways to leverage Facebook's recently unveiled Questions tool in ways that differ from what they're already doing on Q&A sites such as Quora, Yahoo Answers and LocalMind.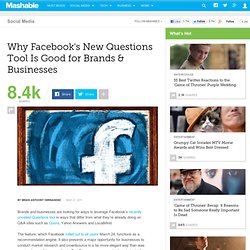 The feature, which Facebook rolled out to all users March 24, functions as a recommendation engine. It also presents a major opportunity for businesses to conduct market research and crowdsource in a far more elegant way than was previously possible, according to Ben Grossman, communication strategist for marketing agency Oxford Communications. "We know from Nielsen that recommendations from friends and family and the opinions of online strangers are the top two most trusted forms of advertising," Grossman told Mashable.
"Facebook Questions offers the perfect opportunity for brands to tap into exactly that. "NOTE: Page owners can access Questions by logging into their page and then heading to the Questions page to enable the feature.
---