Vivianamat
Viviana Mat
http://sparkol.com/videoscribe.php
Leadership from the Heart Leading with an upright heart and skillful hands - Psalm 78:72 Top
Leadership from the Heart - Book Notes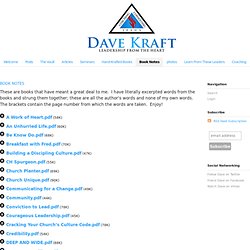 Google Apps for education
wuthering heights resources
Digital programming examples
Young people are using the New Literacies in droves – things like SMS, Google, Instant Messenging, MySpace, and blogs. Broader concepts like 'visual literacy' are said to be part of the way that young people communicate. Our aim of incorporating them into classroom practice is to create a bridge into more formal literacy and numeracy skills, and to develop the students as critical thinkers, rather than mere consumers of these innovations.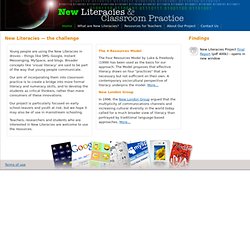 New Literacies
Are We Really Evaluating the Use of iPads in Our Classroom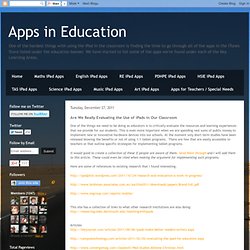 One of the things we need to be doing as educators is to critically evaluate the resources and learning experiences that we provide for our students. This is even more important when we are spending vast sums of public money to implement new or innovative hardware devices into our schools. At the moment only short term studies have been released showing the benefits or not of using 1:1 tablet programs. There are few that are easily accessible to teachers or that outline specific strategies for implementing tablet programs.
.:Partners in Learning School Research:.
Educators around the globe recognize that teaching and learning needs to be transformed to align with the realities of life and work in the 21st century. Today's learners need to develop higher order skills and know how to create and collaborate. At the same time, school leaders need to build their teachers' capacity to develop these skills in students. The transformation goes beyond Information Communications Technology (ICT). Merely having technology inside the classroom does not by itself change teaching and learning.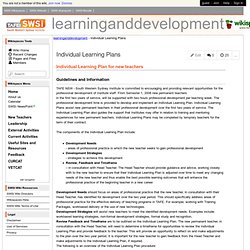 learninganddevelopment - Individual Learning Plans
Guidelines and Information TAFE NSW - South Western Sydney Institute is committed to encouraging and providing relevant opportunities for the professional development of Institute staff. From Semester 1, 2008 new permanent teachers in the first two years of service, will be supported with two hours professional development per teaching week. The professional development time is provided to develop and implement an Individual Learning Plan. Individual Learning Plans assist new permanent teachers in their professional development over the first two years of service.
500+ Creative Lessons To Teach Almost Anything
Free Technology for Teachers
Critical & Creative Education