Pro
Opening Minds. Product Details Author: Peter H.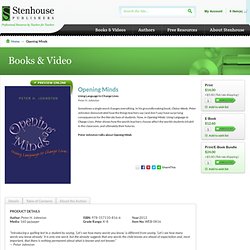 JohnstonISBN: 978-157110-816-6Year:2012Media: 160 pp/paperGrade Range: K-8Item No: WEB-0816 "Introducing a spelling test to a student by saying, 'Let's see how many words you know,' is different from saying, 'Let's see how many words you know already.' ProgressMonitoringWhatWhyHowWhenWhere. W&M School of Education - Useful Links. Maria van Lieshout Home. Splash, a little book about bouncing back.
Presentations | KUCRL. Teaching Channel: Videos, Lesson Plans and Other Resources for Teachers. PDF to Flash page flip - flipping book software. Strategramsv21no4_BigFour. ClassroomMgmt. E1_Kincaid_et_al. Teaching Channel: Videos, Lesson Plans and Other Resources for Teachers. Positive Behaviour Support – Inclusive Education. This series of three related websites was developed collaboratively by Mount Royal University and their education partners for use by families, aides and school staff supporting children with disabilities.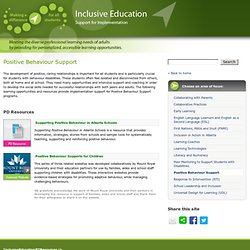 These interactive websites provide evidence-based strategies for promoting adaptive behaviour, while managing challenging behaviours. We gratefully acknowledge the work of Mount Royal University and their partners in developing this resource in support of families, aides and school staff and thank them for their willingness to share it on this website. ERLC Ongoing Professional Learning Opportunities - Instructional Coaching for Coaches.
A Series via Webinar and In Person with Jim Knight Webinar Session 1 Strategies to Facilitate Successful Instructional Coaching - Playback this webinar hereWebinar Session 2 Intensive Learning Teams - Playback this webinar hereABOUT THIS LEARNING OPPORTUNITY: What skills and strategies do you need to support you in your role as a classroom instructional coach?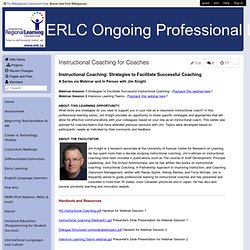 In this professional learning series, Jim Knight provides an opportunity to share specific strategies and approaches that will allow for effective communications with your colleagues based on your role as an instructional coach. This series was planned for coaches/teams that have attended previous sessions with Jim. Topics were developed based on participants' needs as indicated by their comments and feedback.ABOUT THE FACILITATOR: Jim Knight is a research associate at the University of Kansas Center for Research on Learning.
Education - Making a Difference: Meeting diverse learning needs with differentiated instruction. This resource provides teachers with an Alberta context for differentiated instruction, and information and strategies for implementing differentiated instructional practices to better meet the diverse learning needs of all students.
The files of this resource are in portable document formation (pdf). The resource can be downloaded as an entire document or by individual sections. Click here to download the entire resource (4.4 mb). Instructional Coaching With the End in Mind Ppt Presentation | IF Central. Least Restrictive Environment | Project Success. A Learner Selecting Vocabulary for a Sentence Frame Shirley Wilson demonstrates how to use a sentence frame for students with physical or severe disabilities in a video that is two minutes long.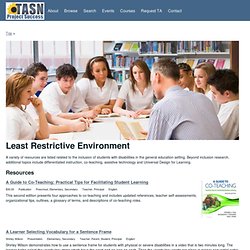 The learner helps select the vocabulary strips which have the word and an icon on each. Then the vocabulary words are place in proper sequential order on the child's frame attached in front of the learner. Resources. UK.Instructional%20Coaching. Teacher Excellence Narrows the Achievement Gap. By embracing research-backed instructional design, consistent PD, and strong, caring relationships, all boats are rising and teachers have gone from surviving to thriving at this once-failing middle school.
Once among the worst-performing middle schools in the state, Cochrane has been making great strides by narrowing its achievement gap and doubling student performance in the past three years. Credit: Zachary Fink The bell rings and most of the ninth-grade students in Ms. Johnson's English class are still standing. The Big 4 | Instructional Coaching. TeacherProgressMap.doc. WHAT WORKS IN EDUCATION The George Lucas Educational Foundation. How Principals Can Grow Teacher Excellence. At Cochrane Collegiate Academy, teachers credit their principal with helping them continually improve their practice through effective PD, ongoing support, and mutual trust.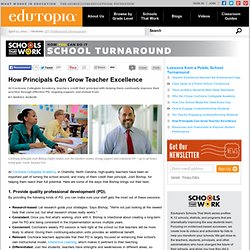 Cochrane principal Josh Bishop (right) makes sure his teachers receive strong support and consistent PD -- up to 90 hours every year. Credit: Zachary Fink At Cochrane Collegiate Academy, in Charlotte, North Carolina, high-quality teachers have been an important part of turning the school around, and many of them credit their principal, Josh Bishop, for helping them reach their full potential. Here are some of the ways that Bishop brings out their best. 1. How to Engage Underperforming Students. Shana Oliver: For about eight or nine years, we were considered a failing school and we knew that we had to restructure in order to keep our school open.
My name is Shana Oliver and I'm the academic facilitator here at Cochrane Collegiate Academy. Joshua Bishop: The big part of what we do here is the professional development piece. You know, the way we do professional development and training is very specific on enhancing their skill set. Ausl-coaching-tool. Twice as Many Students Meet State Standards. Classroom strategies backed by research and ongoing teacher development are helping to narrow the achievement gap at this Title I school.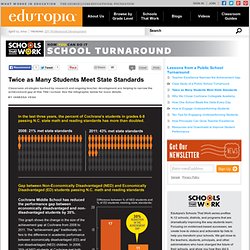 See the infographic below for more details. Sources: North Carolina Department of Public Instruction, National Center for Education Statistics, U.S. Ausl-think-pair-share.
---