Wine
Aromas and Flavors of Wine. These pages will help you learn more about wines, how they tend to taste to people, what flavors you can find, and what those flavors are like.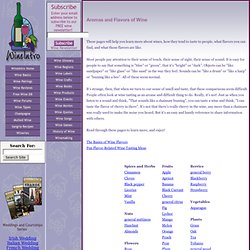 Most people pay attention to their sense of touch, their sense of sight, their sense of sound. It is easy for people to say that something is "blue" or "green", that it's "bright" or "dark". The Basics of Wine Tasting. Learning how to taste wines is a straightforward adventure that will deepen your appreciation for both wines and winemakers.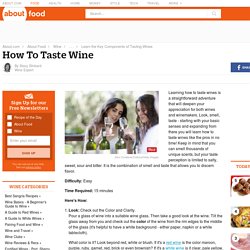 Look, smell, taste - starting with your basic senses and expanding from there you will learn how to taste wines like the pros in no time! Keep in mind that you can smell thousands of unique scents, but your taste perception is limited to salty, sweet, sour and bitter. It is the combination of smell and taste that allows you to discern flavor. VintageChart.
---