Google Official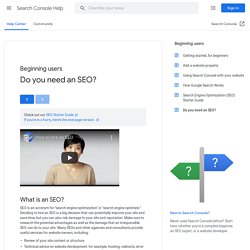 SEO is an acronym for "search engine optimization" or "search engine optimizer." Deciding to hire an SEO is a big decision that can potentially improve your site and save time, but you can also risk damage to your site and reputation. Make sure to research the potential advantages as well as the damage that an irresponsible SEO can do to your site. Many SEOs and other agencies and consultants provide useful services for website owners, including:
В наших блогах публикуются самые последние новости из жизни компании: будь то выпуск нового продукта, расширение функционала популярного приложения или очередная захватывающая инициатива Google. Мы начали вести блоги в мае 2004 года, и сейчас у нас целая сеть корпоративных блогов по самой разнообразной тематике: наша политика в отношении возобновляемых источников энергии, новости о наших продуктах, конкурсы для разработчиков и фрагменты программного кода, а также информация для рекламодателей и партнеров. The official blog for information about the AdWords, AdSense, DoubleClick and AdMob APIs and SDKs Das offizielle deutsche AdSense-Blog El blog oficial de AdSense en español Le Blog officiel AdSense en français Il blog ufficiale di AdSense in Italiano Het Officiële Nederlandse Google AdSense Blog Oficjalny polski blog o AdSense O blog oficial do AdSense em português Google AdSense 中文網誌 Google'a içeriden bir bakış.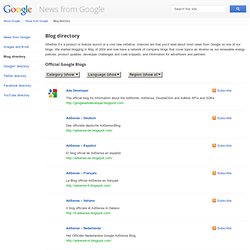 Blog directory – News from Google – Google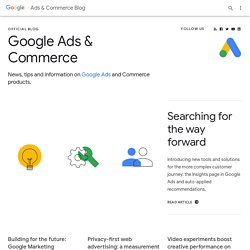 Testing is a great thing, but it's also important to know when and how to pick a winner and reap the benefits of your hard work. Choose strategic moments to remove your worse performing ads and apply the lessons that you've learned. There are times, such as the holiday shopping season when user search interest reaches its peak, when it's in your best interest to run with your best performing creative. Testing sacrifices some short term efficiency to ultimately improve your account in the long run. For that reason, there is an opportunity cost to leaving your tests running longer than they need to.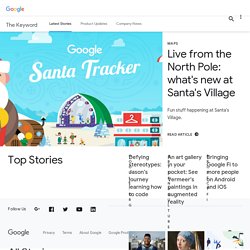 Every day, around the world, we search. We want to find out more about our heroes, explore far-away destinations, or settle a dinner table dispute between friends. And sometimes we just search to find out how many calories are in an avocado.
The following is a guest post from Google Analytics Certified Partner Feras Alhlou, Partner & Principal Consultant at E-Nor Inc. Marketers and sales professionals want to know who's visiting their site, what content the target audience is consuming and what converts site visitors to paying customers. In a B2B environment -- where long sales cycles and multiple stakeholders affect sales decision -- "knowing who's coming to your site" takes on another dimension.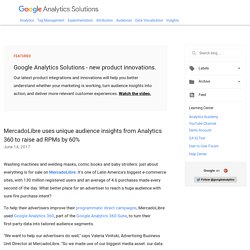 Webmaster level: Advanced Over the years, Google has used different crawlers to crawl and index content for feature phones and smartphones. These mobile-specific crawlers have all been referred to as Googlebot-Mobile. However, feature phones and smartphones have considerably different device capabilities, and we've seen cases where a webmaster inadvertently blocked smartphone crawling or indexing when they really meant to block just feature phone crawling or indexing. This ambiguity made it impossible for Google to index smartphone content of some sites, or for Google to recognize that these sites are smartphone-optimized.