Google Official
Search Engine Optimization (SEO) - Webmaster Tools Help. SEO is an acronym for "search engine optimization" or "search engine optimizer.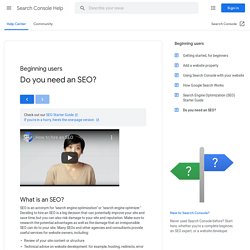 " Deciding to hire an SEO is a big decision that can potentially improve your site and save time, but you can also risk damage to your site and reputation. Make sure to research the potential advantages as well as the damage that an irresponsible SEO can do to your site. Many SEOs and other agencies and consultants provide useful services for website owners, including: Blog directory – News from Google – Google. Whether it's a product or feature launch or a cool new initiative, chances are that you'll read about most news from Google on one of our blogs.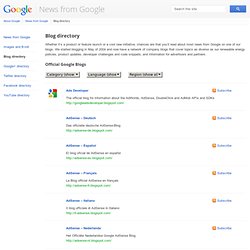 We started blogging in May of 2004 and now have a network of company blogs that cover topics as diverse as our renewable energy policies, product updates, developer challenges and code snippets, and information for advertisers and partners. The official blog for information about the AdWords, AdSense, DoubleClick and AdMob APIs and SDKs Das offizielle deutsche AdSense-Blog El blog oficial de AdSense en español Le Blog officiel AdSense en français Il blog ufficiale di AdSense in Italiano Het Officiële Nederlandse Google AdSense Blog Oficjalny polski blog o AdSense O blog oficial do AdSense em português Google AdSense 中文網誌 Google'a içeriden bir bakış.
Inside AdWords. Official Google Blog. Analytics Blog. Official Google Webmaster Central Blog.
---