Corporate
Mother Dairy. I was 5 or 6 years old when a Mother Dairy booth was set up in Hauz Khas.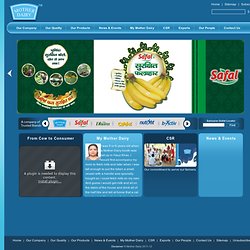 I would first accompany my mom to fetch milk and later when i was tall enough to put the token a small vessel with a handle was specially bought so i could fetch milk on my own. And guess i would get milk and sit on the stairs of the house and drink all of the half litre and tell at home that a cat has drunk it. Even today that smell of fresh token milk or Mother Dairy milk boiling brings back those childhood memories and i still cannot resist myself from drinking from the vessel. MTR. Haldiram's. Vadilal. Today, the name Vadilal conjures images of lip-smacking ice cream in a whole gamut of flavours.
Vadilal spells quality, availability, variety and state-of-the-art machinery and equipment. It has, however, been a long journey for the group, which traces its origins way back to 1907, when a certain unassuming gentleman, by the name of Vadilal Gandhi, the great-grand father of Virendra R Gandhi, Rajesh R Gandhi and Devanshu L Gandhi, started a soda fountain. He passed on the business to his son, Ranchod Lal, who ran a one-man show, and, with a hand cranked machine, started a small retail outlet in 1926. Eventually, Ranchod Lal's sons, Ramchandra and Lakshman, inherited the business and they were instrumental in giving a new direction to the company. The duo imparted a new vision to the venture and infused a spirit of calculated risk-taking into the company. Marico. Parachute Coconut Oil One of our oldest brands and a market leader in its category, today Parachute Coconut Oil stands for purity and quality.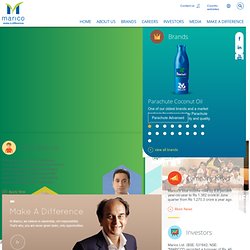 Parachute Advansed. IFFCO. Godrej. Dabur. Facebook. Parle. Britannia. Tata. ITC. Nestlé. Unilever. Facebook. Amul. Facebook.
---