Cooking
Black Sapote tastes like chocolate, Peanut Butter Fruit tastes like peanut butter, etc. : Permaculture. Dinner & Drink Recipes, Cooking & Grilling Tips, Dinner Menus. We now offer international shipping through global provider, Borderfree.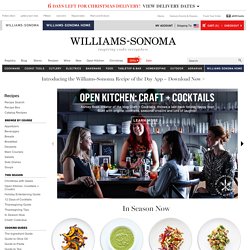 As you shop, you will see prices in your selected currency. You can change where you would like to ship your items in the top right corner of our website. To learn more about international shipping, please visit our International Orders page. Whole Lifestyle Nutrition | Organic & Holistic Recipes « Organic recipes, Organic Gardening, Healthy Living Whole Lifestyle Nutrition | Organic & Holistic Recipes. Dill (Refrigerator) Pickles. Ingredients 1 1/2 lb small pickling cucumbers (like Kirby), cut in half lengthwise 2 cups white distilled vinegar 2 cups cold water 4 cloves garlic, sliced 3 tablespoons kosher salt 1 tablespoon dill seed* 1 tablespoon mustard seed* 1 teaspoon red-pepper flakes 1/2 teaspoon celery seed fresh dill Directions: Evenly divide the garlic, dill and cucumbers among four wide mouthed pint jars.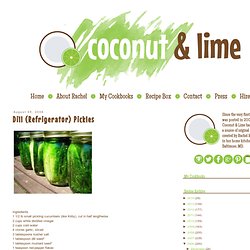 In a large bowl, mix together vinegar, water, red pepper flakes, celery seed, salt, mustard seed and dill seed. Use a funnel to fill each jar with brining liquid. Cultures for Health: Yogurt Starter, Sourdough Starter, Kombucha, Kefir Grains, Cheese Making and more | Supplies for a Real Food Lifestyle. Sinigang Recipe - Filipino Recipes.
---