Apache OfBiz
OFBiz Tutorial - How to setup the OFBiz Catalog Manager | Apache OfBiz Blog - HotWax Media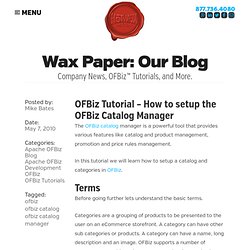 The OFBiz catalog manager is a powerful tool that provides various features like catalog and product management, promotion and price rules management.
Main Page: OFBiz: Opensource ERP information.
We here at AntWebsystems are pretty good with Apache OFBiz and all related software. We do however hate hardware which needs to be ordered, wait until you finally get it, has start-up fees, rack space fees etc, etc. On top of that we also do not like license fees! Guess what, that is all history now. We have switched our physical servers and the servers of our clients to the Amazon EC2 cloud.
Amazon cloud for OfBiz
NOTE: this is the technical setup guide for OFBiz, for the business oriented one, look here . Written by: David E. Jones With feedback and contributions from Jacques Le Roux, Ruth Hoffman, Andy Zeneski, Si Chen, Chris Chesney, Hans Bakker, and Al Byers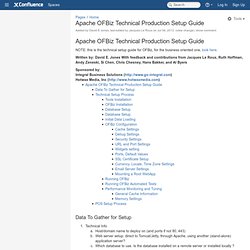 OFBiz Technical Production Setup Guide - OFBiz Technical Documentation
OFBiz - Getting started! | www.Kenfuse.com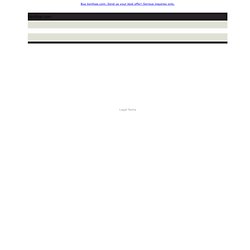 Apache OFBiz ( http://ofbiz.apache.org ) is one of the leading open source ERP / e-commerce projects. This howto would cover the initial setup steps Best place to get started http://docs.ofbiz.org/display/OFBADMIN/Demo+and+Test+Setup+Guide However, before you start following the guide you would need a few things such as JDK, SVN and ANT. If you don't know how to set these up follow the rest of the howto. Installing JDK
OfBiz Doc's: Demo and Test Setup Guide
Introduction This document describes an initial setup process and basic configuration options for the Open For Business Project. For more detail see related documents such as the OFBiz Framework Configuration Guide , the Entity Engine (database) Configuration Guide , the Service Engine Configuration Guide , and other related documents you may found at OFBiz Documentation Index If you run into trouble there are various resources available to help. The first steps would be to search on the New OFBiz Docs Site and Old OFBiz Wiki (now archived) , and then on the OFBiz Mailing Lists .