Apache OfBiz
OFBiz Tutorial - How to setup the OFBiz Catalog Manager | Apache OfBiz Blog - HotWax Media. OFBiz Tutorial – How to setup the OFBiz Catalog Manager The OFBiz catalog manager is a powerful tool that provides various features like catalog and product management, promotion and price rules management.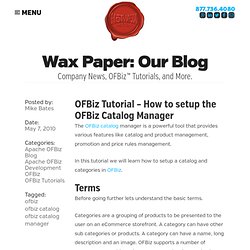 In this tutorial we will learn how to setup a catalog and categories in OFBiz. Terms Before going further lets understand the basic terms. Main Page: OFBiz: Opensource ERP information. Amazon cloud for OfBiz. We use the Scrum framework for all our projects.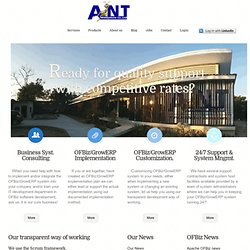 Groups of functions are implemented in short 1-4 weeks time periods.This allows you, the customer to change your mind for functions for which implementation has not yet been started. We have a multitenant demonstration system which is updated daily with the changes which were made by the Scrum team. You can see the system grow with the changes you requested. We have developed a Scrum support system based on Apache OFBiz in which you are able to maintain the backlog requirement list, where the sprint and time administration takes place. Apache OFBiz, The Apache Open For Business Project - Open Source E-Business / E-Commerce, ERP, CRM, POS, SCM, MRP, CMMS/EAM. OFBiz Technical Production Setup Guide - OFBiz Technical Documentation. NOTE: this is the technical setup guide for OFBiz, for the business oriented one, look here.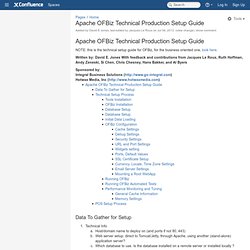 Written by: David E. Jones With feedback and contributions from Jacques Le Roux, Ruth Hoffman, Andy Zeneski, Si Chen, Chris Chesney, Hans Bakker, and Al Byers. OFBiz - Getting started! | www.Kenfuse.com.
---