Technology
Daily Education and Technology News for Schools 06/14. How to Teach Internet Safety in K-6. The Internet is a wonderful resource for kids for researching school reports, communicating with teachers, staying in touch with friends, and entertaining themselves.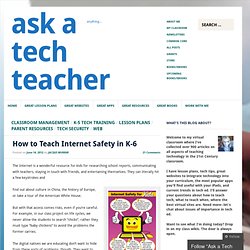 They can literally hit a few keystrokes and Click poster to purchase find out about culture in China, the history of Europe, or take a tour of the American White House. But with that access comes risks, even if you're careful. For example, in our class project on life cycles, we never allow the students to search "chicks", rather they must type "baby chickens" to avoid the problems the former carries. The Great Brain Debate - Science and Technology - Browse - Big Ideas - ABC TV. "The Great Brain Debate" from the Knowledge Cities World Summit in Melbourne asks the question: Do we need to protect our malleable brains from the information overload of our digital world?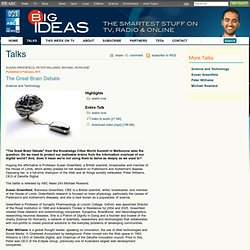 And, does it mean we're not using them to delve as deeply as we used to? Arguing the affirmative is Professor Susan Greenfield, a British scientist, broadcaster and member of the House of Lords, who's widely praised for her research on Parkinson's and Alzheimer's disease. The New Technologies—a Brain-Changer? Barbara Rich, Vice President of Communications at the Dana Foundation, interviews Baroness Susan Greenfield, an Oxford University Professor of Pharmacology and a member of the European Dana Alliance for the Brain, who reflects on the potential of how new digital technologies affect who we are.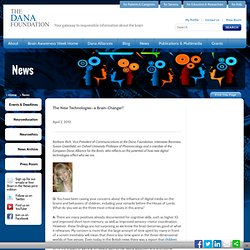 Q: You have been raising your concerns about the influence of digital media on the brains and behaviors of children, including your remarks before the House of Lords. What do you see as the three most critical issues in this arena? What Is Technology. June 1, 2012 by tomwhitby My friend, John Carver, a prominent education leader in Iowa, Skyped me the other day just to kick around some ideas in education that he was considering.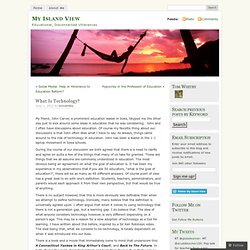 John and I often have discussions about education. Of course my favorite thing about our discussions is that John often likes what I have to say. As always, things came around to the role of technology in education. John has been a leader in the 1:1 laptop movement in Iowa schools. What are professors and students saying about new learning spaces classroom? « David Wicks: Educational Technology. Student Tool for Technology Literacy - Indicators. I.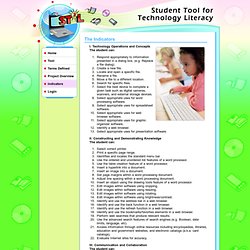 Technology Operations and Concepts The student can: Respond appropriately to information presented in a dialog box. Technology in teaching Physical Education 2010 by Nathan Walsh on Prezi. Educational Technology Guy: Some more tips for going paperless | Alive and Learning. How To Embed Technology Into The Classroom. How to embed technology on the fringes of education into the classroom.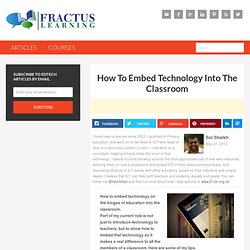 Part of my current role is not just to introduce technology to teachers, but to show how to embed that technology so it makes a real difference to all the members of a classroom. Here are some of my tips. To begin with, forget the technology, and focus on what the teacher already does well. 5 Opportunities For Ed Tech To Amplify Children's Curiosity, Not Destroy It | Alive and Learning. You Don't Have To Be An Expert To Use Technology In Your Classroom | Classroom Technology Help. I teach a seminar on how to use technology to encourage critical thinking skills.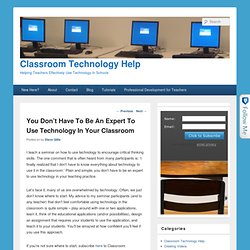 The one comment that is often heard from many participants is: 'I finally realized that I don't have to know everything about technology to use it in the classroom.' Plain and simple, you don't have to be an expert to use technology in your teaching practice. Explore the World on your IWB with the Google World Wonders Project. Your classroom interactive whiteboard can provide a window on the world, and that's definitely true when used alongside this new project from Google.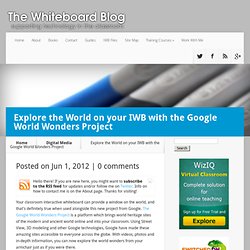 The Google World Wonders Project is a platform which brings world heritage sites of the modern and ancient world online and into your classroom. Using Street View, 3D modeling and other Google technologies, Google have made these amazing sites accessible to everyone across the globe. With videos, photos and in-depth information, you can now explore the world wonders from your armchair just as if you were there. Located in 18 different countries, the 132 famous destinations in the World Wonders Project include such classics as Stonehenge, Pompeii, the Leaning Tower of Pisa, and Yosemite National Park. It's similar to the Google Art Project in that handheld and trike-based cameras were used to get to places you wouldn't be able to take a Street View car. Young people and technology: fear and wellbeing - Future Tense - ABC Radio National. Antony Funnell: Hello, Antony Funnell here.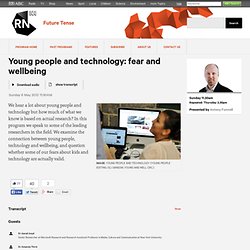 Today on Future Tense: young people, technology, our fears and untested assumptions. danah boyd: When we see young people and technology we hold both really high hopes that they're going to be the digital natives, that they'll automatically understand these newfangled technologies. And we also are afraid of what they're doing on there. Teachers and technology: how engaged are we? by Lucy Blakemore on Prezi | Voices in the Feminine | Alive and Learning. Hybrid Pedagogy: A Digital Journal on Teaching & Technology | The Network is the Learning. How Technology is Changing Students Study Habits. Reflections On Educational Leadership | Integrating Technology in Education | Digital Media in the Elementary Classroom.
Technology Timesavers for Teachers | Everything iPads. Leveraging Technology to Differentiate Instruction | Differentiation Strategies. Why we need to bring creativity and technology back together across the curriculum | Critical thinking for the 21st century. Seven Videos All Educators Should Watch. Summer is a time when many of us are thinking about and planning professional development workshops for our schools and for other schools.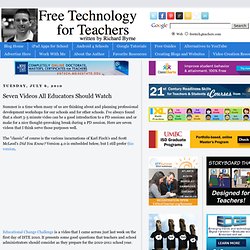 I've always found that a short 3-5 minute video can be a good introduction to a PD sessions and or make for a nice thought-provoking break during a PD session. Here are seven videos that I think serve those purposes well. The "classic" of course is the various incarnations of Karl Fisch's and Scott McLeod's Did You Know? What do you do when you don't know? (Part 5) Over the past few weeks I've been thinking about the Habits of Mind as described by Art Costa and Bena Kallick. These habits of mind are the dispositions that a student has towards behaving intelligently when confronted with problems. My question has been, do the PYP Attitudes and the IB Learner Profile also promote these habits of mind? 7 Ways To Keep Students Focused While Using Technology | Visual*~*Revolution.
How 1:1 Technology Is Making School More Real. Back in 2007, I gave my students an end-of-year survey asking them how they felt their year with me had gone. On it, one of my most quiet, thoughtful students left a comment I'll never forget: "This year felt more real ." Since then, I've made that a very intentional goal: helping students to have a classroom experience that avoids "schooliness," where my teaching and the students' tasks are consistently designed to be as genuine as possible. DailyDirt: Technology In Education | Techdirt | Alive and Learning. Why I'm Sticking With Dropbox (Over Google Drive) - Coby Chapple. Free Screen Capture - ScreenHunter | Digital presentations in education. Turning Students into Good Digital Citizens -- THE Journal | Digital Citizenship in Schools.
Everyday Math iOS Apps - dealmac.com | iPads in Education. Dealmac.com: The best deals on iPod, iMac and MacBook. Find sales on Macs, new and refurbished Apple systems. Daily Education and Technology News for Schools 04/24. Free Technology for Teachers: LocaModa - An Easy Way to Gather Tweets | The 21st Century. High Tech High and Project Based Learning by Stephen Petrucci on Prezi | Alive and Learning. Student Centred Blogging | Integrating Technology in the Primary Classroom | 21st Century Tools for Teaching-People and Learners. Five Future Technologies That Will Shape Our Classrooms | Future Trends and Advances In Education and Technology. The Technology Catalyst Daily | Alive and Learning. That Guy in the Library | Technology in Education | Alive and Learning.
Five Lessons from the Front: Using Tech in Education. Here are tips from the experts. They feature advice and case studies of how teachers and districts are using tech in education. All of these WebEx sessions are on-demand, so you can watch them when you have time. Blend Traditional and Online Learning. 10 Hilarious Videos That Show TV & Movies Failing To Understand Technology.
When you're trying to come up with a dramatic script or integrate "hacking" into your police drama show, there's no time for reality. An actual depiction of hacking would be terribly boring, but add some flashing windows, fast-paced typing, and dramatic music and you've got yourself a thrilling scene. Time and time again, television shows and films have fallen flat on their faces when it comes to understanding technology, and the results make for great entertainment.
Teams for Change. Daily Education and Technology News for Schools 04/15. QR Codes Explained and Ideas for Classroom Use. Moodle Tutorial: Creating and using a 'unit walk through' resource. Five Future Technologies That Will Shape Our Classrooms. When it comes to Technology, teachers need as much scaffolding as students. Top 10 Technology Blogs for Education. iPads in class energize kids as teachers test how to use them - The Denver Post. Daily Education and Technology News for Schools 01/21. Weekend Website #85: 11 Sizzling Space Sites. Play The Game Of Life & Get To Your Goals With Mindbloom. Shout - Explore, Connect, Act. Evernote in Education. Teachers Do More Than Teach - Why Technology Can Never Replace Them. We Give Books: Read digital picture books online for free. Rethinking how students learn.
Tech Transformation. Google Digital Literacy Tour. Your iPod is a health risk | Lismore Technology | Tech News for Lismore, Australia | Northern Star. Product Review: MindMaple. iPad Apps | Technology @ Westside. Technology @ Westside | documenting a Seattle school's experiences with technology. December/January Issue of #ProjectPLN. Guest Post-1:1 Technology in the Math Classroom. Overcoming the Divide Between Curriculum and Technology Leaders | Digital Tools and Education. 2012 Tech Trends | Digital presentations in education. Inspired by Technology, Driven by Pedagogy: A Systemic Approach to Technology-Based School Innovations | The Network is the Learning. 10 Ways to Create Comics Online.
Squrl Launches an iPad App for Video Discovery. Nine Neat NASA Resources for Teachers and Students. Preparing and Supporting Teachers to Integrate Technology in the Classroom « Make Prezi-Style Presentations On Your iPad With Shared Paper | Digital presentations in education. Tips and Tricks on KEYNOTE for iPhone | Digital presentations in education. Two tales of personalization and technology. Any.DO - Make Things Happen With Collaborative Task Management.
Tech Tip #51: Copy Images From Google Images. How Gaming Is Changing the Classroom - Education. Zite.
---