Teaching and Learning
There are thousands of websites related to teaching, and the list is growing exponentially. These are the "pearls" that I love and return to again and again to help me plan instruction, teach my students, and learn new things myself!
Assessment (NOT grading!)
Critical Thinking. Personality types. Differentiation. StudySkills. Time Management Tips (PDF) - Learn how to manage your time and create a personal schedule Study Schedule (PDF) - Print off your own blank study schedule Finding a Place to Study - Learn how to find the best place to get your homework done Study Guides and Study Tips - This site covers just about everything to do with study skills!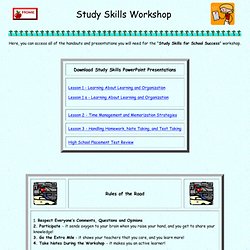 Design a Study Space - More tips on how to have a useful student work area Getting Organized - Help your child (or yourself) become more organized. Visual Thinking Strategies. A guide to using diagrams. Mind-map-assessment2.png (PNG Image, 964 × 564 pixels)
Tools and Resources. Classroom Environment and Management. Words of Wisdom for Teachers. Student Websites. Grading. Technology. Inquiry. ELA.
---