21st Century learning
Connect, Share, Learn. It has been an incredible journey since I decided to become a connected educator back in March of 2009.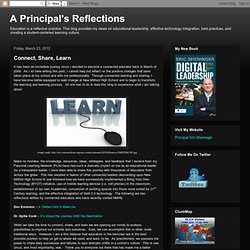 As I sit here writing this post, I cannot help but reflect on the positive changes that have taken place at my school and with me professionally. Through connected learning and sharing, I have become better equipped to lead change at New Milford High School and to begin to transform the teaching and learning process. All one has to do is read this blog to experience what I am talking about.
This Week's "Round-Up" Of Good Recent School Reform Articles & Posts. Top Education Next Articles of 2011! Which Ed Next articles were most popular in 2011?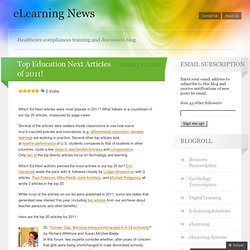 What follows is a countdown of our top 20 articles, measured by page views. Several of the articles take readers inside classrooms to see how some much-vaunted policies and innovations (e.g. differentiated instruction, blended learning) are working in practice. Several other top articles look at howthe performance of U.S. students compares to that of students in other countries. Quite a few relate to teachereffectiveness and compensation.
Learning or Learning on time? The classroom is a busy place for a teacher.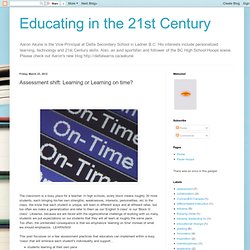 In high schools, every block means roughly 30 more students, each bringing his/her own strengths, weaknesses, interests, personalities, etc to the class. We know that each student is unique, will learn in different ways and at different rates, but too often we make a generalization and refer to them as our 'English 9 class' or our 'Block G class'. The Best Places Where Students Can Write Online. This "The Best…" list requires a bit of an explanation.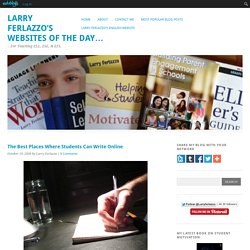 I've already posted The Best Websites For K-12 Writing Instruction/Reinforcement. That list primarily contains links to sites that provide direct writing instruction. And I've also posted several lists of Web 2.0 tools where writing is a key feature to using them, including The Best Ways To Create Online Slideshows, The Best Ways For Students To Create Online Animations, and The Best Ways To Make Comic Strips Online. I thought, though, that it would be useful to create another list of the best places where the primary purpose is just to write, and which make it interesting and easy for English Language Learners and other students to do so. The Best Resources To Learn About Finland's Education System. Finland's education system is touted by many as one of the best, if not the best, in the world, and its students consistently score at or neat the top of international tests (you might also be interested in The Best Sites For Getting Some Perspective On International Test Comparison Demagoguery) .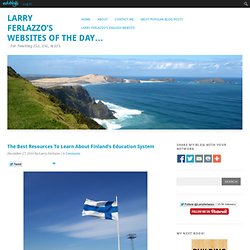 What, if anything, can we in the United States learn from what they are doing? Here are my choices for The Best Resources To Learn About Finland's Education System (please feel free to suggest additional articles I should include): Dan Rather Reports On Finland's Schools. The 21st Century Teacher. Share a link. Why The Future Of Work Will Make Us More Human. Jobs are not only being outsourced to people other countries, but they are being "othersourced" to automated workers.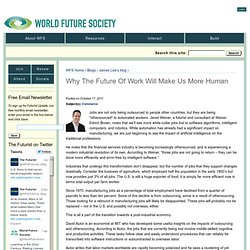 Jared Weiner, a futurist and consultant at Weiner Edrich Brown, notes that we'll see more white-collar jobs lost to software algorithms, intelligent computers, and robotics. While automation has already had a significant impact on manufacturing, we are just beginning to see the impact of artificial intelligence on the traditional professions. He notes that the financial services industry is becoming increasingly othersourced, and is experiencing a modern industrial revolution of its own.
According to Weiner, "those jobs are not going to return – they can be done more efficiently and error-free by intelligent software." Kathycasey.
Scoop it
Maths. Flipped Classrooms. Teaching and Learning. Leadership skills. 21st C Tools. Project Based Learning. Reflection.
---