Photographers
Wonderland by Kirsty Mitchell: heart-breakingly beautiful photographic series in memory of an extraordinary life. Kirsty Mitchell's Wonderland series has been three years in the makingAll costumes, wigs and sets were constructed on a shoestring budgetSome images took up to five months to createShe would often wait an entire year to find the perfect natural setting for her shots By Stephanie Hirschmiller Published: 14:11 GMT, 17 May 2012 | Updated: 09:34 GMT, 18 May 2012 Kirsty Mitchell's late mother Maureen was an English teacher who spent her life inspiring generations of children with imaginative stories and plays.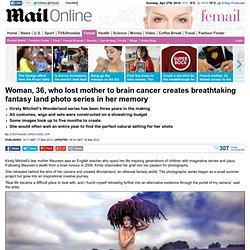 Mishka Henner
PhotoART Centrum. Au Bord de la Marne. Although he would later be feted as the father of photojournalism, Henry Cartier-Bresson was at his best when he was taking photos which didn't 'report' anything — men in Parisian streets, sunbathers whether they be at Peter and Paul fortress or Coney Island.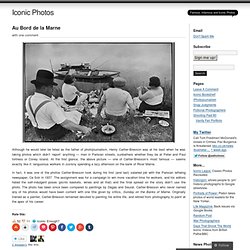 At the first glance, the above picture — one of Cartier-Bresson's most famous — seems exactly like it: languorous workers in Juvisny spending a lazy afternoon on the bank of River Marne. In fact, it was one of the photos Cartier-Bresson took during his first (and last) salaried job with the Parisian leftwing newspaper, Ce Soir in 1937.
The assignment was for a campaign to win more vacation time for workers, and his editors hated the self-indulgent poses (picnic baskets, wines and all that) and the final spread on the story didn't use the photo. The photo has been since been compared to paintings by Degas and Seurat.
Malick Sidibé
Sovan Philong. Olivia Bee. SASKIA SASKIA. Photographie : les portraits numériques d'Oleg Dou. Essay: Storytelling With Pictures. A Life of Work Six photographs from the photo essay "The Lash of Success" and 13 other examples of Mr.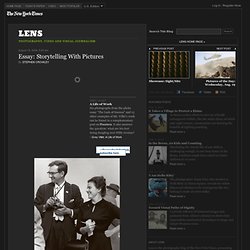 Villet's work can be found in a complementary post on Pixcetera. It also answers the question: what are his feet doing dangling over Fifth Avenue? Grey Villet: A Life of Work I was 9 years old, living in a small town in south Florida, when I read Grey Villet's "Lash of Success" in Life magazine — one of the very few extras my family could afford. Christopher Morris Photographer.
War photographers. Susan Meiselas. Jonathan Wateridge. Trop tôt, trop tard. Teru Kuwayama :: Photographer. Enrique Metinides - Photography - Review. Balazs Gardi. Jens Sundheim Fotografie. Diane Arbus. Galería Au Maroc. Photo-senegas. HAMBURGER EYES VIP. Mike Brodie - Artists - M+B.
---