Articles
Why you are the future of photography | Art and design. Street life ...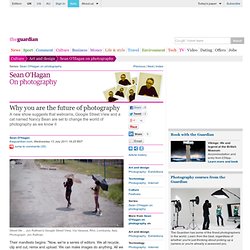 Jon Rafman's Google Street View, Via Valassa, Rho, Lombardy, Italy. Photograph: Jon Rafman Their manifesto begins: "Now, we're a series of editors. We all recycle, clip and cut, remix and upload. Ilustríssima - Por que morrem tantos fotógrafos de guerra? - 12/02. Sergio Larrain obituary | Art and design. Although he was photographically active for scarcely more than a decade and was the author of just four books (all of them now collectors' items), the stature and reputation of the Chilean photographer Sergio Larrain, who has died aged 80, continued to grow after he withdrew from the vibrant European world of street photography to live in a meditational retreat.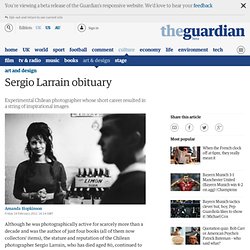 Born into a professional family in Santiago (his father was an architect), he began by studying music. At the age of 18, he went to the US and studied forestry at the University of California, Berkeley, before transferring to Ann Arbor, Michigan, in 1954. He also travelled through Europe and the Middle East, taking a camera. "Pietà islamique" : sous le voile, la révolte. LE MONDE | • Mis à jour le | Par Claire Talon Comme toujours quand la référence religieuse ou picturale est appuyée, le photoreportage suscite la polémique.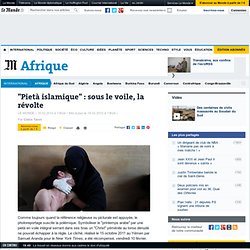 Symboliser le "printemps arabe" par une pietà en voile intégral serrant dans ses bras un "Christ" yéménite au torse dénudé ne pouvait échapper à la règle. Le cliché, réalisé le 15 octobre 2011 au Yémen par Samuel Aranda pour le New York Times, a été récompensé, vendredi 10 février, du World Press Photo. The meaning of 9/11's most controversial photo | Jonathan Jones. Thomas Hoepker chose not to publish this photograph in a book about 9/11.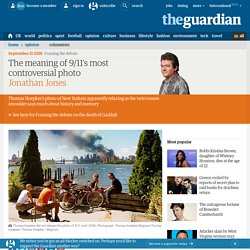 Photograph: Thomas Hoepker/Magnum In the photograph Thomas Hoepker took on 11 September 2001, a group of New Yorkers sit chatting in the sun in a park in Brooklyn. Behind them, across brilliant blue water, in an azure sky, a terrible cloud of smoke and dust rises above lower Manhattan from the place where two towers were struck by hijacked airliners this same morning and have collapsed, killing, by fire, smoke, falling or jumping or crushing and tearing and fragmentation in the buildings' final fall, nearly 3,000 people.
Ten years on, this is becoming one of the iconic photographs of 9/11, yet its history is strange and tortuous. Gisèle Freund et ses "victimes" LE MONDE | • Mis à jour le | Par Claire Guillot "Photographiez-moi comme je suis exactement à ce moment.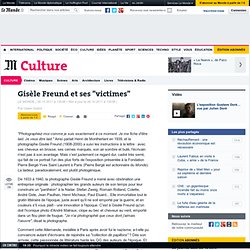 Je me fiche d'être laid. Je veux être laid. " Ainsi parlait Henri de Montherlant en 1939, et la photographe Gisèle Freund (1908-2000) a suivi les instructions à la lettre : avec ses cheveux en brosse, ses cernes marqués, son air sombre et buté, l'écrivain n'est pas à son avantage. Mais c'est justement ce regard dur, cadré très serré, qui fait de ce portrait l'un des plus forts de l'exposition présentée à la Fondation Pierre Bergé-Yves Saint Laurent à Paris (Pierre Bergé est actionnaire du Monde).
Mysteries of a Nazi Photo Album
The shot that nearly killed me: War photographers – a special report | Media. Adam Ferguson, Afghanistan, 2009 I was one of the first on the scene.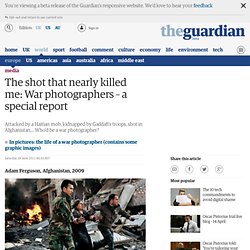 The Afghan security forces normally shut down a suicide bombing like this pretty quickly. I was able to get to the epicentre of the explosion. It was carnage, there were bodies, flames were coming out of the buildings. I remember feeling very scared because there was still popping and hissing and small explosions, and the building was collapsing. "Photographs 1961-1967", de Dennis Hopper : les années 1960 vues par Dennis Hopper. Depuis les débuts du cinéma, les allers-retours entre image fixe et animée ont été nombreux : William Klein, Henri Cartier-Bresson, Wim Wenders, Abbas Kiarostami ont alternativement traduit la réalité comme un flux ou un instant figé.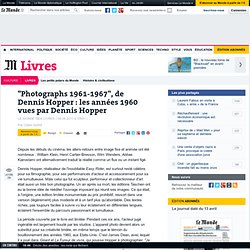 Dennis Hopper, réalisateur de l'inoubliable Easy Rider, est surtout resté célèbre pour sa filmographie, pour ses performances d'acteur et accessoirement pour sa vie tumultueuse. Mais celui qui fut sculpteur, performeur et collectionneur d'art était aussi un très bon photographe. Susan Sontag. Winner of the National Book Critics' Circle Award for Criticism (1977) "Susan Sontag has written a book of great importance and originality. . . .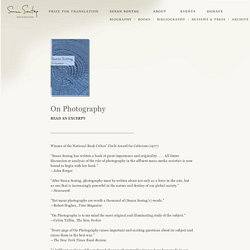 All future discussion or analysis of the role of photography in the affluent mass-media societies is now bound to begin with her book. "
---