Social Media
8 Powerful Social Media Marketing Tools for Savvy Businesses. Why You Should Not Kill Your Blog. Let's be honest and cut to the chase – Social Media is not "free".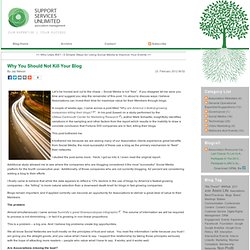 If you disagree let me save you time and suggest you skip the remainder of this post. I'm about to discuss ways I believe Associations can invest their time for maximize value for their Members through blogs. A couple of weeks ago, I came across a post titled "Why are America's fastest-growing companies killing their blogs?". In his post (based on a study performed by the UMass Dartmouth Center for Marketing Research), author Mark Schaefer, insightfully identifies variations in the sampling and other factors from the report which results in the inability to draw a concrete conclusion that Fortune 500 companies are in fact, killing their blogs. This post bothered me. Branding 2.0 for NGOs. ImageSparkImagetaggedquotinfographicquotSemblance_4dc0f44661d6b_w587. Planning an Effective Twitter Strategy. When Bosch realised that the social marketing campaign for it's professional power tool range wasn't doing what it hoped it would, it commissioned Postable to work with it's marketing department to develop practical tools to better use Facebook and YouTube.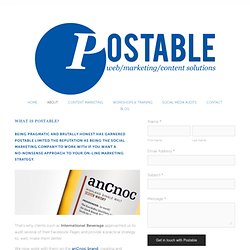 We also worked with their team to develop a brand new social media marketing strategy, and we've partnered with the company on a content marketing strategy for one of the division's new-for-2012 products. And we've been the supplier of training to several Business Gateway contracts since 2009, bringing our pragmatic but practical approach to social media and content marketing to businesses throughout Scotland. We delivery social media seminars and one-2-one surgeries for Business Gateway in Lanarkshire, Ayrshire and Renfrewshire. Social media news, strategy, tools, and techniques. 4 Ways to Measure Social Media Success With Free Tools. Do you know if your social media promotions or campaigns were successful?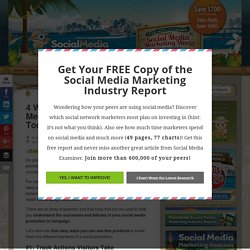 For many businesses, it can be easy to label a social campaign a huge hit or a blatant blunder, but which elements made the campaign successful? There are an array of powerful and free tools that can be used to help you understand the successes and failures of your social media promotion or campaign. Eight Principles of Social Media ROI by Beth Kanter | Community Techknowledge. Share | I was honored to be a part the WomenWhoTech online summit.
I did a panel titled "Social Media ROI" with Lauren Vargas from Radian 6 and moderated by Roz Lemieux from Fission Strategy . Here's the description: Do you know what kind of an impact social media is having on your brand, mission, or bottom line? How do you put a monetary value on branding? Social Media ROI: The Metrics Muddle. For the last few years, the hottest debates in social media have centered around metrics, and how to prove the value of your activities.
Two years ago, we were debating whether or not we should even bother trying to calculate the return on investment (ROI) of our social media activities. Some people argued it was impossible, others that ROI wasn't the point.
Blogging tools
Social_Media_Insight_Whitepaper. Big Data Analytics a Key Enabler for Social CRM - Airlines Case Study. Big Data Analytics is a hot topic of discussion these days.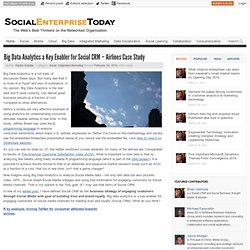 But many feel that it is more of a "hype" and less of substance. In my opinion, Big Data Analytics is the real deal and if used correctly, can deliver great business results at a fraction of cost compared to other alternatives. As you can see on slide no. 27, the twitter sentiment scores obtained for many of the airlines are "comparable" to results of The American Customer Satisfaction Index (ACSI). Klout and PeerIndex Don't Measure Influence. Brian Solis Explains What They Actually Do. Whether you like it not, Klout, Kred, PeerIndex, and Radian6 are measuring your social capital — not your influence but your potential for it.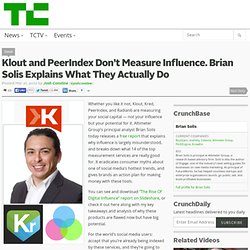 Altimeter Group's principal analyst Brian Solis today releases a free report that explains why influence is largely misunderstood, and breaks down what 14 of the top measurement services are really good for. It eradicates consumer myths about one of social media's hottest trends, and gives brands an action plan for making money with these tools. You can see and download "The Rise Of Digital Influence" report on Slideshare, or check it out here along with my key takeaways and analysis of why these products are flawed now but have big potential. For the world's social media users: accept that you're already being indexed by these services, and they're going to sell data about you. Metcalfe's Law and Social Media. Metcalfe's Law Metcalf's law in its simplest form assigns a value for a network.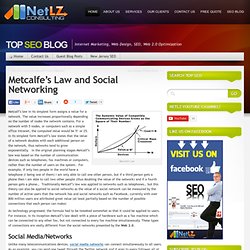 The value increases proportionally depending on the number of nodes the network contains. For a network with 5 nodes, or computers such as a simple office intranet, the computed value would be 5² or 25. Facebook Innovation Briefing. InShare2121inShare Downloads Facebook Innovation Briefing (7.33 MB PDF) This 50+ slide presentation was delivered at an Econsultancy trends briefing during April 2011.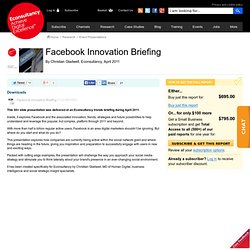 Inside, it explores Facebook and the associated innovation, trends, strategies and future possibilities to help understand and leverage this popular, but complex, platform through 2011 and beyond. With more than half a billion regular active users, Facebook is an area digital marketers shouldn't be ignoring. A Framework for Social Analytics. A framework for measuring social media activity. 50 Free Social Media Tools You Can't Live Without. A couple years ago, Jay Baer wrote a great blog post called 'The 39 social media tools I'll use today' which was an all-in-one toolkit for social media marketers (and still is).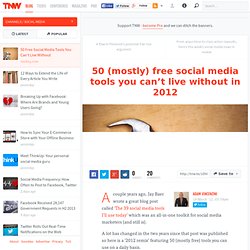 A lot has changed in the two years since that post was published so here is a '2012 remix' featuring 50 (mostly free) tools you can use on a daily basis. Whether you are just starting out in the social media arena or have been at it for a few years, this will hopefully be a handy resource. Become a global media brand in 60 minutes. Become a global media brand in 60 minutes Details Last Updated on Tuesday, 07 August 2012 11:01.
Social Business Intelligence: Positioning a Strategic Lens on Opportunity. Recently I've been tracking the growth of social analytics and the means of delivering well on it. Connecting analytics to the needs of the business is the next step beyond basics of collating, aggregating, and identifying patterns in what the world is doing that affects your organization. On ZDNet recently, I explored the rapidly growing trend of big data. Pinterest / Home. Cool social business pictograms. Photos and videos directly from Celebrities and Influencers.
---