KONY
KONY 2012
Kony 2012: Viral video for the misinformed?
Published time: March 08, 2012 15:35 Edited time: March 09, 2012 01:13 The leader of the Lord's Resistance Army, Joseph Kony. (AFP Photo / Stuart Price-Pool) Kony 2012: The latest cause célèbre that has most likely taken your Facebook newsfeed by storm. But while few would criticize putting indicted Ugandan war criminal Joseph Kony in prison, the motives of the latest viral video campaign are less clear. ­Go to the Invisible Children homepage, and the goal of Kony 2012 seems simple enough: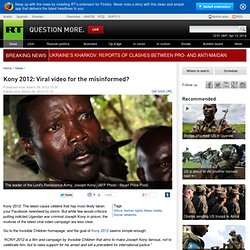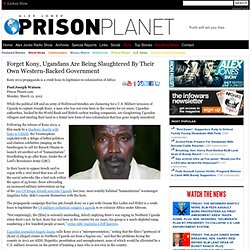 Forget Kony, Ugandans Are Being Slaughtered By Their Own Western-Backed Government
Kony 2012 propaganda is a crude hoax to legitimize re-colonization of Africa Paul Joseph Watson Prison Planet.com Monday, March 12, 2012 While the political left and an army of Hollywood trendies are clamoring for a U.S. Military invasion of Uganda to capture Joseph Kony, a man who has not even been in the country for six years, Ugandan authorities, backed by the World Bank and British carbon trading companies, are slaughtering Ugandan villagers and stealing their land in a brutal new form of neo-colonialism that has gone largely unnoticed.
Since Monday, more than 21m people have viewed this film – made by an American charity called Invisible Children – about the plight of children in Uganda at the hands of the warlord Joseph Kony, the leader of the Lords Resistance Army (LRA) guerilla group. His group is said to have abducted 60,000 children. With its slick Hollywood production values, the film has been an almost instant viral success, dominating Twitter worldwide and having one of the fastest ever take-offs on You Tube. The hashtag #stopkony has had hundreds of thousands of tweets, and millions of people now know something about Uganda and what is happening to children there. Support for the campaign to end the conflict in the country this year is spreading.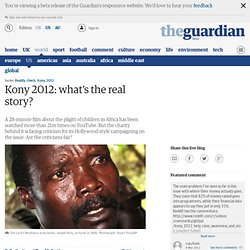 Kony 2012: what's the real story? | Politics
Why Can't Anyone Stop the LRA? - By Michael Wilkerson
KONY 2012: African Invasion Psyop: Infowars Nightly News
OIL FOUND IN UGANDA = TIME FOR US TROOPS TO DEPLOY TO UGANDA
Kony? What about America's war criminals?
The Alarming TRUTH about Kony 2012 (Re-uploaded)
KONY 2012 SCAM - Obama Deploys US Special Forces to Africa ( ALEX JONES INFOWARS )
Invisible Children and Kony 2012: Avoiding Scams and Irresponsible Donations