Web Automation & Scraping Apps/Services
Wiki / Jobs
You can select what type of results 80legs generates for you. Available options are: Unique and total count - 80legs outputs the # of unique matches and total # of matches for your content selection strings (i.e., keywords or regular expressions)Boolean array - 80legs outputs the two numbers above plus a 1 or 0 for each string, depending on whether or not that string was foundCount array - 80legs outputs the unique and total count plus the total count for each stringCode results - If you select to analyze content using code, result type will default to this option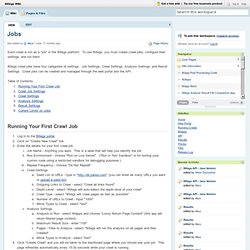 "Record and Play" Your Web Automation Solutions Need to automate a task on the internet? Just click record and Web Macros will do the rest. Industrial Strength Automation ... Simply put, Web Macros is automated site navigation that can be produced rapidly by anyone who can use a web browser.
Web Macros Free Beta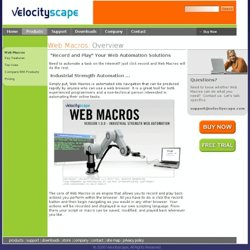 DEiXTo - Web Content Extraction Tool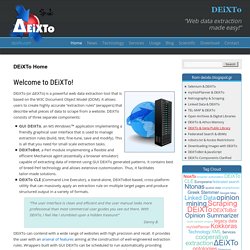 DEiXTo (or ΔEiXTo) is a powerful web data extraction tool that is based on the W3C Document Object Model (DOM). It allows users to create highly accurate "extraction rules" (wrappers) that describe what pieces of data to scrape from a website. DEiXTo consists of three separate components:
I will get to the point, Time is Money. We can't create more hours in a day, BUT we can Automate Tasks so they take minutes rather than hours so we can get more done. For a limited time i'm offering you the chance to grab My Personal Tool called ScrapeBox. How would you like to… The Complete Harvesting Solution!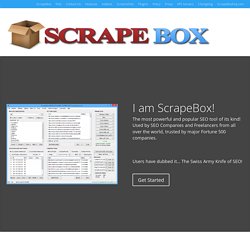 KNIME [naim] is a user-friendly graphical workbench for the entire analysis process: data access, data transformation, initial investigation, powerful predictive analytics, visualisation and reporting. The open integration platform provides over 1000 modules (nodes), including those of the KNIME community and its extensive partner network. KNIME can be downloaded onto the desktop and used free of charge. KNIME products include additional functionalities such as shared repositories, authentication, remote execution, scheduling, SOA integration and a web user interface as well as world-class support. Robust big data extensions are available for distributed frameworks such as Hadoop. KNIME is used by over 3000 organizations in more than 60 countries.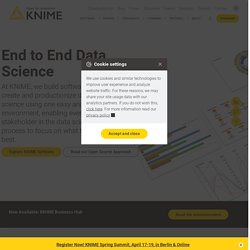 Web-Harvest Project Home Page
Scrape Web Pages | Data Extraction Screenshots | Visual Web Ripper
Features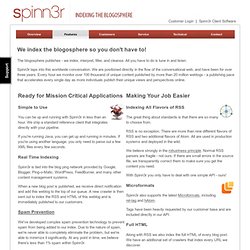 Ready for Mission Critical Applications Simple to Use You can be up and running with Spinn3r in less than an hour.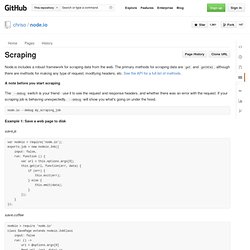 Scraping · chriso/node.io Wiki
Node.io includes a robust framework for scraping data from the web. The primary methods for scraping data are get and getHtml, although there are methods for making any type of request, modifying headers, etc. See the API for a full list of methods. A note before you start scraping
Download Free Trial - WebSundew 4.1 Standard, Professional or Enterprise Edition