Web Automation & Scraping Apps/Services
Wiki / Jobs
You can select what type of results 80legs generates for you. Available options are: Unique and total count - 80legs outputs the # of unique matches and total # of matches for your content selection strings (i.e., keywords or regular expressions) Boolean array - 80legs outputs the two numbers above plus a 1 or 0 for each string, depending on whether or not that string was found Count array - 80legs outputs the unique and total count plus the total count for each string Code results - If you select to analyze content using code, result type will default to this option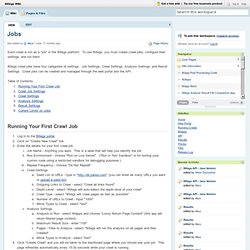 "Record and Play" Your Web Automation Solutions
Web Macros Free Beta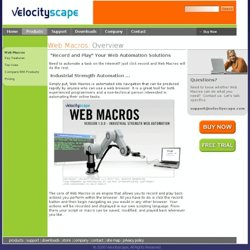 DEiXTo - Web Content Extraction Tool
KNIME | Konstanz Information Miner
Web-Harvest Project Home Page
Scrape Web Pages | Data Extraction Screenshots | Visual Web Ripper
Features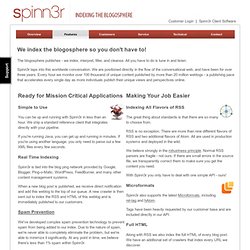 Ready for Mission Critical Applications Simple to Use You can be up and running with Spinn3r in less than an hour.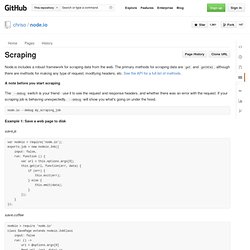 Scraping · chriso/node.io Wiki
Node.io includes a robust framework for scraping data from the web.
Download Free Trial - WebSundew 4.1 Standard, Professional or Enterprise Edition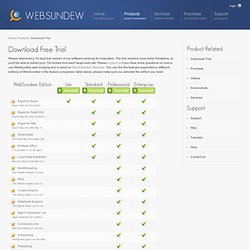 Please download a 15 days trial version of our software products for evaluation. The trial versions have some limitations, so you'll be able to extract only 100 entries from each target web site. Please contact us if you have some questions on how to use WebSundew web scraping tool or send us Free Extraction Request .