Apps: Quizes Polls Surveys
Software Reviews | Computer Software Reviews | Survey Software Reviews
Free Online Surveys
Create A Quiz: Free Quiz Creation Tool by ProProfs
Beginning November 1, 2009 we will once again be able to offer QuizStar free of charge. QuizStar was originally created as a grant-funded, free online tool. When the project funding ended, we moved to a subscription-based service in order to continue to support and update the project. Recently, we made the decision to move away from a paid subscription service and instead use online advertising to allow all educators to enjoy unlimited free access to QuizStar, just like the other 4Teachers.org tools. Ads will be placed on Instructor pages and login pages, but not on the quizzes that students take.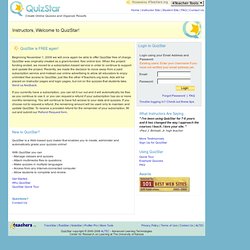 QuizStar Quiz Repository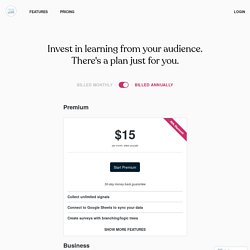 Free $0 forever Sign Up 200 survey responses per month 10 questions per survey Content contains Polldaddy links Basic reports for polls, surveys, & quizzes 1 User account Professional
Free Online Polls Maker - Feature Tour - ProProfs Polls.
iSpring QuizMaker | QuizMaker | Quiz Software | Make a Quiz with iSpring Quiz Maker
Plans and Pricing
Free Online Surveys