Apps: Quizes Polls Surveys
Software Reviews | Computer Software Reviews | Survey Software Reviews. Free Online Surveys. Create A Quiz: Free Quiz Creation Tool by ProProfs. QuizStar Quiz Repository. Pricing for Online Poll and Survey Software, Free & Paid Accounts. Free Online Polls Maker - Feature Tour - ProProfs Polls. You've Got Questions.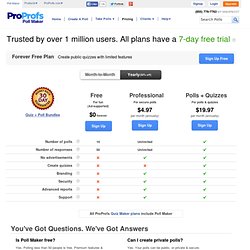 We've Got Answers Is Poll Maker free? Yes. Polling less than 50 people is free. Premium features & unlimited votes have a small fee per our pricing page. iSpring QuizMaker | QuizMaker | Quiz Software | Make a Quiz with iSpring Quiz Maker. Plans and Pricing. Free Online Surveys.
---