BOOKS
libros gratis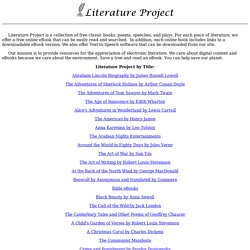 Literature Project is a collection of free classic books, poems, speeches, and plays. For each piece of literature, we offer a free online eBook that can be easily read and searched. In addition, each online book includes links to a downloadable eBook version. We also offer Text-to-Speech software that can be downloaded from our site. Our mission is to provide resources for the appreciation of electronic literature.
Literature Project - Free eBooks Online
Free online speed reading software | Spreeder.com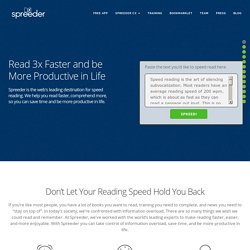 Spreeder is a free service provided by 7-Speed-ReadingTM. If you like this site, please have a look at our powerful 7 Speed Reading Software. Spreeder.com is a free online speed reading software designed to improve your reading speed and comprehension.
Mythological Monsters
Book Search: "food"
Ebooks from independent authors and publishers — free ebooks
Aesop's Fables - Online Collection - Section 1 - 656+ fables
The Secret Check - Print It Now
Girl World - The USA Laurence Fishburne, the very manly, intelligent, talented and good-looking world-famous move-star is the only man in the world after twenty years, ans, as an addition, he hasn't even get older because he was frosted during it. Many girls try to become his girlfriend but some problems are with these.
Ebooks from independent authors and publishers — free ebooks
The Open Bible - The Gospel of Matthew: Chapter 3 — A book by Open Bible Matthew
About J.P. Yager, author of 'Cerberus', 'Story Night', 'Life After', etc.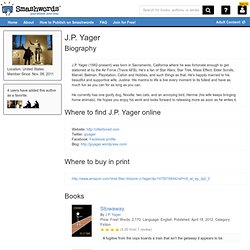 J.P. Yager (1982-present) was born in Sacramento, California where he was fortunate enough to get stationed at by the Air Force (Travis AFB). He's a fan of Star Wars, Star Trek, Mass Effect, Elder Scrolls, Marvel, Batman, Playstation, Calvin and Hobbes, and such things as that.
Ebooks from independent authors and publishers — free ebooks