Cracked
Get flash to fully experience Pearltrees
There are unsolved crimes, and then there are the kind of creepy, "What the hell could possibly be going on here" capers that keep the cops, and anyone who hears about them, up at night.
At some point, possibly in the 80s, Hollywood decided that a good horror movie needed to be built on a strong foundation of homoerotic subtext. We're not saying it's a bad thing, this is 2009, after all. What we are saying is that their strenuous efforts to both cram in as much homoeroticism as possible, while avoiding actual gay characters or storylines, is the stuff unintentional comedy is made of.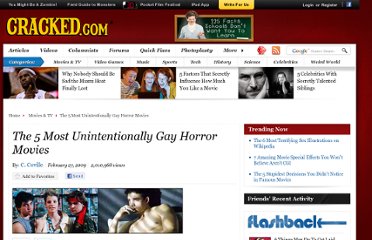 It doesn't matter whether or not you believe in ghosts, there are some places in which none of us would want to spend a night.
In Cracked's continuous effort to make your local haunted house look like a boring pile of dog turds, we once again present the creepiest real places on Earth.
The world is full of bullshit "curses" that turn out to be retroactive prophecy or outright fabrication . But there are a few eerie coincidences out there that combine the truly inexplicable with creepy details that make you have to wonder ... Oetzi, or the Iceman as he is known, was discovered in the Alps between Austria and Italy back in 1991.
As we are fond of pointing out , fact is usually much creepier than fiction.
Once again, it's that time of year when Cracked goes out our way to fact check the outlandish stories that allegedly happened to your friend's former roommate's cousin's girlfriend.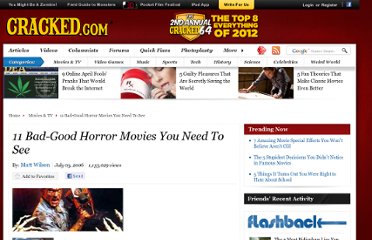 It's an example of using one of the two most cliched ways to spice up a franchise: set it underwater or in space. In addition, Jason X uses the hackneyed "create a super monster" formula of making an old baddie seem threatening again.