Origami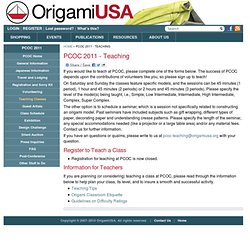 PCOC 2011 - Teaching | OrigamiUSA
If you would like to teach at PCOC, please complete one of the forms below. The success of PCOC depends upon the contributions of volunteers like you, so please sign up to teach!
Diagramas « Panama Paper Folding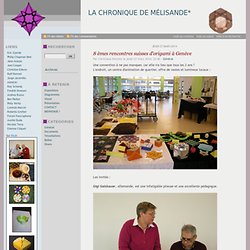 La chronique de Mélisande*
Un choix difficile pour le week-end de la Toussaint : impossible d'assister à deux conventions d'origami simultanément (Lyon et Vicenza). J'ai opté pour l'Italie et je n'ai pas été déçue. Le lieu était nouveau, confortable, facilement accessible par les transports publics.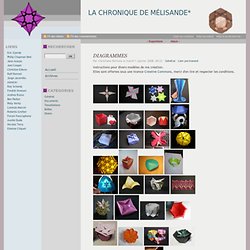 1.
Diagrammes - La chronique de Mélisande*
Flotsam and Origami Jetsam
tutorial « origamijoel
Modelli e Diagrammi Origami
The Fitful Flog » Model Menu
The Origami Paper Shop - Imported and Specialty Origami Paper
Origami Tessellations » Diagrams
Quick page about my diagrams All of my diagram / crease pattern documents are released under the Creative Commons Attribution-NonCommercial-NonDerivative license. This allows you to freely distribute, copy, and use my diagrams, as long as you are not doing it for a commercial purpose, and as long as you give me credit for them.
Orihouse: main hall