Techology
Pi
Siri Starts Car Engine. 25 November '11, 03:32am Follow Here's another string for Siri's bow, not only is the virtual personal assistant a key part of Apple's strategy to trump Google in the mobile search space, but it can now be configured to unlock your car, open the trunk, and even, start the engine.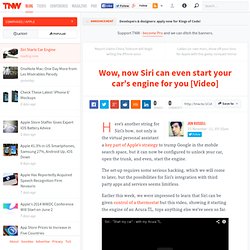 The set-up requires some serious hacking, which we will come to later, but the possibilities for Siri's integration with third party apps and services seems limitless. Earlier this week, we were impressed to learn that Siri can be given control of a thermostat but this video, showing it starting the engine of an Acura TL, tops anything else we've seen so far.
Articles
Service. 3D. Social. Media. Mobile. Rory Cellan-Jones: Brilliant demo at BBC R&D...
---