Sq3r method
SQ3R « Thousand Insights. For those of us who have to consume large amounts of technical/professional information and really absorb it, SQ3R is a reading and study system that enhances information retention and absorption.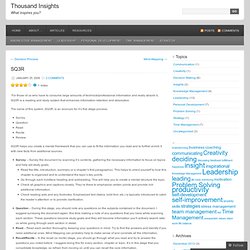 The name of this system, SQ3R, is an acronym for it's five stage process: SurveyQuestionReadReciteReview SQ3R helps you create a mental framework that you can use to fit the information you read and to further enrich it with new facts from additional sources. O método de leitura SQ3R. The SQ3R Method. Studying works better when it means something to you, when it relates to your life.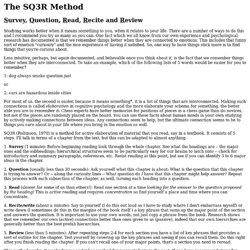 There are a number of ways to do this and I recommend you try as many as you can. One fact which we all know from our own experience and psychological research has documented is that we remember things better when they are connected to emotions. This includes that funny sort of emotion "curiosity" and the nice experience of having it satisfied. The SQ3R Reading Method. SQ3R is a reading strategy formed from its letters: Survey!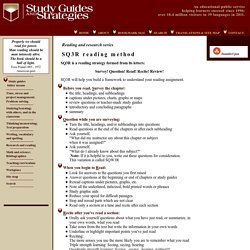 Question! Read!
---