Anime
anime images and wallpapers
First off I'd just like to say a huge thank you to everyone that read my list of ten anime films you should see before you die—the response has been phenomenal—not just the number of people who read it, but also those who took the time out to get involved in the following discussion. Some people loved my selections, some people thought I was well off the mark, but it was clear that there was no way I was going to be able to avoid putting together another list, this time of TV series. It has been a far harder list to compile. Not only because of the vast selection to choose from, but also because I knew from the start that I would be leaving out some shows that a lot of people hold very dear. As such, I hope that at least some of you will read the next paragraph first before scrolling down the list to see what is missing and getting upset.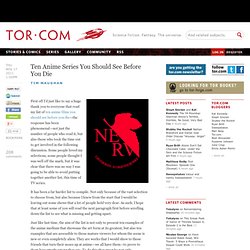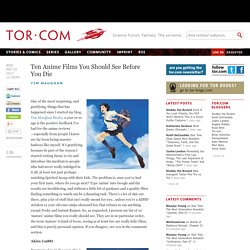 One of the most surprising, and gratifying, things that has happened since I started my blog, Tim Maughan Books, a year or so ago is the positive feedback I've had for the anime reviews—especially from people I know are far from being massive fanboys like myself. It's gratifying because its part of the reason I started writing them; to try and introduce the medium to people who had never really indulged in it all, at least not past perhaps watching Spirited Away with their kids. The problem is, once you've had your first taste, where do you go next?
AnimeNfo.Com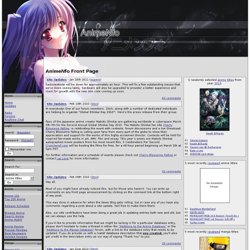 Happy Holidays from everyone at AnimeNfo to you! It's been a while since an actual site update, and for that I apologize. As you might have noticed, the site database, especially when it has come to newer anime entries and information has been a bit sparse. Many of us have been busy with real life commitments, which has unfortunately resulted in the current situation. However, thanks to the work of a few dedicated individuals who have taken up the overwhelming task of helping to update entries, we're slowly but surely bringing the website back up to standard. If you'd like to participate in helping us with updating entries, such as providing information for anime that we might have missed, please create a thread on the forums in the Additions to the Anime Database forum , and post any relevant information (eg: character information, number of episodes, Studio information, etc) and we'll do our best to update the entries with what you provided.
ANNCast - Wayward Sons Justin returns for a Twitter show! More Wind Rises chat, Space Adventure Cobra, the Spring season and more are chewed over. Attack on Titan episodes 1-5 (English Dub) It's not flawless, but Attack on Titan's dub is raw in the best way, successful at yanking out heartstrings and more impressively, maintaining the show's healthy sense of humor.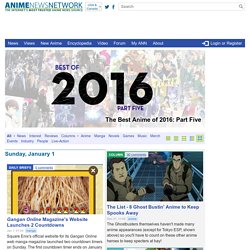 in the shell :: Index
The Ainu, their Land & Culture
::AniDB.net:: Board Index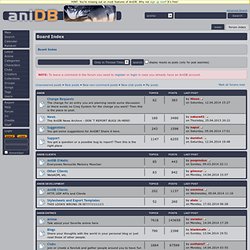 Download(no... not really...). If you click this you will regret it... This is a herse in a hole for automated tards.