Anime
Anime studios
Anime images and wallpapers. Ten Anime Series You Should See Before You Die. First off I'd just like to say a huge thank you to everyone that read my list of ten anime films you should see before you die—the response has been phenomenal—not just the number of people who read it, but also those who took the time out to get involved in the following discussion.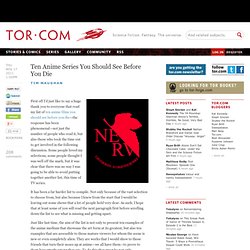 Some people loved my selections, some people thought I was well off the mark, but it was clear that there was no way I was going to be able to avoid putting together another list, this time of TV series. It has been a far harder list to compile. Not only because of the vast selection to choose from, but also because I knew from the start that I would be leaving out some shows that a lot of people hold very dear. As such, I hope that at least some of you will read the next paragraph first before scrolling down the list to see what is missing and getting upset. Ten Anime Films You Should See Before You Die. One of the most surprising, and gratifying, things that has happened since I started my blog, Tim Maughan Books, a year or so ago is the positive feedback I've had for the anime reviews—especially from people I know are far from being massive fanboys like myself.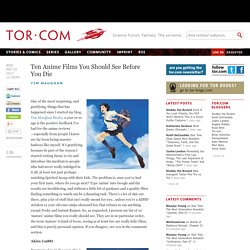 It's gratifying because its part of the reason I started writing them; to try and introduce the medium to people who had never really indulged in it all, at least not past perhaps watching Spirited Away with their kids. The problem is, once you've had your first taste, where do you go next?
AnimeNfo.Com. Anime News Network. In the shell :: Index. The Ainu, their Land & Culture. Board Index. Download(no... not really...).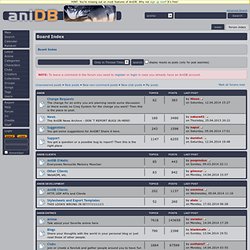 If you click this you will regret it... This is a herse in a hole for automated tards.
---