Architect
Kristopher Grunert is an award winning photographer who uses lines, atmosphere, movement + light to create architectural / industrial + landscape photographs.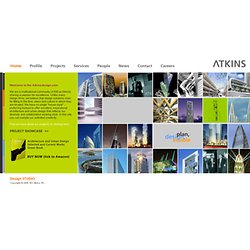 Atkins Architecture Design Studio
Welcome to the Atkinsdesign.com We are a multinational community of 650 architects sharing a passion for excellence. Unlike many design firms, we believe that design solutions must be fitting to the time, place and culture in which they are located. We have no single "house style" – preferring instead to offer excellent, inspirational architecture and urban design that reflects our diversity and collaborative working style. In this site, you can sample our unlimited creativity.