Programming
There are quite a few sites that describe the touch and gesture events that can be used in the mobile version of WebKit running on iPhone and iPod Touch. There is, however, not so much info with regards to Android. I've placed a few links at the bottom of this article that contain information used to compile this brief explanation. Touch events are a bit like mouse events, but there are some very important differences when it comes to touch vs. mouse: A touch is very hard to keep steady whilst a mouse can stay at a fixed position - this means that we go from a touchStart event directly to a touchMove event.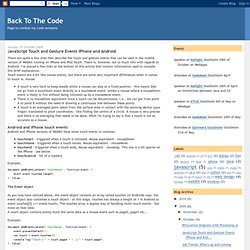 JavaScript Touch and Gesture Events iPhone and Android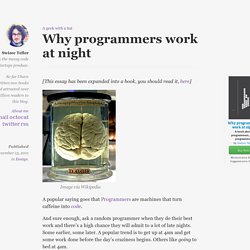 [This essay has been expanded into a book, you should read it, here] Image via Wikipedia A popular saying goes that Programmers are machines that turn caffeine into code.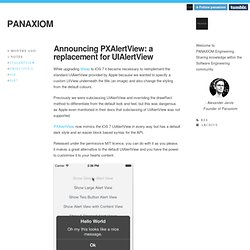 This post describes a Base64 alternative to working with hexadecimal representations of ObjectId's in mongo. This: UKZBAooUfVcAYOfa Instead of: 50a641028a147d570060e7da That is 16 characters instead of 24 and depending on your style, you may prefer it.
PANAXIOM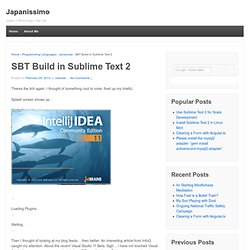 SBT Build in Sublime Text 2 | A Filipino Programmer in Japan
Theres the itch again. I thought of something cool to code, fired up my IntelliJ. Splash screen shows up… Loading Plugins.
softprops/np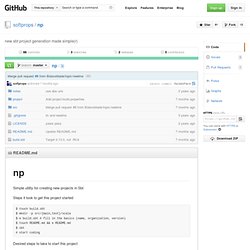 README.md np Simple utility for creating new projects in Sbt
wuub/SublimeREPL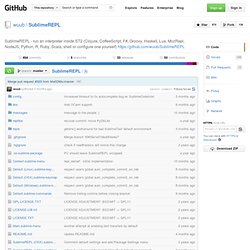 README.md SublimeREPL for SublimeText (2 and 3) If you would like to donate to support SublimeREPL development, you can do so using GitTip or PayPal. Someone willing to take care of documentation would also be very welcome :-) Features Common
Resources: Developer-contest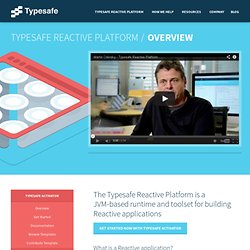 Get Started Now With Typesafe Activator What is a Reactive application? Reactive applications are a new class of applications that are becoming more and more prevalent in both Consumer and Enterprise-facing environments. Reactive applications are fundamentally different to the traditional web-based or mobile applications seen today and are distinguished by having one or more of the following defining traits: Event-Driven: Enables parallel, asynchronous processing of messages or events with ease.
Structure and Interpretation of Computer Programs
Educators, generals, dieticians, psychologists, and parents program. Armies, students, and some societies are programmed. An assault on large problems employs a succession of programs, most of which spring into existence en route. These programs are rife with issues that appear to be particular to the problem at hand.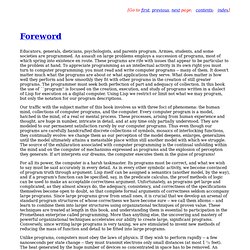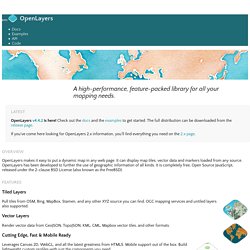 Put an open map widget in any web page! OpenLayers is a project of the Open Source Geospatial Foundation. Visit our sponsorship page to find out how you can become an OpenLayers sponsor. We welcome contributions of any size. If you're interested in supporting OpenLayers development, you can also use our Gittip account:
1.3.11 - animated draggable connectors demonstration - jQuery
js-graph.it homepage
about arbor Arbor is a graph visualization library built with web workers and jQuery. Rather than trying to be an all-encompassing framework, arbor provides an efficient, force-directed layout algorithm plus abstractions for graph organization and screen refresh handling.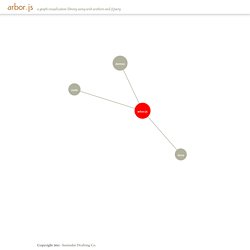 There are plenty of JavaScript libraries out there for rendering your otherwise plain and boring numerical data into beautiful, interactive, and informative visualizations. The beauty of using JavaScript for data visualization is that, if created correctly, your data will be highly accessible (usually via HTML tables). A long time ago (2008), I wrote about JavaScript solutions for graphing and charting data and this article revisits the topic with twenty more JavaScript libraries that you can use to bring your data to life. 1. Highcharts Highcharts is one of the most promising JavaScript charting libraries to hit the scene recently, with its large array of features including seven charting types (line, pie, and bar among them), the ability to zoom in and out of charts, and tooltips for offering more information about data points.
Scala - Tools - [scala-tools] Scala tool for formatting the source code
On 19/02/2011 10:22, Matt Russell wrote: > Each to their own, of course Sure, it is better to have a tool and not use it... than not have the tool when we need it! ;-) > but I wrote Scalariform because I find > coding without a formatter to be a pretty harsh experience:
Support for Ruby version 1.9.3 will end on February 23, 2015 Today we are announcing our plans for the future of Ruby version 1.9.3. Continue Reading... Posted by hsbt on 10 Jan 2014
We are very pleased to announce Scala 2.11.0-RC4, the next release candidate of Scala 2.11.0! Download it now from scala-lang.org or via Maven Central. Since RC3, we've fixed two blocker bugs, and admitted some final polish for macros and quasiquotes.
Featured articles The Go Gopher The Go gopher is an iconic mascot and one of the most distinctive features of the Go project.