CRM
Autorepondeur professionnel 9.97€/mois, leader sur le marché français.
Logiciels de communication
votre solution CRM
Sage ACT! Pro Sage ACT! makes it easy for you to manage anything and everything related to your contacts and calendar. Think of it like your business' command center that serves up relevant relationship details and also connects to business-critical services, desktop and web-based productivity tools, and social media to help you get results. Designed for individuals and teams of up to 10 users.
Sage ACT! - Contact and Customer Relationship Management Software
Filtrage et traitement des rejets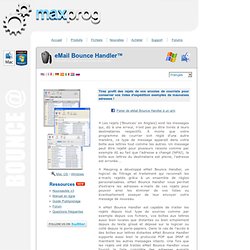 Les rejets ('Bounces' en Anglais) sont les messages qui, dû à une erreur, n'ont pas pu être livrés à leurs destinataires respectifs. À moins que votre programme de courrier soit réglé d'une autre manière, ce type de message apparaît dans votre boîte aux lettres tout comme les autres. Un message peut être rejeté pour plusieurs raisons comme par exemple dû au fait que l'adresse a changé (NPAI), la boîte aux lettres du destinataire est pleine, l'adresse est erronée... Maxprog a développé eMail Bounce Handler, un logiciel de filtrage et traitement qui reconnaît les e-mails rejetés grâce à un ensemble de règles personalisables. eMail Bounce Handler vous permet d'extraire les adresses e-mails de ces rejets pour pouvoir ainsi les éliminer de vos listes ou éventuellement essayer de leur envoyer votre message de nouveau.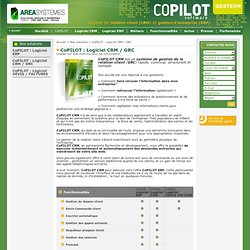 Logiciel de gestion PME / PMI > CoPILOT : Logiciel CRM / GRC
CoPILOT CRM est un système de gestion de la relation client ( GRC ) rapide, convivial, structurant et nomade. Son succès est une réponse à vos questions : « Comment faire circuler l'information dans mon entreprise ?" « Comment retrouver l'information rapidement » « Comment donner des indicateurs de positionnement et de performance à ma force de vente » « Comment capitaliser mes informations clients pour positionner une stratégie gagnante »
Sage ACT! - Contact and Customer Relationship Management Software
Progiciel de gestion par affaire pour les sociétés de services organisées par affaire
FastBiz : Logiciel SFA/Service Clients (CRM / XRM) avec bureau virtuel en mode SaaS
openCRX - Enterprise Open Source CRM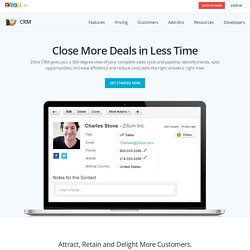 Complete, award-winning solution Zoho CRM offers all the CRM modules and tools you need to run your Sales & Marketing. Unbeatable value As in FREE for up to three users. And our Professional Edition is only $12/month per user. No strings, no hidden fees.
Logiciel CRM INES : logiciel CRM SaaS, logiciel gestion de contacts, CRM force de vente, logiciel marketing, GRC
Une gestion de la relation client collaborative Ce logiciel gestion relation client ( logiciel CRM ) repose sur une seule et même base de données collaborative. Elle est partagée par les utilisateurs de votre entreprise et intègre toutes les fonctions permettant une meilleure productivité des collaborateurs (agenda, messagerie, notes, tâches… ). Un logiciel CRM mobile
Logiciel CRM ASP et SaaS pour PME - Logiciel CRM en ligne (Gestion de la Relation Client) - Akoba Solutions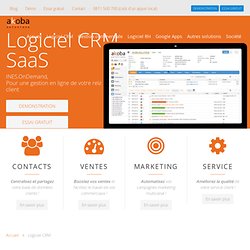 SugarForge: Open Source CRM, SugarCRM, Sugar CRM
Logiciel CRM en ligne. Zefyr.net