GAP
How to create the new Gap logo in less than one minute... Crap Logo Yourself. Gap Logo (GapLogo) Design a better GAP Logo (Community Project) Brief Overview ** This project is sponsored by 99designs ** Gap recently announced a new logo which has received criticism from designers and customers all over the world.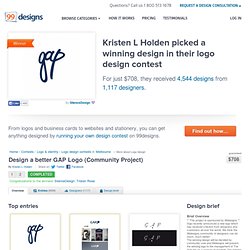 We think the 99designs community of designers can do much, much better! The winning design will be decided by community vote and 99designs will present the winning logo to the management of The Gap Inc as a gesture of goodwill. The winning designer will also be featured in the next 99designs newsletter! Gap Redesign Contest. Editor's note – In answer to some of the questions in the comments: This contest is not for Gap.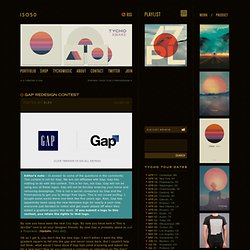 We are not affiliated with Gap. Gap has nothing to do with this contest. This is for fun, not Gap. REPORT: Facebook Fans Are Big Brand Advocates. Gap Inc. - Media - Press Releases. Marka Hansen: The Gap's New Logo. This past Monday, without a lot of fanfare, we introduced a new logo on our gap.com site, and I wanted to take this opportunity to explain our thinking behind this decision.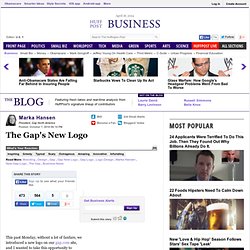 I've been president at Gap brand for the past three years, and I've been living and breathing the changes we've been making on our journey to make Gap more relevant to our customers. You've seen this evolution through many of our products, such as the 1969 premium denim and the new black pants, and more modern stores in many locations. The natural step for us on this journey is to see how our logo - one that we've had for more than 20 years - should evolve. Our brand and our clothes are changing and rethinking our logo is part of aligning with that. We want our customers to take notice of Gap and see what it stands for today. The GAP: étude de cas d'une marque dépassée par sa communauté | Digital Reputation Blog. Retour sur un cas d'école en gestion de l'image en ligne.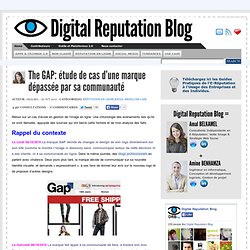 Une chronologie des évènements tels qu'ils se sont déroulés, appuyée des sources qui ont bercé cette histoire et de mon analyse des faits. Le lundi 04/10/2010 La marque GAP décide de changer le design de son logo directement sur son site (comme le montre l'image ci dessous) sans communiquer autour de cette décision ni à ses clients ni à sa communauté en ligne. Dans la même journée, des blogs professionnels en parlent avec virulence. Deux jours plus tard, la marque décide de communiquer sur sa nouvelle identité visuelle et demande « expressément » à ses fans de donner leur avis sur le nouveau logo et de proposer d'autres designs.
---