Internet
S.968: PROTECT IP Act of 2011. OpenCongress Summary Establishes a system for taking down websites that the Justice Department determines to be "dedicated to infringing activities.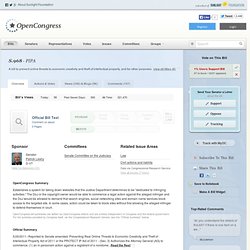 " The DoJ or the copyright owner would be able to commence a legal action against the alleged infringer and the DoJ would be allowed to demand that search engines, social networking sites and domain name services block access to the targeted site. In some cases, action could be taken to block sites without first allowing the alleged infringer to defend themselves in court. OpenCongress bill summaries are written by OpenCongress editors and are entirely independent of Congress and the federal government.
For the summary provided by Congress itself, via the Congressional Research Service, see the "Official Summary" below. 112th Congress (2011 - 2012) - S.968. Patrick Leahy - United States Senator for Vermont: Release. May 12, 2011 WASHINGTON (Thursday, May 12, 2011) – Senate Judiciary Committee leaders Thursday renewed bipartisan efforts to counter the illegal online sale of counterfeit goods.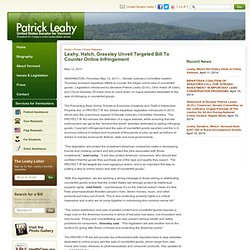 Legislation introduced by Senators Patrick Leahy (D-Vt.), Orrin Hatch (R-Utah), and Chuck Grassley (R-Iowa) aims to crack down on rogue websites dedicated to the sale of infringing or counterfeit goods. The Preventing Real Online Threats to Economic Creativity and Theft of Intellectual Property Act, or PROTECT IP Act, follows bipartisan legislation introduced in 2010, which won the unanimous support of Senate Judiciary Committee members. Protect Ip Summary. Leahy.senate.gov/imo/media/doc/BillText-PROTECTIPAct.pdf.
---