EQuakes Watch
The Global Earthquake Explorer. Download the latest version of the Global Earthquake Explorer!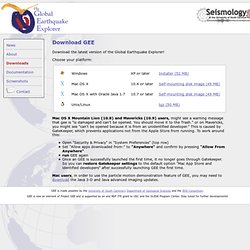 Choose your platform: Mac OS X Mountain Lion (10.8) and Mavericks (10.9) users, might see a warning message that gee is "is damaged and can't be opened. M6.0 sea quake 256 km off the coast of Oregon. Oklahoma hit by 5.6 magnitude earthquake- the strongest in the state's history. We felt the 5.6 Oklahoma earthquake down here in Plano, TX tonight (Nov. 5, 2011) at 10:53 PM.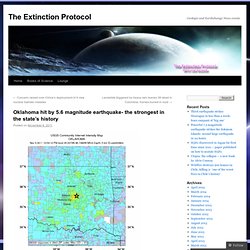 Plano is a satellite city in the Dallas Metroplex, about 25 miles north of downtown Dallas. Plano is almost directly due south of the epicenter in Oklahoma. At our house, a chandelier swayed, computer monitors vibrated noticeably back and forth horizontally, and in the kitchen, there was a popping noise that sounded as though there was air in the water lines under a kitchen cabinet. Our family of 3 was scattered throughout the house, and each of us noticed these things independently of one another. I was standing in the kitchen, and didn't feel the floor move at all – only heard the odd popping sound that I'm now assuming was probably dishes rattling in the cabinet. 11/7/2011 -- 6.9 magnitude earthquake -- Taiwan / Asia -- western ring of fire. Warning Signs -Is The NEW MADRID FAULT LINE Causing Earthquakes In Surrounding States? Magnitude 4.6 - CANARY ISLANDS, SPAIN REGION - 2011 November 11, 00:20 UTC. Seismic Waves Shaking Up Oklahoma,Georgia,Tennessee,& Texas--Sonic Boom-Birds & Bugs Flee.
11/21/2011 -- Guy, Arkansas 2.9 magnitude earthquake = ' FRAC wells ' surround epicenter. 11/22/2011 -- 6.6M earthquake -- South America -- Boliva. NEVADA ACTIVITY 11-7 and 11-8, 2011. 11/5/2011 -- 4.7 magnitude earthquake in Oklahoma -- 'Fracking' the cause?! 11/13/2011 -- Georgia 2.7 quake -- DORMANT VOLCANO -- VULCAN mining company?! 1857 eruption?
---