Twitter
Twitter has quietly opened up its various analytics tools to the public, giving everyone access to in-depth data about the people and brands who follow them, as well as the performance of their most recent tweets. The change was spotted by Christopher Penn , vice president of marketing technology at SHIFT Communications earlier this week, as well as Danny Olson , a digital strategist at Weber Shandwick. Users simply need to head to the Twitter Ads dashboard and click on the 'Analytics' tab at the top of the page to access the new features.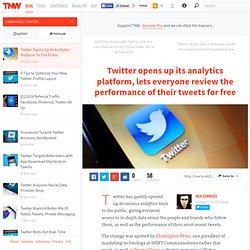 Twitter Opens Up Its Analytics Platform To The Public
Crédits photo : shutterstock.com La force de Twitter est sa facilité d'utilisation. Une simple application sur un smartphone et voici un directeur général connecté. Utilisé à bon escient , le site de micro-messages offre de multiples avantages. 1) Briser la tour d'ivoire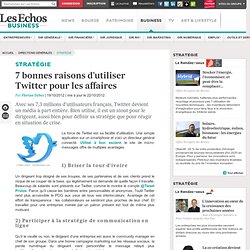 7 bonnes raisons d'utiliser Twitter pour les affaires
L'historique des tweets va bientôt être téléchargeable | Social Media Exploration
Les jeunes français et Twitter en 1 image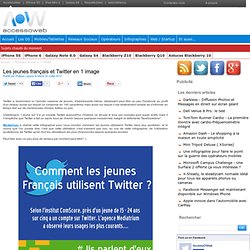 Twitter a récemment vu l'arrivée massive de jeunes, d'adolescents même, délaissant peut être un peu Facebook au profit d'un réseau social sur lequel on s'exprime en 140 caractères mais aussi sur lequel il est relativement simple de s'informer en temps réel sur de nombreuses choses, futiles ou pas. Visiblement, 1 jeune sur 5 a un compte Twitter aujourd'hui, l'histoire ne dit pas si tous ces comptes sont super actifs, mais il n'empêche que Twitter a fait un sacré bout de chemin depuis quelques mois/année malgré la déferlante "facebookiène". Mediatrium a réalisé cette infographie pour nous montrer comment les jeunes utilisaient Twitter dans leur quotidien, et le moins que l'on puisse dire, c'est que cette utilisation n'est vraiment pas loin, au vue de cette infographie, de l'utilisation quotidienne de Twitter qu'en font les utilisateurs les plus chrevronnés depuis quelques années. Peut être avec un peu plus de sérieux par moment peut être? :)
Photo by vincentbouton
Managing Twitter followers can become a time consuming task, taking time away from actually sending messages and growing your influence. Here are six tools to save you time. Twepe A little gem of a tool. Twepe , for a small cost, sends you a daily summary email of your Twitter follower activity, including new followers and lost followers, and alerts you immediately with an email of any mentions.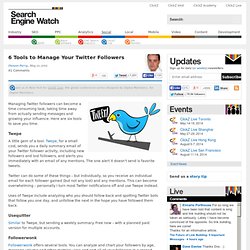 6 Tools to Manage Your Twitter Followers
Sublyn est votre plan de métro, léger et rapide d'accès. | Vincent Bouton Curation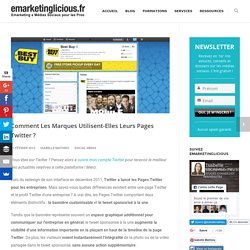 Bonjour! Si vous visitez Emarketinglicious pour la 1ère fois, abonnez-vous à notre flux RSS pour recevoir nos dernières actualités. Vous êtes sur Twitter ?
Bonjour! Si vous visitez Emarketinglicious pour la 1ère fois, abonnez-vous à notre flux RSS pour recevoir nos dernières actualités. Vous êtes sur Twitter ? Pensez alors à suivre mon compte Twitter pour recevoir le meilleur des actualités relatives à cette plateforme ! Merci.
Officiel : Combien Coûte Un Abonné Twitter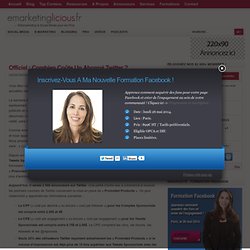 7.8K Flares Twitter 3.6K Facebook 348 Google+ 95 Pin It Share 71 71 LinkedIn 607 in Share 607 7.8K Flares × By: @Garin After researching over a thousand Twitter Tools for the Twitter Tools Book I came across many tools that tried to add value by presenting a different way to visualize or analyze your tweets, the people in your network, and the tweets from the people in your network. Many tools tried to add value and failed. At least they tried.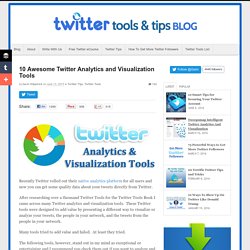 sh
Twitter Souvent quand on débute sur Twitter il est difficile de savoir qui on doit follower, il existe bien entendu des listes Twitter qui nous conseillent des listes complètes , mais par la suite il y a quelques points à vérifier avant de follower un twittos 1> L'Avatar Souvent cette petite image vous renseigne sur le twittos au sens que ca permet d'ores et déjà d'exclure les spammeurs qui utilisent généralement des avatars largement dénudés pour attirer le chaland. L'avatar peut être un logo, un dessin, un personnage ou même une photo mais cela doit rester cohérent avec l'utilisation de l'outil Twitter.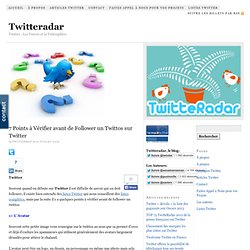 7 Points à Vérifier avant de Follower un Twittos sur Twitter
www.facebook.com/l.php?u=http%3A%2F%2Fon.mash.to%2Fhsgxj6&h=a330b
Friends on Twitter - FriendLynx on Facebook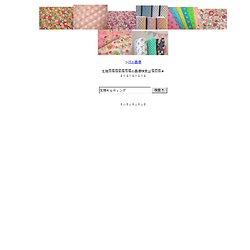 Au fil de notre curation quotidienne, s'est présenté à nous aujourd'hui un classement, sur un blog français que par délicatesse (et non par corporatisme) nous ne nommerons pas, proposant un classement, actualisé au 11 Avril 2011, des 100 premiers brand-content managers français les plus suivis sur Twitter. Ce classement n'a pas manqué de nous surprendre. Non pas tant dans le projet que dans la méthodologie utilisée. Où nous nous sommes donc interrogés sur la méthode d'appréciation de l'e-influence des brand-content managers recensés, sur les limites d'un tel classement et sur l'intérêt d'utiliser de véritables outils de scoring et de monitoring de l'e-influence, comme Klout et le très puissant Peerindex. Ne pas confondre nombre de followers et e-influence , ni même pertinence Pour bien comprendre ce dont il s'agit, rappelons ce que signifie l'expression "brand-content" (littéralement "contenu de marque").
E-influence et nombre de followers: Il y a mesure et mesure!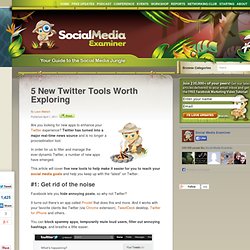 Are you looking for new apps to enhance your Twitter experience? Twitter has turned into a major real-time news source and is no longer a procrastination tool. In order for us to filter and manage the ever-dynamic Twitter, a number of new apps have emerged. This article will cover five new tools to help make it easier for you to reach your social media goals and help you keep up with the "latest" on Twitter. #1: Get rid of the noise
5 New Twitter Tools Worth Exploring
Issy les Moulineaux (Paris) Twitter Users
Mentionmap - A Twitter Visualization
Le petit oiseau bleu qui monte... Twitter, plateforme d'échange de messages courts, fête ses cinq ans cette semaine. Et il a toujours l'ambition de poursuivre sa croissance. Jack Dorsey, aujourd'hui président du conseil d'administration de la société californienne, a raconté dimanche sur Twitter la genèse de l'entreprise: "il y a cinq ans aujourd'hui nous avons commencé la programmation (ndlr: le travail de codage informatique) de Twitter (...). Huit jours plus tard, le premier tweet était envoyé".
Vous êtes-vous mis à Twitter?
Help others find interesting people and companies by publishing your newest followers to your twitter account - Is Now Following
How to utilize the "Favorite" button on Twitter
New to Twitter? This post will drastically improve the information you get from Twitter. For example, one of the most underused features on Twitter is the Favorite button that acts as a great way of bookmarking what you want to come back to later. It's underused but the people who do use it are perhaps the best curators of content on the web because you can essentially piggyback on their hard work and get all their amazing content for free.
Selon une récente étude menée par Semiocast , sur les 210 millions d'utilisateurs de Twitter dans le monde, 2 400 000 sont en France et 9% sont protégés. L'étude a été réalisée à partir d'un échantillon de 52 millions de profils Twitter créés jusqu'au 1 mars 2011 .
Twitter, les chiffres clés en France
60 Twitter-Inspired Products - From Tweet Fame T-Shirts to Social Media Plushies (CLUSTER)
Twitter: Classement des 10 Meilleurs Outils de Veille – 2ème partie
Gunfollow - When simply unfollowing someone is not enough, send them a message.
Jeux concours Twitter : 2 exemples de best practices
Une extension Google Chrome pour mesurer l'influence sur Twitter
Published Tweets
50 of the Best Twitter Guides, Stats, Tips and Tools of 2010 (So Far)
Timely vous aide à donner plus de visibilité à vos tweets
8 Fun Twitter Tools for Language Lovers
Quand Twitter dévoile d'où vous venez - Europe1.fr - Médias-Télé
Confirm account
How To: Get More Qualified Followers on Twitter
Bien gérer ses followers sur Twitter
HOW TO: Launch a Successful Twitter Contest
Silicon Valley, profils Twitter et googling
Home - YoruFukurou