StartUp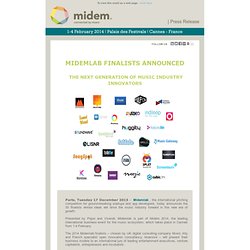 MIDEM - The destination for music business connections and knowledge
Paris, Tuesday 17 December 2013 – Midemlab, the international pitching competition for ground-breaking startups and app developers, today announces the 30 finalists whose ideas will drive the music industry forward in this new era of growth. Presented by Pepsi and Vivendi, Midemlab is part of Midem 2014, the leading international business event for the music ecosystem, which takes place in Cannes from 1-4 February. The 2014 Midemlab finalists – chosen by UK digital consulting company Music Ally and French specialist open innovation consultancy, bluenove – will present their business models to an international jury of leading entertainment executives, venture capitalists, entrepreneurs and incubators. One winner will be selected by the jury in each of the three following categories – music discovery, recommendation and creation; marketing & social engagement; direct-to-consumer sales and content monetization.
Austin TOP 10
Looking for the 'Next Big Thing'? Ranking the Top 50 Start-Ups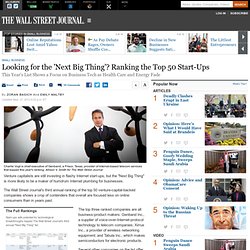 Updated Sept. 27, 2012 4:22 p.m. ET Venture capitalists are still investing in flashy Internet start-ups, but the "Next Big Thing" is more likely to be a maker of humdrum Internet plumbing for businesses. The Wall Street Journal's third annual ranking of the top 50 venture-capital-backed companies shows a crop of contenders that overall are focused less on online consumers than in years past.
Amsterdam: known to many foreigners as the world's cannabis capital and (in)famous for its red light district. Not so much for the locals though: a few steps away from the obvious tourist traps you'll find a budding tech and startup scene. It's the birthplace of The Next Web, too. In the first in a series looking at awesome tech company offices, here's a look at some of Amsterdam's finest.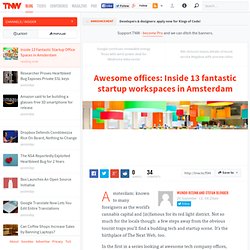 Inside 13 Fantastic Startup Office Spaces in Amsterdam
Home on sneakpeeq
Aherk! | Goal-oriented self-blackmailing service
Kaniti, nouvelle application de social commerce
A la fois réseau social et outil de curation, Pinterest est la start-up qui monte dans la Silicon Valley. Son principe est simple : vous y créez un tableau sur lequel vous pouvez punaiser les images que vous croisez lors de vos pérégrinations online. Vous pouvez organiser vos découvertes en plusieurs tableaux thématiques, suivre et partager les découvertes des autres membres du site (tout y est public).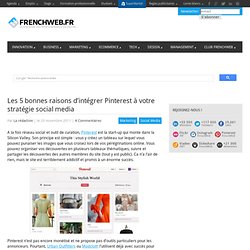 Les 5 bonnes raisons d'intégrer Pinterest à votre stratégie social media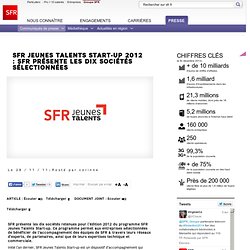 Le 28 / 11 / 11 | Posté par corinne SFR Jeunes Talents Start-up 2012 : SFR présente les dix sociétés sélectionnées SFR présente les dix sociétés retenues pour l'édition 2012 du programme SFR Jeunes Talents Start-up.
Jeunes Talents Start-up 2012 : SFR présente les dix sociétés sélectionnées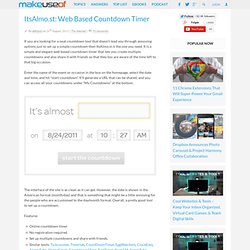 ItsAlmo.st: Web Based Countdown Timer
If you are looking for a neat countdown tool that doesn't lead you through annoying options just to set up a simple countdown then ItsAlmo.st is the one you need. It is a simple and elegant web based countdown timer that lets you create multiple countdowns and also share it with friends so that they too are aware of the time left to that big occasion. Enter the name of the event or occasion in the box on the homepage, select the date and time, and hit "start countdown".
votre assistant bons plans
こんな住宅がいいな…なんて憧れがありますよね!でもスターディスタイルを活用することで更に自分に適した住宅を選択することが可能になりますよ! ひゃっほい!引越し!引越し!さっさとさっさと引越しーーー!!
Readings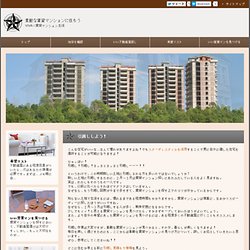 Raven for Mac - The Smart Browser
Have you ever used a marker pen for highlighting your paper documents? Marker.to will do the same for webpages! After you install a browser extension or bookmarklet and run Marker simply by clicking on the icon, you can highlight text on a website with your mouse. Annotating helps to point out important information in long articles. Our annotator creates a special link for the highlighted version of the page (like http://marker.to/XYZ123).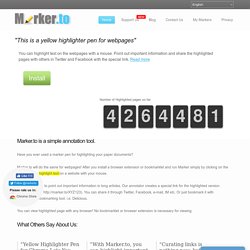 The easiest way to brainstorm and document your thoughts and strategies. The power of many: use GroupZap to create breakthrough brainstorming sessions with your team. Use it to develop your corporate strategy, name a product or identify the solutions to issues in your organisation. No need to register: just invite people via email or IM. Get started right now with a free, shared whiteboard. 'Am I getting the best ideas my team has to offer?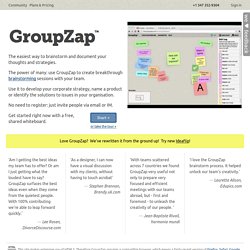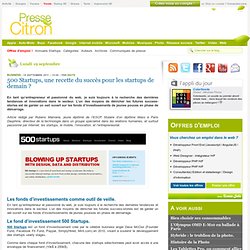 500 Startups, une recette du succès pour les startups de demain ?
En tant qu'entrepreneur et passionné du web, je suis toujours à la recherche des dernières tendances et innovations dans le secteur. L'un des moyens de dénicher les futures success-stories est de garder un oeil ouvert sur les fonds d'investissements de jeunes pouces en phase de démarrage. Article rédigé par Rubens Mamane, jeune diplômé de l'ESCP, titulaire d'un diplôme Mass à Paris Dauphine, directeur de la technologie dans un groupe spécialisé dans les relations humaines, et surtout passionné par Internet, les startups, le mobile, l'innovation, et l'entrepreneuriat.
Sky Balloon — a software studio
Welcome to Gloople, the home of social shopping | Ecommerce for Small Business | Ecommerce UK
Yokto - embed videos from multiple sources into one player - TNW Apps
It's now four years since YouTube opened its API, making it infinitely easier for people the world over to integrate video into their websites. A simple copy and paste of the YouTube iFrame embed code, and basic blogs can be transformed into video repositories. The same applies to other video-hosting websites such as Vimeo and Daily Motion too, which have also opened their APIs. But why only embed one video, from one video host into one player? Yokto (http://www.Yokto.tv) is a free tool that lets you collect and embed video from multiple sources and embed them all in a single player on your website.
Mike Jelley – Heavy Hitter "I love working in Trada. It allows me to work with so many different types of clients. I am a competitive person and constantly strive to be the best performer on the campaign."Conversion rate: 5.86% Optimizer since 4/2011
There is no denying the power of Gmail. And armed with a handful of extensions and add-on services, you can really turn Gmail into the ultimate emailing powerhouse. From enhancing and tidying your contacts list, to implementing an elaborate productivity system in your inbox, almost anything's possible. You just need to know how. And because of Gmail's popularity, the list continues to grow, diversify, giving users countless new ways to make the service even more useful. Here's a look at some of the tools you can use to enhance your Gmail experience.
13 Gmail Plugins You Should Try Right Now - TNW Apps
Setup Profile
Desktop.ly is a stylish way to share your desktop with the world - TNW Apps
10 usages et outils qui rendent la vie plus facile
Adictiz, l'agence de conception de jeux pour Facebook - Facebook Startup Day
15 Middle East startups you should know about - TNW Middle East
NEXT Elevator
Start-Up 100
50 Startup Logos from 2010 | DesignCrowd Blog
Patchlife - Sign up and refresh your memory
Forgot your password?