Géolocalisation
Géolocalisation : l'incroyable business. Incontournable la géolocalisation ?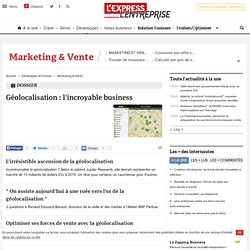 Selon le cabinet Jupiter Research, elle devrait représenter un marché de 13 milliards de dollars d'ici à 2014. Un rêve pour certains, un cauchemar pour d'autres. 3 questions à Renaud Edouard-Baraud, directeur de la veille et des médias à l'Atelier BNP Paribas Fini l'époque où il fallait attendre le retour des commerciaux pour établir un rapport de visite. La géolocalisation optimise leurs tournées. Sondage : Les français et la géolocalisation par L'Atelier et l'Ifop. Discover Places You'll Love with Google Hotpot. The Rules of Geolocation Marketing. The L word was one of the hottest trends last year, although according to reports, just 4% of online Americans use location-sharing services (LBS) such as Foursquare or Gowalla.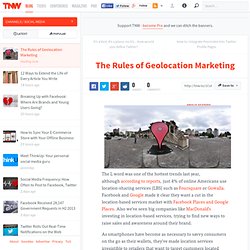 Facebook and Google made it clear they want a cut in the location-based services market with Facebook Places and Google Places. Also we've seen big companies like MacDonald's investing in location-based services, trying to find new ways to raise sales and awareness around their brand. As smartphones have become as necessary to savvy consumers on the go as their wallets, they've made location services irresistible to retailers that want to target customers located near their stores and influence their buying decisions with targeted compelling offers.
Research firms estimate steep growth of LBS in the next few years; Constellation Research, Inc. estimates these services will grow, generating up to $10.7B in revenue by 2013. Découvrez Foursquare for Business en 6 points et créez votre propre Foursquare Page. Bonjour à toutes et à tous.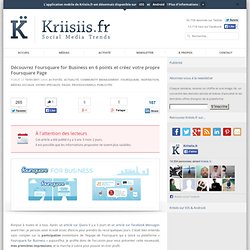 Après un article sur Quora il y a 3 jours et un article sur Facebook Messages avant-hier, je pensais avoir écoulé assez d'encre pour prendre du recul quelques jours. C'était bien entendu sans compter sur la participation involontaire de l'équipe de Foursquare qui a lancé sa plateforme « Foursquare for Business » aujourd'hui. Foursquare. Welcome - LikeOurselves. La bière Grolsch se fait mousser grâce à Foursquare.
---