CM
vincentbouton : C'est moi ou l'animation sur
Les hallucinantes statistiques de Facebook !
Les community managers en France 2012 | Social Media Exploration
You've heard this: A picture is worth a thousand words." But can it actually help you engage with customers and prospects? In this post, I'll share ways you can ; ones that will help keep the conversation flowing. Among the topics covered in this post are tools, tips and strategies that can be used to enhance the visual representation of your business. As I've done in the other posts in the 26 Tips series , this post provides an easily digestible A-Z guide to which you can return time and again. #1: Adverts
26 Tips for Using Images to Engage Fans and Followers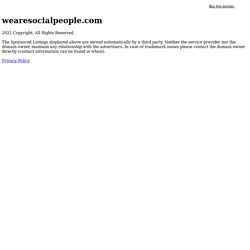 Hubspot's 7 Tips to Automate Social Media While Staying Authentic
This post is by Rebecca Corliss, who is an inbound marketing manager at HubSpot, a company that makes marketing automation software . Follow her on Twitter at @repcor. It seems a bit counterintuitive to combine social media and marketing automation. You can't automate social relationships – right? That's true.
10 Conseils Pour Ecrire Des Titres « Exceptionnels » Pour Vos Articles !
Le titre est la partie la plus importante de votre article car c'est le premier élément que les internautes découvriront via un réseau social, un lecteur de flux ou encore un moteur de recherche. C'est d'autant plus vrai qu'aujourd'hui les internautes sont noyés sous l'information et qu'ils procèdent à une sélection stricte afin d'optimiser leur temps de lecture. Alors comment sortir du lot et rédiger un titre percutant afin de créer du trafic vers votre blog ? Voici une liste de 10 conseils qui vous aideront à écrire des titres « exceptionnels » pour vos articles avec désormais plus de facilité :) 1.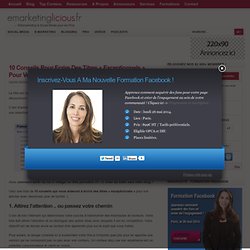 [Infographie] Les 7 étapes de l'Engagement Digital
Community Manager Tips to Make You a Facebook All-Star | Social Marketing Services
Yes, LinkedIn is a very different social network with very different users and a very different purpose than the likes of Facebook, Twitter and Pinterest. But, that doesn't mean it's not a platform that's always experimenting, evolving and changing like the others. In the past few months alone, LinkedIn has made alterations that you, especially if you're B2B, must be aware of in case they affect current strategy or serve as inspiration for new LinkedIn tactics for your brand. Congratulations! You're a Publisher!
Combien les utilisateurs des médias sociaux rapportent-ils aux sites concernés ?
How to Run a Successful Social Media Contest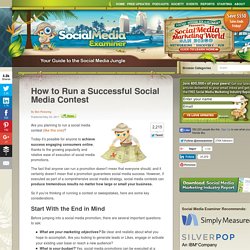 Are you planning to run a social media contest (like this one)? Today it's possible for anyone to achieve success engaging consumers online, thanks to the growing popularity and relative ease of execution of social media promotions. The fact that anyone can run a promotion doesn't mean that everyone should, and it certainly doesn't mean that a promotion guarantees social media success.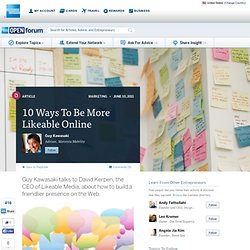 Dave Kerpen is the CEO of award-winning social media agency Likeable Media and the author of Likeable Social Media: How to Delight Your Customers, Create an Irresistible Brand, & Be Generally Amazing on Facebook (& Other Social Networks). I asked him to provide a list of the top ten ways to be more likeable online, and these are his recommendations: 1. Listen first and never stop listening Twitter search allows you to listen to people talking about you and your competitors.
10 Ways To Be More Likeable Online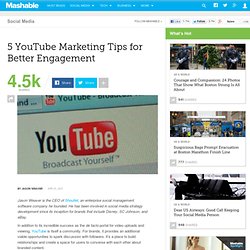 Jason Weaver is the CEO of Shoutlet, an enterprise social management software company he founded. He has been involved in social media strategy development since its inception for brands that include Disney, SC Johnson, and eBay. In addition to its incredible success as the de facto portal for video uploads and viewing, YouTube is itself a community. For brands, it provides an additional viable opportunities to spark discussion with followers. It's a place to build relationships and create a space for users to converse with each other about branded content. Just as Facebook has become an incredibly popular place for brands to maintain a dialogue with their customers, YouTube offers a similar opportunity, although the conversation is driven primarily by video content.
5 YouTube Marketing Tips for Better Engagement
Un beau #fail de recruteur pour une annonce de #CM #périssol
SMMD: Interview - Julien Codorniou
_files/veilles/fichiers/veilles-138-133.pdf
Comment définir sa ligne éditoriale sur les Médias Sociaux ? Des méthodes !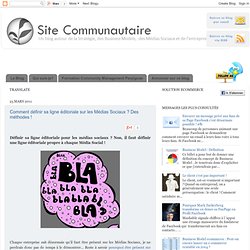 Définir sa ligne éditoriale pour les médias sociaux ? Non, il faut définir une ligne éditoriale propre à chaque Média Social ! Chaque entreprise sait désormais qu'il faut être présent sur les Médias Sociaux, je ne perdrais donc pas de temps à le démontrer... Reste à savoir pourquoi être présent sur les Médias Sociaux?
Les missions du Community Manager (infographie)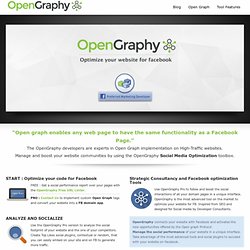 "Open graph enables any web page to have the same functionality as a Facebook Page." The OpenGraphy developers are experts in Open Graph implementation on High-Traffic websites. Manage and boost your website communities by using the OpenGraphy Social Media Optimization toolbox. START : Optimize your code for Facebook PRO : Contact Us to implement custom Open Graph tags and convert your website into a FB domain app.
Facebook Social Marketing Application based on open graph Optimization. Tool to community-manage multiple facebook pages
www.visiplus.com/prive/livre-blanc-reseaux-sociaux-visiplus-2011.pdf
Livre blanc : 15 stratégies gagnantes sur les réseaux sociaux pour 2011 | Le Marketing sur le Web ... Social
Aujourd'hui, les marques peuvent utiliser les réseaux sociaux pour se promouvoir, faire connaître leurs produits et provoquer des ventes. Ok mais comment ? Grâce à ce livre réalisé par Visiplus, une agence web spécialisé en référencement et en emarketing, vous aurez un bon aperçu des stratégies utilisables sur les réseaux sociaux. Illustré de cas pratiques et d'exemples concrets, ce livre n'est pas un concentré de théories fumeuses, bien au contraire : les stratégies des marques sont expliquées et commentées, par exemples La Redoute, Renault, Nike… « On a souvent tendance à confondre Web 2.0 et réseaux sociaux.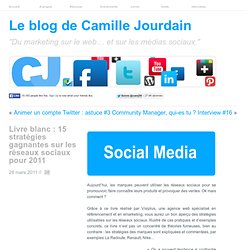 The 2011 State of Community Management
55,953 views Featured in: Business, Technology A compilation of best practices and lessons learned by members of TheCR Network - a peer network of community, social media, and social business leaders. ...
La charte est le principal document de travail des community managers. Elle permet de répondre de façon toujours adaptée aux questions suivantes : - Comment marquer son territoire de marque ? - Comment la marque doit-elle agir sur les médias sociaux ? - Quels sont les indicateurs de performance et les formats de reporting à mettre en place ? - Comment utiliser un tel document ?
Documents de travail - Community Management Jobs
Facebook: Keep It Simple! » Article » OWNI, Digital Journalism
planneur stratégique: Le TOP 100 des COMMUNITY MANAGERS francais les plus suivis sur twitter en février 2011. #psstpro
Un chargé de veille investit les réseaux sociaux