BIBLE
The State of Social Marketing 2011 – 2012
inShare1,121 The following report is brought to you by the Pivot Conference taking place in New York on October 15-16, 2012. You can download a full copy of the report for free by clicking here. At the end of 2011, Social marketing stands at a profound crossroads.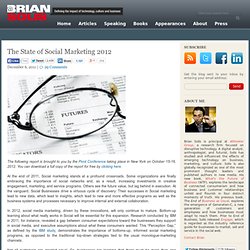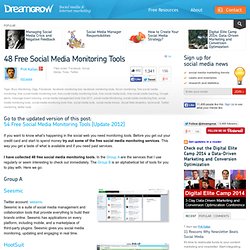 Go to the updated version of this post:54 Free Social Media Monitoring Tools [Update 2012] If you want to know what's happening in the social web you need monitoring tools. Before you get out your credit card and start to spend money try out some of the free social media monitoring services. This way you get a taste of what is available and if you need paid services.
Les tout derniers chiffres des réseaux sociaux - Septembre 2011 | Arobasenet
Il y a à peine 5 ans, on ne parlait pas autant des réseaux sociaux. Mais, aujourd'hui ces médias sociaux font partie de notre vie quotidienne, tant privée que professionnelle.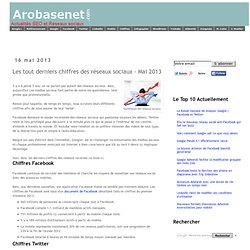 50 of the Best Social Media Guides, Tips and Insights of 2011 (So Far)
Social media marketing has gone well beyond the hype stage and is now mainstream business practice. Still, questions remain: how do I use social media most effectively across the enterprise?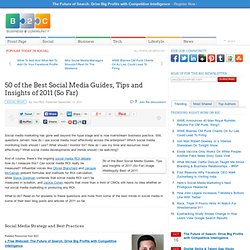 Guide Iniciation aux Médias Sociaux pour les PME
15 Tips For A Successful Facebook Ads Program
If you're a marketing or advertising professional, then lately you've probably been running ads on Facebook or have heard the phrase 'paid social' or 'Facebook ads'. That's because according to eMarketer, social media is the fastest growing digital media channel. As impressive as that is, it doesn't tell the whole story. First, let's consider some statistics: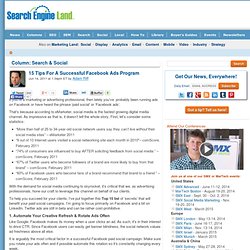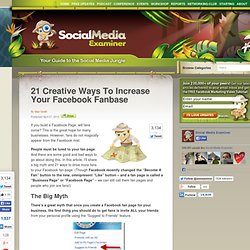 If you build a Facebook Page, will fans come? This is the great hope for many businesses. However, fans do not magically appear from the Facebook mist. People must be lured to your fan page. And there are some good and bad ways to go about doing this. In this article, I'll share a big myth and 21 ways to drive more fans to your Facebook fan page.
Is your business running out of content ideas? Content is the fuel for your social media rocket ship and the foundation of any solid presence in the social sphere. Your content cannot be everything to everyone; however, you can .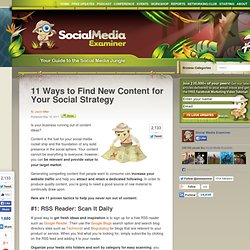 11 Ways to Find New Content for Your Social Strategy
HOW TO: Set Up a Facebook Page
Are you considering building an online community? In order to build a strong community , there are a few key factors every business should take into consideration. This article will assist you in gathering the building blocks for a strong online community.
6 Tips for Starting an Online Community
7 Steps to the Perfect Social Media Plan
Do you dream about the perfect social media plan? The perfect social media template? Many business leaders wanting to get social dream about it. They think they need it. The social media magic template.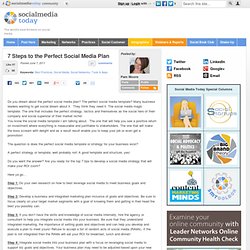 Cet article a été publié il y a 2 ans 7 mois 14 jours, il est possible qu'il ne soit plus à jour. Les informations proposées sont donc peut-être expirées. Deuxième épisode de notre série consacrée aux outils destinés à rendre votre web plus agréable.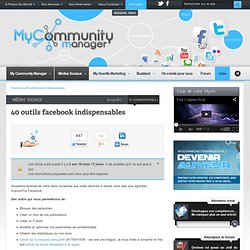 Top Ten Favorite Social Media Tools For Daily Use
There are many online tools I use every single day to manage my social media marketing effectiveness. In my recent interview with Darren Hardy for the May 2011 issue of SUCCESS Magazine, I talked about many of these tools. During our interview, Darren asked if I would put together my top ten list of social media resources for readers of SUCCESS. Of course I said yes – here they are! (It's a delight and honor to be one of three featured expert interviews on the CD that comes with the magazine, along with Peter Guber – author of Tell to Win, and leadership guru, John C.
How to: Evaluate and Compare Social Media Tools | oneforty
What is wrong with this question? I am evaluating Meltwater, HubSpot and CoTweet. Which one should I choose? The question makes the incorrect assumption that the three options are comparable.
Have you customized your Facebook page? There are thousands of apps that can help you engage with your fans. In this article I'll focus on the top 75 Facebook apps. These apps allow you to customize your landing tabs, add your blog, add videos and photos, add chat, add polls, contests, geolocation, scheduling, email, ecommerce and much more.
73 Essential Social Media & Tech Resources for Small Businesses
5 YouTube Marketing Tips for Better Engagement
Jason Weaver is the CEO of Shoutlet, an enterprise social management software company he founded. He has been involved in social media strategy development since its inception for brands that include Disney, SC Johnson, and eBay. In addition to its incredible success as the de facto portal for video uploads and viewing, YouTube is itself a community. For brands, it provides an additional viable opportunities to spark discussion with followers.
Outils référencement social / Veille
19 Social Media Best Practices
Les typologies des interactions avec une marque sur les médias sociaux
Le cahier réseaux sociaux 2010 – ebook par OWNI | Le Marketing sur le Web ... Social
24 Professional Events & Organizations for Social Media Strategists
Stratégie marketing et Social Média | Blog stratégie marketing
64 Social Media Resources from 2010 | Bostinnovation: Boston Innovation and Tech News Blog
files/2010/12/reseauxsociaux-ebook-final.pdf
7 new year's resolutions for getting the most out of social media
150+ Business and Marketing Resources From 2010