Applications and CRM - Cross Platform
Social Media : Les leviers promotionenels des medias sociaux et les indicateurs de performance
Social CRM By Fabio Cipriani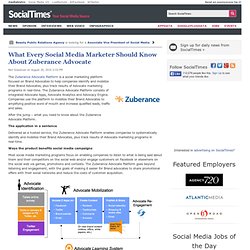 The Zuberance Advocate Platform is a social marketing platform focused on Brand Advocates to help companies identify and mobilize their Brand Advocates, plus track results of Advocate marketing programs in real-time. The Zuberance Advocate Platform consists of integrated Advocate Apps, Advocate Analytics and Advocacy Engine.
Zuberance Advocate
Vitrue publishes software-as-a-service (SaaS) tools to help businesses harness the marketing potential of social media networks. Anchored by the Vitrue Social Relationship Management (SRM) Platform, Vitrue works with marketers of all sizes, from global brands to local businesses, as well as agencies, to deliver a turnkey, comprehensive solution to message, manage, measure and maximize interactions across Facebook and Twitter. Ways the product benefits social media campaigns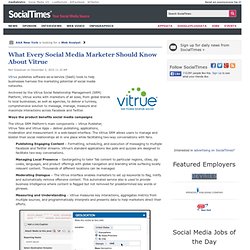 Vitrue
the Syncapse Platform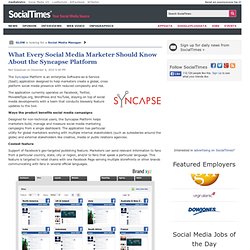 The Syncapse Platform is an enterprise Software-as-a-Service (SaaS) application designed to help marketers create a global, cross platform social media presence with reduced complexity and risk. The application currently operates on Facebook, Twitter, MovableType.org, WordPress and YouTube, staying on top of social media developments with a team that conducts biweekly feature updates to the tool. Ways the product benefits social media campaigns
StrongMail
StrongMail Social Studio is an integrated platform for referral marketing, social sharing and campaign management. It's designed to enable marketers to identify and engage their brand influencers in social media with detailed performance metrics to help them understand the impact of social media on their businesses.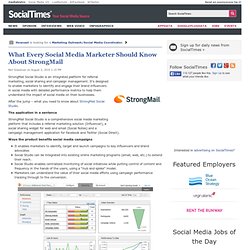 Simplify360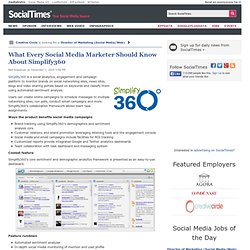 Simplify360 is a social analytics, engagement and campaign platform to monitor brands on social networking sites, news sites, blogs and video sharing portals based on keywords and classify them using automated sentiment analysis. Users can create online campaigns to schedule messages to multiple networking sites, run polls, conduct email campaigns and more. Simplify360′s collaboration framework allows team task assignments.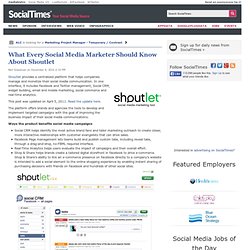 Shoutlet
Shoutlet provides a centralized platform that helps companies manage and monetize their social media communication.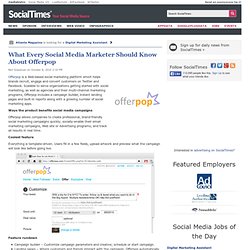 Offerpop
Offerpop is a Web-based social marketing platform which helps brands recruit, engage and convert customers on Twitter and Facebook.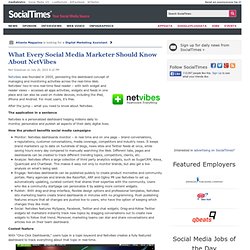 Netvibes was founded in 2005, pioneering the dashboard concept of managing and monitoring activities across the real-time Web. Netvibes' two-in-one real-time feed reader – with both widget and reader views – accesses all apps activities, widgets and feeds in one place and can also be used on mobile devices, including the iPad, iPhone and Android.
NetVibes
Loyalty programs need to do more than just give customers rewards for making purchases. To be successful, they must to create emotional bonds with customers that foster continuing relationships. LoyaltyMatch OnDemand Social Loyalty is designed to improve upon the traditional tiered-based loyalty program model by taking advantage of the social incentives, interactions, gaming and word of mouth of social media.
LoyaltyMatch On Demand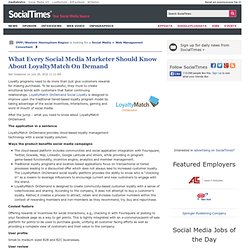 KickApps
KickApps is a social media web site authoring and social content management system system.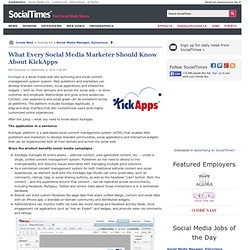 JitterJam
JitterJam is a comprehensive web-based Social CRM system that combines social media, email and mobile engagement with a contact database and the tools designed to turn social interaction into opportunities.
After several months of beta testing at sites such as Facebook and The White House Commission on Remembrance, Involver this week publicly released its Audience Management Platform (AMP). AMP is an integrated social marketing dashboard allowing users to monitor, publish, schedule and manage their brand's strategy and presence across the social web. After the jump – what you need to know about Involver AMP.
Involver AMP
Hootsuite
HootSuite bridges social listening and publishing tools with customer relationship management functions to launch marketing campaigns, identify and grow audiences, and distribute targeted messages across multiple channels.
Gigya is a software-as-a-service technology for scalable social CRM, deigned to unify the most popular identity and social providers including Facebook, Twitter, PayPal and LinkedIn and bring social sign-in features and benefits to corporate websites. It can help online businesses deepen customer relationships and drive social registrations, word of mouth and social interaction for websites and applications.
Gigya
FaceTime Communications new Socialite provides granular control of social platforms like Facebook, LinkedIn and Twitter. The application is available as a software-as-a-service deployment (SaaS) or as an on-premises solution as a module of FaceTime's Unified Security Gateway. Socialite can be deployed as a hybrid solution defining both on-network policy and roaming policy for people off-network.
FaceTime Socialite
Compass Labs