Vincentbouton
vincent bouton
#SocialMedia Manager & #CM disponible immédiatement
The 23 Best Celebrity Name Puns | Vincent Bouton Curation.
Social TV / Player. Mind Mapping. Statistiques. 15 tips to get the most out of Google Docs - TNW Google. Believe it or not, Microsoft Office is over two decades old now.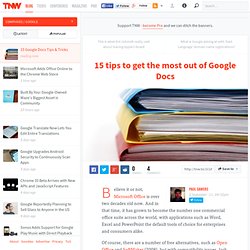 And in that time, it has grown to become the number one commercial office suite across the world, with applications such as Word, Excel and PowerPoint the default tools of choice for enterprises and consumers alike. Of course, there are a number of free alternatives, such as Open Office and SoftMaker (2008), but with compatibility issues, lack of familiarity and without full-feature functionality, millions chose to stick it out with the original Microsoft Office. But then Google Docs arrived on the scene. Google Docs: A potted history.
AdWords / FB Ads. QR Code. Groupon. Foursquare. Tumblr. RSS alternatif. Pictures app.
RSE. Real-time search. Linked In / Viadeo.
Marques / crises / médias sociaux. StartUp. Réseaux Pro. CM. Marketing. Trends. Events 2011. WEB. Browsers.
Smartphones. SEO. Twitter. Facebook. Web Services. Shopping. JOB. Bloggers. ME.
Social Media. Pearltrees videos. Help. Divers.
---