Info ENG Economie Environnement 1
No Impact Man
Center For Environmental Economic Development
Welcome to TorHavn: The World's First "Green Country"
Global Affairs Web: Resources for club members.
Home | Environmental Research Foundation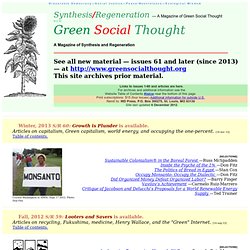 Recent issues 51 through 56 (2010-2011): with links to selected articles Issues 46 through 50 (2008-2009): with links to selected articles Issues 42 through 45 (200-2008): with links to selected articles Issues 35 through 41 (2004-2006): with links to selected articles Issues 25 through 34 (2001-2004: with links to selected articles Sampler : Featured articles, selected issues Selected articles on Green economics Pointers to 16 articles on Green economics from S/R 1993-2002. [25 jan 01 updated 4 oct 02]
Synthesis/Regeneration - Green magazine homepage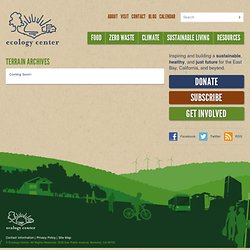 Terrain Magazine « Ecology Center
What are ten things you can do around your home to reduce your climate impact? Come tour our demonstration EcoHouse and draw inspiration to reduce your impact on climate change, and climate change's impact on you. We'll present ideas for do-it-yourself projects, including our toolshed built with 4 different natural building methods and topped with a living roof; our ground-breaking constructed wetlands and simple laundry greywater systems; an 1100 gallon rainwater cistern; a native raingarden; 3 kinds of compost; and a lot more. What saves more energy, a flash hot water heater or a solar one? What are the 3 biggest ways that keeping ducks in your backyard will lessen your climate impact? What is a food forest?
Institute for Inquiry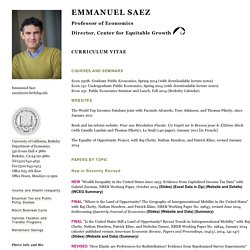 Emmanuel Saez's Home Page
Econ 230B: Graduate Public Economics, Spring 2013 (with downloadable lecture notes) Econ 131: Undergraduate Public Economics, Spring 2013 (with downloadable lecture notes) Econ 231: Public Economics Seminar and Lunch, Spring 2013 (Berkeley Calendar) (Schedule in pdf) The World Top Incomes Database joint with Facundo Alvaredo, Tony Atkinson, and Thomas Piketty, January 2011 Book and tax reform website: Pour une Révolution Fiscale: Un Impôt sur le Revenu pour le XXIème Siècle (with Camille Landais and Thomas Piketty), Le Seuil (140 pages), January 2011 [in French] New or Recently Revised NEW "A Theory of Aggregate Supply and Aggregate Demand as Functions of Market Tightness with Prices as Parameters" with Pascal Michaillat, NBER Working Paper No. 18826, February 2013
Comment / Analysis - Mind the gap
Enjoy full access to FT.com's award-winning news, comment and analysis. With over from 500 journalists reporting from over 50 countries, read our trusted news, expert insight and authoritative opinion as it's happening. Access FT.com's 5 year archive of news, comment, analysis, reports and more for all the information on factors affecting your business you need.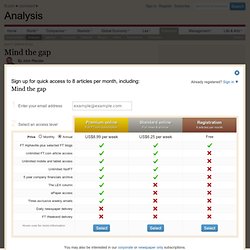 SG Research - Publication - The Economic News - Why de-leveragin
Research Portal