Info ENG Economie Environnement 1
No Impact Man
Dear friends, I don't say this often but I am scared. Not scared to the point of paralysis. Not scared enough to run away. Not scared enough to stop trying to help. Not scared enough to think we're doomed.
Center For Environmental Economic Development
The Center for Environmental Economic Development (CEED) is a 501(c)(3) non-profit California Corporation formed in 1993. CEED works as a catalyst for environmentally sustainable community development locally, regionally, nationally and internationally. CEED's main office is located in Arcata, California, and CEED also has an office in Alaska for the project it operates there. CEED's work in sustainability is divided into seven project areas, listed in the menu to the left.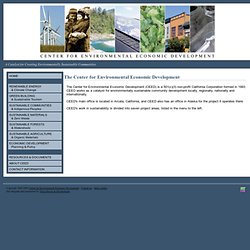 Welcome to TorHavn: The World's First "Green Country"
Global Affairs Web: Resources for club members.
Home | Environmental Research Foundation
Synthesis/Regeneration - Green magazine homepage
Terrain Magazine « Ecology Center
当サイトは千葉の工務店情報を無料で提供しています。 ご利用方法は簡単シンプル 当サイトは千葉の工務店情報を市区町村単位で整理し、一覧掲載しています。
Institute for Inquiry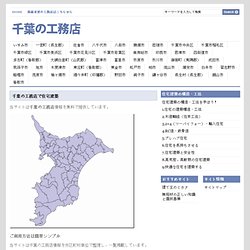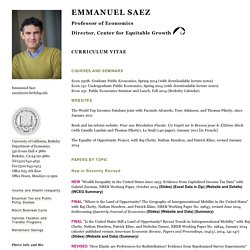 Emmanuel Saez's Home Page
Econ 230B: Graduate Public Economics, Spring 2014 (with downloadable lecture notes) Econ 131: Undergraduate Public Economics, Spring 2014 (with downloadable lecture notes) Econ 231: Public Economics Seminar and Lunch, Spring 2014 (Berkeley Calendar) The World Top Incomes Database joint with Facundo Alvaredo, Tony Atkinson, and Thomas Piketty, since January 2011 Book and tax reform website: Pour une Révolution Fiscale: Un Impôt sur le Revenu pour le XXIème Siècle (with Camille Landais and Thomas Piketty), Le Seuil (140 pages), January 2011 [in French] REVISED The Equality of Opportunity Project, with Raj Chetty, Nathan Hendren, and Patrick Kline, revised January 2014 New or Recently Revised
Comment / Analysis - Mind the gap
SG Research - Publication - The Economic News - Why de-leveragin
Research Portal