Blogs Global Climate Change 2
ClimateScienceWatch
ClimateScienceWatch
R-Squared Energy Blog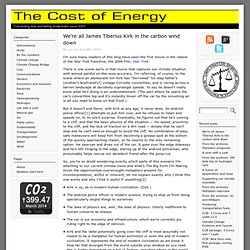 The Cost of Energy
From the New York Times come the latest very worrying story about colony collapse disorder, Soaring Bee Deaths in 2012 Sound Alarm on Malady : A mysterious malady that has been killing honeybees en masse for several years appears to have expanded drastically in the last year, commercial beekeepers say, wiping out 40 percent or even 50 percent of the hives needed to pollinate many of the nation's fruits and vegetables. A conclusive explanation so far has escaped scientists studying the ailment, colony collapse disorder, since it first surfaced around 2005.
A Man With A Ph.D.
Summary of the debate Introduction The Natural Environment Research Council's Chief Executive, Professor Alan Thorpe, challenged climate change sceptics to an online public debate in December 2006.
NERC - Climate change challenge summary
Fermi Paradox
It's Getting Hot In Here
Naptime is over.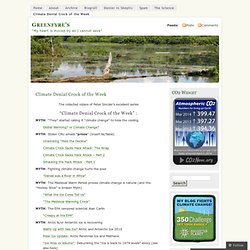 The collected videos of Peter Sinclair's excellent series "Climate Denial Crock of the Week" : MYTH : "They" started calling it "climate change" to hide the cooling Global Warming? or Climate Change? MYTH : Stolen CRU emails " prove " (Insert lie/fable)
Climate Denial Crock of the Week « Greenfyre's
Climate Dilemma
Global Warming Wiki: Climate Change - Global Warming Guides
Science of Climate Change http://60minutes.yahoo.com/segment/26/global_warming Images and indepth reports from the yahoo global warming special.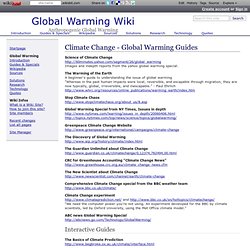 Rabett Run
Logical Science
Global Warming Art
Front page - John Feeney
Greenfyre's
Homepage | Pew Center on Global Climate Change: The Pew Center o
ClimateScienceWatch
ClimateSight
Wunder Blog
Since 1923, there has been a 'Katrina' magnitude storm surge every 20 years, according to a storm surge index developed by Aslak Grinsted, an assistant professor at the Centre for Ice and Climate at the Niels Bohr Institute. The index uses data from six tide gauges along the U.S. coast from Texas to New Jersey from 1923 - 2011, and is part of a statistical model that links global temperatures to the risk of Katrina-level storm surges. Because of global warming, Katrina-magnitude storm surge events have now more than doubled in frequency since the late 1800s, Grinsted and colleagues argue, in research published in March 2013 in the scientific journal, Proceedings of the National Academy of Science (PNAS).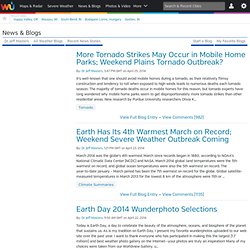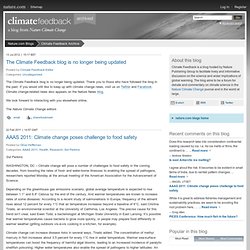 Climate Feedback
Sid Perkins In the coming decades, the world's coral reefs will suffer a variety of indignities, from global threats such as warming seas and ocean acidification to local and regional problems such as overfishing and nutrient-rich runoff.