Abus
Accueil CPT (Comité européen pour la prévention de la torture) Mission Interministérielle de VIgilance et de LUtte contre les D. Operation Clambake - The Inner Secrets Of Scientology. Operation Clambake Message Board :: Index - Operation Clambake M. Pour ne pas se laisser piéger par les sectes... Opus Dei - Chercher Dieu dans la vie ordinaire. Opus Dei - Qu'est-ce que l'Opus Dei ? The Nature and Scope of the Problem of Sexual Abuse of Minors by. The Department of Justice, Equality and Law Reform: Report by Co. On 29 November 2009, the Minister for Justice and Equality, in keeping with the statutory obligation under the Commissions of Investigation Act 2004, published Report of the Commission of Investigation into the Catholic Archdiocese of Dublin on the Department's website as well as through the Government Publications Office.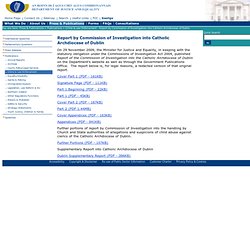 The report below is, for legal reasons, a redacted version of that original report. Cover Part 1 (PDF - 161KB) Part 1 Beginning (PDF - 22KB) RWANDA: Accueil. Accueil Irembo T his website assembles the rich collection of annexes that are referenced in André Guichaoua's book, Rwanda, de la guerre au génocide ("Rwanda, from War to Genocide").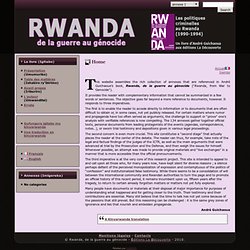 Welcome to the Justice for Magdalenes. Benedict XVI: An apology overdue to the girls & women tortured i. Wednesday, 24 February 2010 By Sharon OwensScroll down for links to watch more, and to read more about the 30,000 girls and women tortured by the Catholic Church's Sisters of Mercy, Sisters of Our Lady of Charity, Sisters of Charity and Good Shepherd Sisters in Ireland's "State-approved" Magdalene Laundries over a period spanning numerous decades, and culminating just 14 years ago in 1996.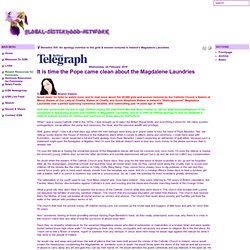 «De toute façon, il peut crever» | LeMatin.ch.
---