Abus
Accueil CPT (Comité européen pour la prévention de la torture)
Operation Clambake Message Board :: Index - Operation Clambake M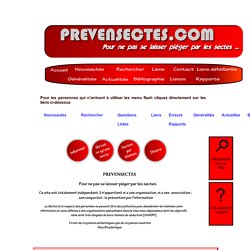 Pour ne pas se laisser piéger par les sectes...
Veuillez prendre note qu'à compter du 06 mars 2009 Prevensectes ( ) change de directeur de Publication – i.e; d'éditeur – et de webmestre -, ces fonctions sont désormais assurées par Xavier Martin-Dupont qui reprend seul et sous son entière responsabilité et à la demande de son ancien responsable Mathieu PH.COSSU, la gestion de ce site. Si Mathieu Philippe Cossu a décidé de cesser ses activités en relations avec ce site, c'est suite au contentieux juridique suscité à son encontre par la SARL L'ERMITAGE alias LIBRE UNIVERSITÉ DU SAMADEVA EDITION L.U.S qui l'a poursuivi en diffamation devant la XVIIème Correctionnelle du TGI de Paris pour avoir publié . Si Mathieu COSSU a été relaxé sur ¾ des chefs de la prévention il a été néanmoins reconnu coupable de diffamation envers un particulier sur un énoncé ().
Opus Dei - Chercher Dieu dans la vie ordinaire
Opus Dei - Qu'est-ce que l'Opus Dei ?
The Nature and Scope of the Problem of Sexual Abuse of Minors by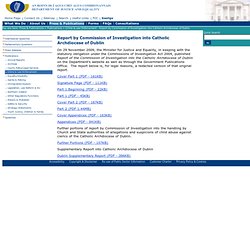 The Department of Justice, Equality and Law Reform: Report by Co
On 29 November 2009, the Minister for Justice and Equality, in keeping with the statutory obligation under the Commissions of Investigation Act 2004, published Report of the Commission of Investigation into the Catholic Archdiocese of Dublin on the Department's website as well as through the Government Publications Office. The report below is, for legal reasons, a redacted version of that original report. Cover Part 1 (PDF - 161KB) Part 1 Beginning (PDF - 22KB)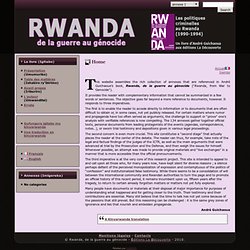 RWANDA: Accueil
Accueil Irembo T his website assembles the rich collection of annexes that are referenced in André Guichaoua's book, Rwanda, de la guerre au génocide ("Rwanda, from War to Genocide").
Welcome to the Justice for Magdalenes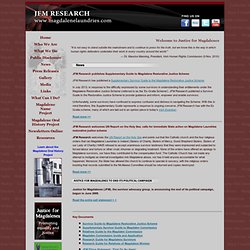 JFM Research publishes Supplementary Guide to Magdalene Restorative Justice Scheme JFM Research has published a Supplementary Survivor Guide to the Magdalene Restorative Justice Scheme. In July 2013, in response to the difficulty expressed by some survivors in understanding their entitlements under the Magdalene Restorative Justice Scheme (referred to as the 'Ex-Gratia Scheme'), JFM Research published a Survivor Guide to the Restorative Justice Scheme to provide guidance and inform, empower and enable survivors. Unfortunately, some survivors have continued to express confusion and distress in navigating the Scheme. With this in mind therefore, this Supplementary Guide represents a response to ongoing concerns JFM Research has with the Ex Gratia scheme, many of which are laid out in an opinion piece in today's Irish Examiner.
Wednesday, 24 February 2010 By Sharon OwensScroll down for links to watch more, and to read more about the 30,000 girls and women tortured by the Catholic Church's Sisters of Mercy, Sisters of Our Lady of Charity, Sisters of Charity and Good Shepherd Sisters in Ireland's "State-approved" Magdalene Laundries over a period spanning numerous decades, and culminating just 14 years ago in 1996
Benedict XVI: An apology overdue to the girls & women tortured i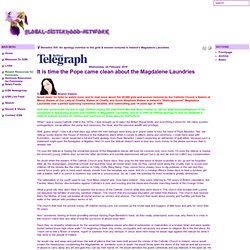 «De toute façon, il peut crever» | LeMatin.ch