SON
Son et Mao
About/Free - Sound Search Engine | SoundJax.com. SG - DAJ : Propriété intellectuelle - Logiciels. Cette rubrique s'intéresse plus particulièrement aux aspects de protection des logiciels, à l'exploitation des licences ainsi qu'à la brevetabilité des logiciels La protection des logiciels par le droit d'auteur Depuis la loi du 3 juillet 1985 qui a étendu la notion d'œuvre de l'esprit aux logiciels, le logiciel est protégé par le droit d'auteur.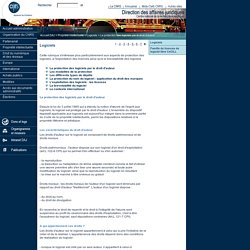 L'ensemble du dispositif législatif applicable aux logiciels est aujourd'hui intégré dans la première partie du Code de la propriété intellectuelle, parmi les dispositions relatives à la propriété littéraire et artistique. Les caractéristiques du droit d'auteur.
Instrumets physique. Ableton Live Home. MIDIOX. RtpMIDI. Download rtpMIDIrtpMIDI tutorial Network MIDI driver for Windows XP up to Windows 8, 32 and 64 bit.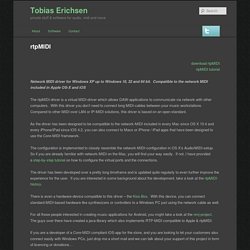 Compatible to the network MIDI included in Apple OS-X and iOS 4.2 The rtpMIDI-driver is a virtual MIDI-driver which allows DAW-applications to communicate via network with other computers. With this driver you don't need to connect long MIDI-cables between your music-workstations. Compared to other MIDI over LAN or IP-MIDI solutions, this driver is based on an open standard. News. Ableton Treats: Creative Diversity — 5 Live Packs Ableton are back one again with a sweet treat: Creative Diversity — 5 Live Packs containing 1.5GB of sounds from international Ableton artists.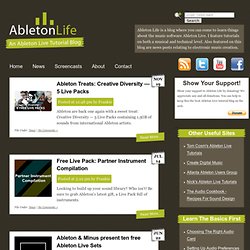 File Under: News | No Comments » Free Live Pack: Partner Instrument Compilation Looking to build up your sound library? Who isn't! Ableton Tutorials. Forum MAM (MAO-ABLETON LIVE-MASTERING) Synthe. M.A.O. Music Gear, Equipment, Tuition & Reviews.
IPAD
_dsae.
---