Instrumets physique
VST, Plugin, Free, Mixing, Frequency, Spectral Analysis. It is often extremely useful to see the frequency spectrum of your individual tracks and your final song. For example, you may want to see if your bass is dipping into the same frequencies as your kick drum. Unless you have perfect audio monitoring equipment and perfect ears, you will need some help to make sure you don't have overlapping frequencies . There is a free plug-in from Roger Nichols called Inspector that allows you to see the frequencies used by an audio signal. This tool, in combination with a filter or EQ plug-in, allows you to visually sculpt your instrument's frequencies.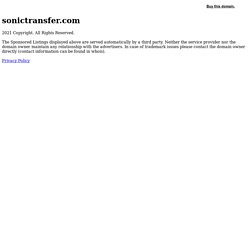 Electronic Music Production, SonicTransfer
Oakley Sound Systems: Analogue Synthesizer Modules
Mozilla Firefox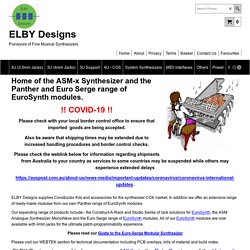 Home of the ASM-1/-2/-3 Synthesizer and the Panther range of euro-modules. Elby Designs supplies kits and accessories for the synthesiser do-it-yourself (SDIY) market. In addition we offer a range of ready-made modules from our own Panther range of euro-modules. Our expanding range of products include:- the Construct-A-Rack series of rack parts for 3U/6U/9U Euro-racks, the ASM analogue synth and the MonoWave.
GRP Synthesizer
Wide audio range (64'-2') w. Tune & Fine; six analog waveforms (sine, triangle, triangle & saw, saw, saw & variable pulse summed, variable pulse); manual pw & pwm (from VCLFO1, EG1, S&H, Aft); FM 1 Amt (lin/exp –from VCLFO1, LFO2, VCO1, 2, 3, Noise, S&H, EG1, EG2, Aft, ModW, KeyVel, EnvFoll) w. phase rev; FM 2 Amt (only exp – from VCLFO1, Env Foll); sub oscillator (on VCO 1, 2) -1/-2 oct; hard sync (VCO 1 master); kybd on/off (w. user's selectable octave offset from MIDI Interface). Ring Mod Sources: VCO 2 & VCO 3/Ext Input (user's selectable). White & Pink Noise selectable.
Bleep Labs » Bleepstore!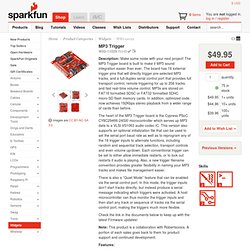 Description: Make some noise with your next project! The MP3 Trigger board is built to make it MP3 sound integration easier than ever. The board has 18 external trigger pins that will directly trigger pre-selected MP3 tracks, and a full-duplex serial control port that provides full transport control, remote triggering for up to 256 tracks, and fast real-time volume control. MP3s are stored on FAT16 formatted SDSC or FAT32 formatted SDHC micro-SD flash memory cards. In addition, optimized code now achieves 192Kbps stereo playback from a wider range of cards than before.
MP3 Trigger
Since 1996, the Vintage Synth Explorer has been a leading online resource for vintage synthesizers, digital synthesizers, software synthesizers, and other forms of electronic musical instruments. Detailed descriptions and reviews, pictures, audio and video demos, technical specifications, lists of famous users, links, and much more provide the ultimate way to learn about these instruments. Use the "SYNTHS" menu above to explore our library of over 750 synths, samplers and drum machines! Radikal Technologies Spectralis Jan 21, 2014 The Spectralis is a professional synthesizer, groovebox, and sequencer created in 2004 by Radikal Technologies.
Museum of Soviet synthesizers.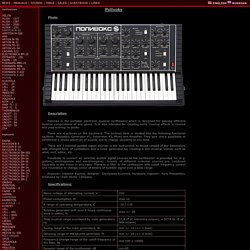 Polivoks Photo Description Polivoks is the portable electronic musical synthesizer which is designed for playing different musical compositions of any genre. It is also intended for creating some musical effects in cinema and play scoring, in studio.
Deviant Synth - Analogue Heaven is poison. We are the antidote. XD
Just hitting the market, looks much better made than most of the others, which tend to be plastic and flimsy. He's built a very impressive folding synthesizer. Plus, the "Colourbox". Kilpatrick has his own module format.