Mini hardwer
List of HTC phones. HTC logo 8 Series (Windows Phone 8)[edit] 7 Series (Windows Phone 7)[edit] Smartphones[edit] Jump up ^ Some 32A HTC Sapphires (such as the Rogers HTC Magic in Canada) have been upgraded to Sense UI and more recently to Android 2.1.[1]Jump up ^ The T-Mobile G2 shipped without HTC's Sense UI.[9]Jump up ^ The HTC Glacier shipped with an updated myTouch-themed version of HTC's Sense UI.[13] Tablets[edit]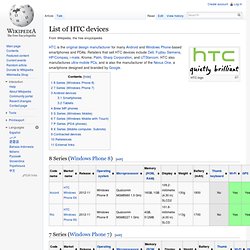 RPi Hardware. Back to the Hub.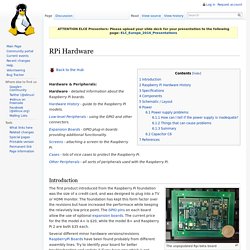 Hardware & Peripherals: Hardware and Hardware History. Low-level Peripherals and Expansion Boards. Screens, Cases and Other Peripherals. R-Pi Hub. Notice: The Raspberry Pi Wiki pages on this site is collaborative work - the Raspberry Pi Foundation is not responsible for content on these pages.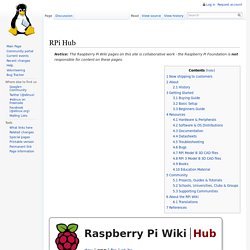 Now shipping to customers See the Buying Guide on how to order one, or visit the Raspberry Pi Foundation Home Page About. Raspberry Pi | An ARM GNU/Linux box for $25. Take a byte! 8 Watt asztali számítógép, amely illeszkedik a kézbe.
---