REST
Keyboard Shortcuts Keyboard shortcuts are available for common actions and site navigation. Twitter
API_Mag : #REST vs #SOAP from @layer7
Articles/etc | Protocols - REST
Articles/etc | Protocols - REST
Application Security solutions deployed by hundreds of customers over 10 years, McAfee aligned cloud security, patented Informatica powered integration, API Management powered by Mashery, and the only no app impact data tokenization solution for PCI & PII scope reduction. Transform how SOA services & sensitive data are exposed as APIs to developers, mobile, & cloud. Rapidly enable mobile access to support BYOD, enable hybrid cloud to on-prem application mash-ups, enable gateway hadoop security models, and remove all your apps from compliance scope.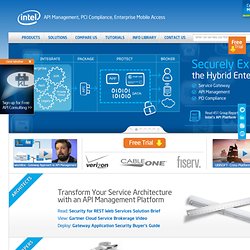 DZone REST Reference Card
Web Services : SOAP, REST, XML, JSON
ZapThink on REST in Cloud Arch
Scalable Reliable Secure REST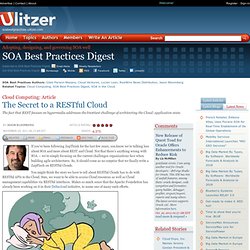 If you've been following ZapThink for the last few years, you know we're talking less about SOA and more about REST and Cloud. Not that there's anything wrong with SOA — we're simply focusing on the current challenges organizations face when building agile architectures. So, it should come as no surprise that we finally write a ZapFlash on RESTful Clouds. You might think the story we have to tell about RESTful Clouds has to do with RESTful APIs to the Cloud.
The Secret to a RESTful Cloud | SOA Best Practices Digest